AO Spine Adult Spinal Deformity Patient Profile—a new tool to optimize treatment of ASD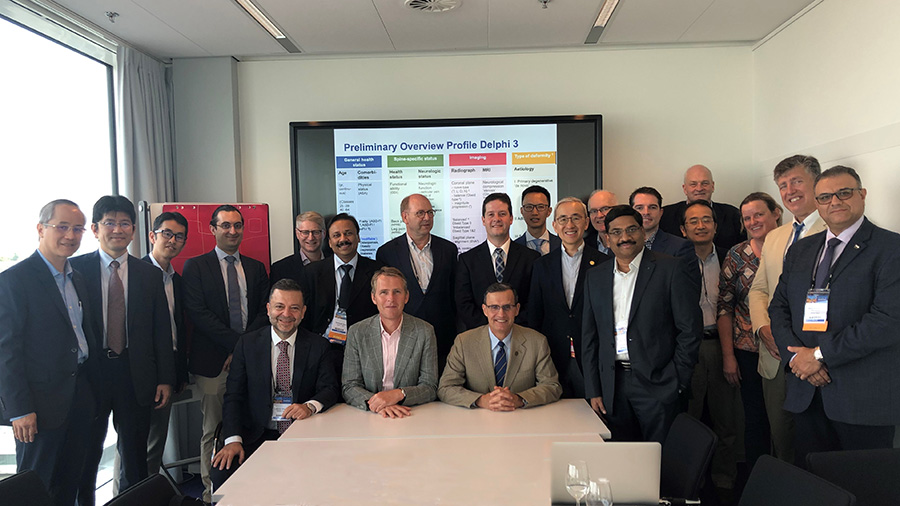 Adult Spinal Deformity (ASD) is not a single disease. It comprises a wide spectrum of pathology and the patient population is inherently heterogeneous—not only in the demographics of the patients, the etiology of the condition, but also in the various clinical symptoms and associated comorbidities. To help the clinicians optimize treatment, AO Spine Knowledge Forum Deformity has developed a comprehensive patient evaluation tool, the AO Spine ASD Patient Profile.
Senior project author and former AO Spine Knowledge Forum Deformity Chairperson Marinus de Kleuver explains the complexity of the condition makes the treatment algorithm difficult: "There is no simple linear thinking because ASD is not one single disease but a spectrum of diseases."
Making ASD surgery safer and more effective
It is generally agreed that the management of this group of patients depends not only on the radiographic measurements but also on factors such as back pain, leg pain, neurological status, comorbidities, frailty, and social support. First author J Naresh-Babu stresses all three domains—i.e., clinical, radiological, and comorbidity—have to be considered.
Currently, there is no guidance on how to weigh all factors and logically translate them into daily practice. As project member Manabu Ito puts it, "Spine surgeons all over the world long for a systematic approach in treating these patients and make surgeries safer and more effective."
Recognizing the urgency and the need, J Naresh-Babu initiated the AO ASD Classification project. The goal of the project was to develop a comprehensive classification to guide the decision process and choose a suitable treatment strategy for individual cases.
The relevance of this project is evident from the overwhelming response to the call for participation in the Delphi process to bring consensus on the items to be included in the patient profile: Within 48 hours of the call opening, 175 ASD experts from around the world responded. Eventually, 54 panelists representing five continents were selected based on clinical experience, publication record, and geographical location.
A systematic approach
Supported by the evidence generated through a systematic literature review and the consensus from the Delphi process, the AO Spine KF Deformity has now developed the final AO Spine Adult Spinal Deformity Patient Profile. The content validity and usability of this patient profile have been tested, and the results have been published.
This new tool will allow physicians treating ASD patients to systematically consider the factors that could contribute to optimal management of the condition. Whether by using it in clinical practice or for training purpose, all adult deformity surgeons are encouraged to use it in their daily practice.
Ito predicts, "This patient profile will make spine surgeons more aware of the complexity of ASD. It will help surgeons make balanced decisions and consult colleagues of other expertise, such as geriatricians, anesthesiologists, and nutritionists. This will help the many super aging societies in the Asia Pacific region tremendously."
Concerning the future of this project, De Kleuver says, "Once we have enough outcome data from different characteristics of patients, for example, through a registry, then eventually we will be able to start identifying which patient profile benefits most from what treatment. Ultimately, it will lead to a classification system."
AO Spine Knowledge Forum Deformity thank the panelists for their participation and contribution in the project.
Publications:
Naresh-Babu J, Kwan KYH, Wu Y, et al. AO Spine Adult Spinal Deformity Patient Profile: A Paradigm Shift in Comprehensive Patient Evaluation in Order to Optimize Treatment and Improve Patient Care. Global Spine Journal. August 2021.
Kwan KYH, Naresh-Babu J, Jacobs W, De Kleuver M, Polly DW, Yilgor C, Wu Y, Park JB, Ito M, Van Hooff ML. Toward the Development of a Comprehensive Clinically Oriented Patient Profile: A Systematic Review of the Purpose, Characteristic, and Methodological Quality of Classification Systems of Adult Spinal Deformity. Neurosurgery, 2021.
Videos:
Interview with Marinus de Kleuver on AO Spine Adult Spinal Deformity Patient Profile is available in the AO Video Hub (December 2020).
A one-hour webinar on "Adult Spine Deformity Patient Profile – A Paradigm Shift in Treatment Planning to Improve Patient Care" with Marinus de Kleuver, Lawrence Lenke, Naresh Babu, Kenny Kwan, Miranda van Hooff, Caglar Yilgor (December 2020).
Call for expert panelists for AO ASD with J Naresh-Babu (November 2018).