AO Spine and the PRAXIS Institute release new clinical practice guidelines for acute spinal cord injury (SCI)
BY BRIAN KWON, MICHAEL FEHLINGS, LINDSAY TETREAULT, AND NATHAN EVANIEW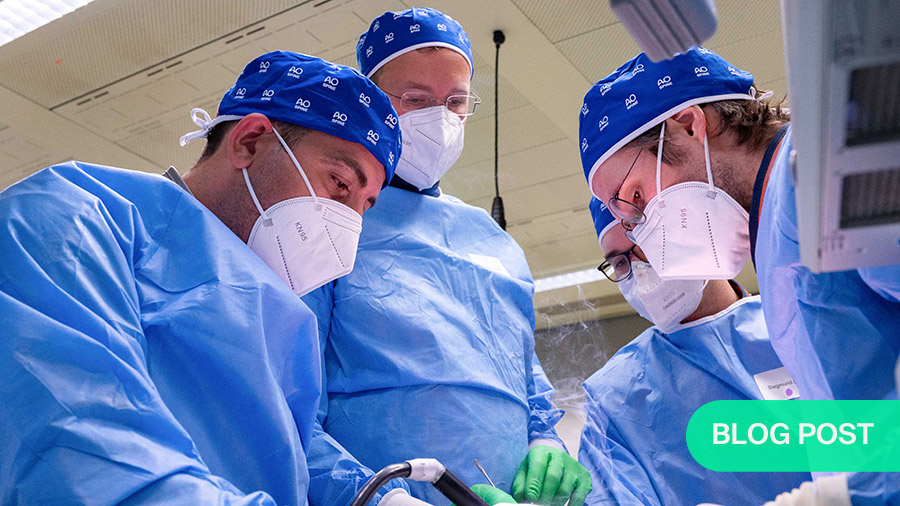 A new set of clinical practice guidelines is being published by a team of researchers from AO Spine and Praxis Spinal Cord Institute in Vancouver, Canada. The guidelines contain recommendations to spinal surgeons and multidisciplinary professional teams for managing certain aspects of acute spinal cord injury in a bid to optimize treatment outcomes for patients around the world.
AO Spine is releasing a new focus issue of the Global Spine Journal (GSJ) dedicated to an updated set of clinical practice guidelines for acute spinal cord injury (SCI). A collection of evidence-based recommendations to optimize the treatment of acute SCI, the guidelines are intended as a practical resource to be used by spine surgeons and multidisciplinary health care practitioners when treating patients.
The guidelines are a synthesis of the most up-to-date scientific evidence available on three specific aspects of SCI, for which they aim to enhance treatment approaches and outline improved ways of managing patients. Two of the guideline topics—on the timing of surgical decompression and the hemodynamic management of acute SCI—are updates of previous guidelines. The guideline on the management of perioperative SCI is a brand-new addition.
The guideline development group was led by Dr Brian Kwon, Professor of Orthopedic Surgery at the University of British Columbia in Canada, Dr Michael Fehlings, Professor of Neurosurgery at the University of Toronto in Canada, Dr Lindsay Tetreault, a neurology resident at NYU Langone in New York and Dr Nathan Evaniew, a spine surgeon at the University of Calgary in Canada.
"Spine surgeons are busy people who simply have not got the time to constantly keep abreast of all the available literature in their field," says Brain Kwon. "Oftentimes, they just really need to know the best management approaches for the issues at hand. This is particularly true when the available literature may not be totally clear."
"Clinical practice guidelines are based on the best available evidence, which is acquired through systematic reviews of the literature, as well as a consideration of the benefits and harms of alternative options," adds Lindsay Tetreault. "Guidelines are extremely valuable to clinicians because they take the available evidence, rate it, and synthesize it into more actionable recommendations."
Guidelines are also a key factor in terms of improving patient care and preventing unnecessary treatment or unnecessary harm to patients. In addition, the process of drafting and updating them plays an important role in identifying existing knowledge gaps to be addressed in future research.
"In order to support the development of the new clinical practice guidelines, we performed systematic reviews according to the GRADE approach," explains Nathan Evaniew. GRADE (Grades of Recommendation, Assessment, Development, and Evaluation) is a state-of-the-art transparent approach to rate confidence in the quality of evidence that has been adopted by more than 100 major health research organizations around the world.
"High-quality evidence indicates that practitioners can be confident when interpreting results and applying them to patient care, whereas low or very low-quality evidence indicates that confidence in the anticipated treatment effects is limited and that caution is warranted when attempting to apply the results to patient care," Evaniew adds.
The guidelines have been collated by the AO Spine Knowledge Forum Spinal Cord Injury (KF SCI) in collaboration with Praxis Spinal Cord Institute in Vancouver, Canada. Both the AO and Praxis have long records of collaborating with international partners in order to generate expertise and best practices around the topic of spinal cord injury.
Collaborations on new guidelines are also important to ensure that the results will be well-accepted, says Michael Fehlings: "We reached out quite broadly to stakeholders, academic societies, and medical professionals around the world. This includes not just surgeons, but also non-operative specialists, physicians, intensive care unit specialists, and nurses."
Role and timing of surgery for acute SCI
With regards to the surgical treatment of spinal cord injury, there has always been discussion around the role and timing of an intervention. Historically, SCI was mostly managed non-operatively—treatments included prolonged bed rests, braces, or skeletal traction. Decompression surgery has only evolved into a widespread approach over the past 20 to 25 years. Today, it is widely accepted that patients who are decompressed early have better neurological outcomes than those who are treated after longer delays.
Part of the reason is that in 2017, AO Spine, together with the Cervical Spine Research Society issued a guideline recommending surgical intervention within 24 hours as the preferred treatment option for the first time. But the level of evidence supporting the recommendation at the time was weak, says Michael Fehlings: "The GRADE process is very stringent, and in 2017, it was felt that the level of evidence just did not meet the criteria to issue a stronger recommendation."
However, since the publication of the original timeline, several papers have confirmed the positive impact of early surgery on neurological outcomes, and there is a moderate level of evidence to support the recommendation. For instance, the evidence used to generate the updated guideline shows that early intervention enhances recovery based on the scores of the ASIA Impairment Scale. "We could not show this in the 2017 guideline, but we are now able to show this quantitatively," says Fehlings. "It also illustrates that guidelines are living documents, and that they are meant to be updated."
The current guideline also provides evidence that hospital stays can be reduced by up to four days as a result of early surgical intervention. Knowledge gaps that remain to be addressed in the future concern the role of "ultra-early" surgery (within 12 hours of SCI), the potential role of expansile duraplasty to enhance the effectiveness of decompressive surgery, the impact of surgical timing on milder forms (ASIA D) of central cord injury, the challenges of caring for elderly and/or medically frail patients with an acute SCI, and the implementation of these guidelines at a systems level—especially in low and middle income countries.
Hemodynamic management
The guidelines also revisit the recommendations made in 2013 (Ryken TC, 2013) by the American Association of Neurological Surgeons (AANS) and the Congress of Neurological Surgeons (CNS) on hemodynamic management in cases of acute SCI. After an injury, the blood supply to the spinal cord is disrupted, which can potentially cause secondary injuries and impair neurological recovery. "Hemodynamic management—ensuring that there is enough blood perfusion and oxygenation to the spinal cord—represents one of the few opportunities for clinicians to potentially improve neurological outcome," explains Brian Kwon.
The 2013 guideline recommended that mean arterial pressure (MAP) be maintained between 85 to 90 millimeters of mercury (mmHg) for a duration of seven days after an injury to improve neurological outcomes. However, according to Kwon, a number of systematic reviews of the literature have shown that the relationship between maintaining this "target MAP" of 85-90 and improved neurologic recovery is not strong. Furthermore, the 7-day period of treatment had also not been well substantiated by clinical evidence.
As a result, the new guideline for hemodynamic management acknowledges that while hypotension is detrimental for the injured spinal cord and should be avoided, the exact MAP to target (and for how long) remains somewhat uncertain. "When it comes to hemodynamic management, it remains difficult for surgeons to know exactly how much blood pressure augmentation is enough and for how long," says Brian Kwon. "This knowledge gap is a big deal for many hospitals, because it determines, among other things, how long a patient will need to remain in the intensive care unit to receive their MAP augmentation."
This uncertainty definitely underpins the need for more high-quality studies in the area. The guidelines point to the need for better physiologic data collection and analysis systems to examine how hemodynamic management influences neurologic outcome. Also, monitoring technologies to provide real-time information about the hemodynamic status of the injured spinal cord are needed in order to determine how blood pressure augmentation is affecting the neural tissue itself. As the guidelines are "living documents", it is hoped that further research in these areas will necessitate updates in the future.
Intra-operative spinal cord injury
To date, no systematic reviews or clinical practice guidelines are available that discuss the management of patients who sustain a spinal cord injury during an operation. This is in spite of the fact that intra-operative SCI (ISCI) is an intrinsic risk to any spinal surgery. "ISCI is among the most feared and dreaded complications in spinal surgery," says Michael Fehlings.
The urgent need for a guideline, Fehlings adds, was in part illustrated by a survey of the international membership of AO Spine. It showed that most spine surgeons do not feel comfortable managing ISCI patients despite extensive training. "It also showed that there was a significant interest and need amongst clinicians to be better informed on how to manage intra-operative spinal cord injury," says Fehlings.
The new guideline represents the first attempt to deliver a comprehensive definition of ISCI. Moreover, the researchers were able to identify a series of risk factors for ISCI through a scoping review. They also investigated the diagnostic accuracy of intraoperative neuromonitoring (IONM) techniques, which are used to monitor neurological function during complex procedures, for example the removal of tumors from around the spinal cord or the correction of spinal deformity. The researchers have concluded that the level of high-quality evidence is sufficient to recommend considering the use of IONM for high-risk patients undergoing spine surgery.
The guideline also proposes a five-step approach to the management of ISCI. The steps include initial clinical assessment to identify patient risk, pre-operative planning, intraoperative planning, intraoperative management including anesthesiologic, neurophysiological, technical, and surgical strategies and postoperative management.
Spreading the word
Although the process of drafting the actual guidelines is complete for now, their publication in the Global Spine Journal is, in a sense, only the beginning. Guidelines do not implement themselves, says Brian Kwon: "We must now turn our attention towards what we call the knowledge translation effort—ensuring that these guidelines are disseminated far and wide in order for clinicians around the world to not only find out about them but also to actually integrate them into their daily practice."
This can be a challenge in itself—studies show that new guidelines sometimes are not actually translated into clinical practice, for various reasons. In some cases, physicians may be reluctant to change their long-established routines, or they never even learn about the emergence of new guidelines in the first place. Economic factors may also play a role—systems of care differ greatly around the world and there may not always be sufficient resources to put new guidelines into practice.
"However, we feel that if we can provide people with what we think is the best evidence, then at least they have something to fight for within their local health care settings," says Kwon. "Because unless you know what is being recommended, you do not necessarily know what kinds of changes should be made within your system of care."
Apart from publication in the GSJ, the researchers will spread the word about the new guidelines in various other ways. These include presentations at national and international conferences, lecture series and webinars. There are also plans to develop dedicated courses to help disseminate the recommendations further.
Brian Kwon and Michael Fehlings are confident that the recommendations that their team are putting forward will be welcomed by spine surgeons and multidisciplinary practitioners around the world: "We did not tackle these topics by accident. These are the things that we know spine surgeons and acute care practitioners today really struggle with. When we meet colleagues at conferences or lectures, these are the questions that always come up. We are confident that these guidelines will enhance practice and address key knowledge gaps in order to enhance outcomes for individuals with SCI."
Dr Brian Kwon, Canada Research Chair in Spinal Cord Injury and Dvorak Chair in Spine Trauma, is an internationally recognized, award-winning surgeon-scientist with the University of British Columbia Department of Orthopaedics, where he runs a translational research group focused on spinal cord injury. He is the chairperson of the AO Spine Spinal Cord Injury Knowledge Forum, a member of the AO Spine Research Commission, and Principal Investigator of several AO Spine studies. And he has had a lot of grants rejected in his career!
Professor Michael G Fehlings, PhD, MD, FACS, FRCSC, is a Professor of Neurosurgery at the University of Toronto. He is the Vice Chair Research in the Department of Surgery, Co-Director of the University of Toronto Spine Program, holds the Robert Campeau Foundation / Dr. C.H. Tator Chair in Brain and Spinal Cord Research at the University Health Network, is a Scientist at the McEwen Centre for Regenerative Medicine, and a Senior Scientist at the Krembil Brain Institute. His main clinical interests are in spinal neurosurgery, and his research focus is on molecular mechanisms underlying spinal cord injury. Michael Fehlings is a Steering Committee member of the AO Spine Knowledge Forum Spinal Cord Injury and Chairperson of the AO ITC Clinical Science Advisory Commission.
Dr Lindsay Tetreault's research has focused on identifying important clinical and imaging predictors of outcomes and complications in patients undergoing surgery for DCM. She was also instrumental in developing clinical practice guidelines for the management of individuals with mild, moderate, and severe DCM as well as non-myelopathic patients with evidence of spinal cord compression. She is an active member of the AO Spine RECODE-DCM project and one of the leaders of the diagnostic criteria incubator. Lindsay hopes to develop valid and reliable criteria that can assist healthcare providers in making a diagnosis of DCM in a timely fashion.
Dr Nathan Evaniew is a Orthopedic Surgeon in Calgary, Canada, and Clinical Assistant Professor of Orthopaedic Surgery at Cumming School of Medicine, Department of Surgery, and a member of University of Calgary's McCaig Institute for Bone and Joint Health. His current and recent projects include identifying predictors of achieving the minimal clinically important difference after surgery for cervical spondylotic myelopathy, understanding the effectiveness of lumbar fusion surgery for patients with back pain and degenerative disc disease, and synthesizing evidence to guide the management of patients with acute traumatic spinal cord injuries.
References
Ryken TC, H. R. (2013, March). The acute cardiopulmonary management of patients with cervical spinal cord injuries. Neurosurgery, 72(1), 84-92. doi:10.1227/NEU.0b013e318276ee16