Addressing the disparity between hardware and osteobiologics in degenerative spine surgery
BY PROF HANS JÖRG MEISEL AND DR ZORICA BUSER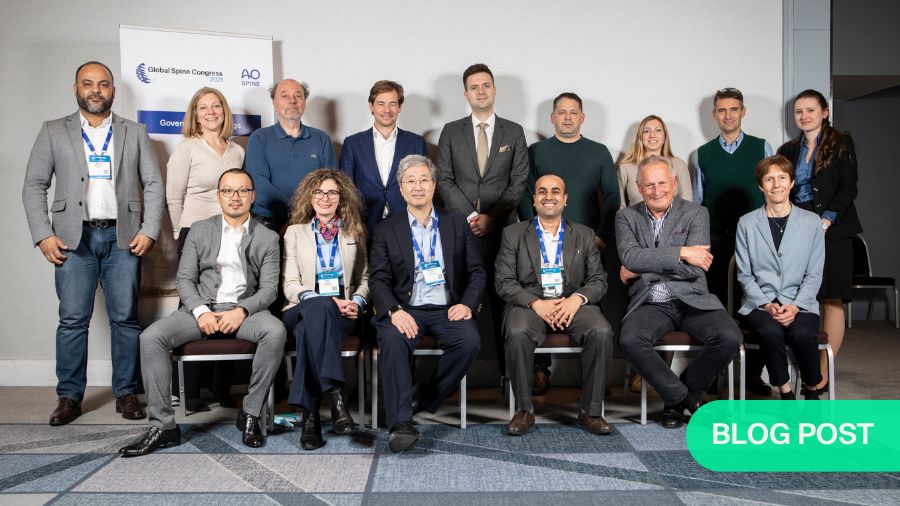 The publication of the new AO Spine Guideline for Using Osteobiologics in Spine Degeneration (AO-GO) focusing on anterior cervical discectomy and fusion surgeries (ACDF) places osteobiologics under the spotlight. Here, Zorica Buser and Hans-Jörg Meisel discuss the gaps in the understanding around osteobiologics and forecast what they believe the future holds for this exciting and rapidly developing field.
When it comes to spine surgery, osteobiologics are often overlooked in comparison to hardware
Osteobiologics represent a critical factor for the success of spine surgeries due to their important role in the promotion of bone fusion. However, while osteobiologics are used frequently in the orthopaedic field, they often take a backseat to hardware. Surgeons are often unaware that there is a vast range of osteobiologics with varying properties and functions available on the market. There is also a lack of clarity when it comes to selecting the optimal osteobiologic for each clinical scenario and determining what cost considerations need to be taken into account.
One of the reasons we see an imbalance in the discussion around osteobiologics and hardware is that there are typically more industry representatives coming into the clinic to talk about hardware. Furthermore, surgeons are often involved in the development of these instruments. Importantly, education with hardware is easier than with osteobiologics because it's possible to manipulate hardware in real time and envision how it will work in the body—it's evident that it provides stability until bone formation occurs. Gaining hands-on experience with hardware through courses, and the possibility to perform surgeries with simulators and cadavers also add to a feeling of familiarity with these products. With osteobiologics we have to wait months to see results, it's more abstract. Surgeons have to believe that the product will work and that makes a big difference.
Another factor that has led to the prioritization of hardware by surgeons is the overwhelming number of osteobiologics available on the market, including a significant number of "me-too" style products. Moreover, external groups such as the Cochrane network have appealed to the orthopedic community for higher-quality evidence in our publications. In line with this, studies with osteobiologics are often preclinical, poor-quality, and use a small sample size, making it impossible to draw robust conclusions.
Surgeons looking to understand more about osteobiologics find it difficult to wade through the enormous amount of evidence and find a signal. As a consequence, they continue to use products that they know and are disinclined to explore other possibilities. Compounding these issues, comorbidities and risk factors are rarely looked at in studies with osteobiologics. If a patient is a smoker or has a condition such as osteoporosis, it is currently unclear how to select the appropriate osteobiologic to achieve fusion in these demanding environments.
Regulators have a role to play in simplifying the osteobiologic landscape
Clinicians are not the only group struggling with osteobiologics. Patients are unable to find unbiased, concise, evidence-based information about osteobiologics that they can use to participate in discussions about their own healthcare. From a cost angle, bringing osteobiologics into a healthcare system can be difficult because they vary widely in price and many expensive products lack strong evidence of efficacy. Hospitals are asking why so many osteobiologics are needed and whether they are approved by insurers.
What role can regulators play in supporting stakeholders wishing to make optimal use of osteobiologics? Bone fillers provide us with a historical perspective. Previously it was straight-forward to create and market a novel bone filler. As a result, a flood of these compounds became available. However, we now see medical device regulation in Europe for example, that governs the manufacture of these products. A clinical trial demonstrating safety and efficacy is now required in order to bring a bone filler on to the market. This safeguard is presently lacking for most classes of osteobiologics.
Currently, the regulatory perspective regarding osteobiologics varies internationally. However, as long as the novel product is relatively similar to what already exists in a clinical setting, agencies typically rely on preclinical research for approval. This leaves the door open for industry representatives to develop white papers that frame their product as the gold-standard. This therefore only exacerbates the complexity surrounding osteobiologic use.
Osteobiologics have huge potential, particularly for minimally invasive surgical approaches
Despite the multitude of challenges, it is vital that the orthopedic community overcomes the hurdles associated with osteobiologic use for the sake of patients. When the right osteobiologic is used, we can expect to see fewer post-operative complications, less revisions, and improved bone fusion at an earlier stage. These advantages are especially important when we consider the role of the spine as a central tissue and organ in the body. When issues in the spine are not rectified optimally, problems in adjacent regions such as the hips begin to emerge. We therefore have to remember to think globally, we are not just fixing one problem with an osteobiologic. Rather, we are also ensuring the patient won't need another procedure at a later stage.
In addition to providing post-operative benefits, osteobiologics also have huge peri-operative potential, specifically for minimally invasive surgery (MIS). Compared with more traditional approaches MIS offers huge advantages for patients and instrumentation is becoming progressively less invasive to reflect this. However, while osteobiologics are not as well understood as hardware, they have a much wider range of properties and functionality which are suited to minimally invasive approaches.
There is a lot that can be done with the chemistry of osteobiologics to enhance their potential for promoting fusion. Indeed, in the future osteobiologics will certainly be developed specifically for MIS and it may even be feasible to reach a stage at which hardware is not required. For example, an osteobiologic may be injected into the intervertebral disk with fusion taking place subsequentially. Such an approach would be a major improvement to the current status quo and while visionary, it is not implausible.
High-quality research and education are needed to shed light on the possibilities of osteobiologics
In order to realize the full potential of osteobiologics we need to overcome the obstacles associated with their use. Namely, we must work towards providing stakeholders with the tools they need to use osteobiologics safely, efficiently, and cost-effectively.
We can start this process by advocating for higher quality research in the field. Different biologics serve different purposes, it is therefore necessary to understand what each particular osteobiologic class can and cannot do. Once we have the evidence available to us, we need to provide education. Spine specific educational content that can help us realize the potential of osteobiologics includes initiatives such as the AO BOnE Classification, webinars and in-person educational events. Networks like AO Spine are already in place to provide this kind of unbiased education. Another key action is to regularly and systematically assess the evidence available on osteobiologics and provide updates to the wider community. One way of doing this is to develop guidelines.
AO-GO Guidelines—Promoting a greater understanding of osteobiologics
The AO-GO Guidelines are a fantastic example of a tool that can help us overcome several of the barriers associated with osteobiologic use. The Guidelines were recently developed by an international team of surgeons and researchers with expertise in degenerative spine diseases. The Guidelines make a series of evidence-based clinical recommendations that will support osteobiologic use in practice and each recommendation is supported by a summary of evidence to provide users with additional context. Currently the AO-GO Guidelines are focused on osteobiologic use in degenerative cervical spine conditions and ACDF procedures. However, in the future it is hoped that the Guidelines will be broadened to cover a wider scope, for example the lumbar region.
The AO-GO Guidelines offer an international perspective and are therefore relevant for a global audience, which is valuable as osteobiologics vary in price and availability across regions. For example, as the pool of available evidence grows, the Guidelines will help to clarify why one osteobiologic is more expensive than another. This will thereby allow surgeons to determine if a product has a cost to benefit ratio that fits their circumstances.
The Guideline should also enhance future research involving osteobiologics in ACDF. Firstly, it highlights the paucity of high-quality data available on this topic. Secondly, it begins to clarify the areas for which we already have a foundation of knowledge available and which areas require further research.
Looking to the future of osteobiologic use
Thanks to initiatives like the AO-GO Guidelines, we expect that in the future, working with osteobiologics will become more straightforward in all regions of the spine. Not only will we gain an understanding of which osteobiologic to use in each clinical scenario, we can also expect to see benefits such as evidence-based pairings of osteobiologics and hardware. In addition, tools such as the AO-GO Guidelines can be combined with other classification systems. We will thereby gain a holistic, evidence-based understanding of best-practice with osteobiologics. Ultimately, by promoting a more considered approach to osteobiologics, we can realize their full potential and benefit patients.
Prof Hans Jörg Meisel was appointed to the Berufsgenossenschaftliche Clinic in Bergmannstrost Halle/Saale as Director of the Clinic for Neurosurgery in 1998. Every year his team of 10 surgeons carries out a minimum of 1800 surgeries in cerebral and spinal diseases. Since September 2008 HJ Meisel has been the Director of the Center of Neurosciences of the BGClinic Bergmannstrost Halle. His primary focus in spine surgery and research for the last 20 years has been in degenerative spinal diseases.
Presently, Prof HJ Meisel is one of the steering committee members of AO Spine Knowledge Forum Degenerative and leading the AO-GO project which is short for the "AO Spine Guideline for Using Osteobiologics in Spinal Degeneration".
Dr Zorica Buser
is a Director of Research and Director of Regenerative Medicine (Spine Restoration) at
Gerling Institute
and a Research Assistant Professor at Department of Orthopedic Surgery at the
Grossman School of Medicine
, New York University. Her research interests encompass clinical studies on spine disorders, their treatments and outcomes, and regenerative approaches for bone and intervertebral disc regeneration. Dr Buser has co-authored over 150 published articles, 10 book chapters, and over 200 podium and poster presentations at spine and orthopedic meetings all over the world. She is a a Steering Committee Member of the
AO Spine Knowledge Forum Degenerative
and a committee member of AO Spine North America Research Committee.
You might also be interested in:
Disclaimer
The articles included in the AO Spine Blog represent the opinion of individual authors exclusively and not necessarily the opinion of AO Spine or AO Foundation.