Skills and career paths for the next generation of spine surgeons—the Swiss approach
BY CHRISTOPH ALBERS, MARTIN STIENEN, AND MARKUS LOIBL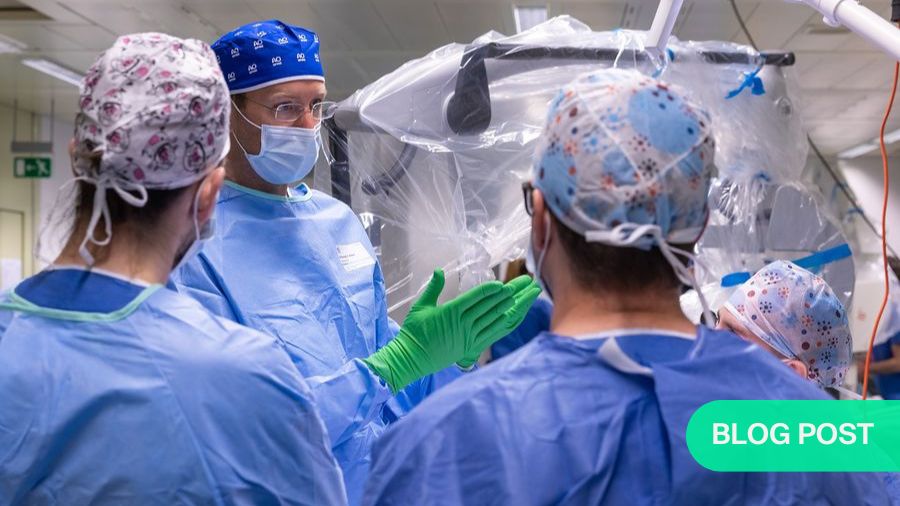 In this three-part guest article, Christoph Albers, Martin Stienen, and Markus Loibl of AO Spine Switzerland reflect on how personal experiences motivated them to launch a systematic and novel educational program targeting the young generation of spine surgeons.
Christoph Albers:
Our starting point for this new program was our own experiences as surgeons, and what we felt was lacking during our training. One of the learning experiences we wanted to focus on, was the implementation of modern technologies into the clinical routine. What are the advantages and disadvantages of novel methods compared to the conventional techniques of spine surgery?
In fact, many young surgeons today are trained and mainly exposed to techniques that rely on technology. As soon as the required technology fails or there's a problem with it, you face the risk that you have to finish the operation without achieving the outcome you had planned.
For the above-mentioned reason, our first point of action to reach out to the next generation is to offer help to acquire basic surgical skills for the treatment of spinal pathologies, which are taught on the most realistic simulators and cadavers available. Thus, our course 'From freehand to navigation' covers basic surgical techniques including lumbar decompression, ACDF, TLIF, dural repair, and pedicle screw insertion.
The latter explores the benefits and challenges of both—traditional freehand "standard techniques" to insert pedicle screws in the spine without any imaging support, but also with intraoperative 2D imaging—and the modern navigation technique which relies on 3D imaging devices.
Navigation technology offers a number of advantages for surgeons. We strongly believe that navigation and even newer technologies such as spinal robotics and augmented-/virtual reality will continue to find their way into the clinical routine. However, all these technologies also have some disadvantages. Some experienced surgeons have their doubts that navigation adds significantly to their freehand technique. They find it time consuming and expensive without any benefit regarding accuracy and precision for implant positioning.
Another criticism I—personally—have concerning navigation is in the case of implants that can be positioned in a minimally-invasive procedure, like percutaneous pedicle screws. In this approach, we don't have the anatomic landmarks, and we have to rely 100% on the accuracy of the system, without any visual feedback.
On the contrary, there is a body of research, which suggests that implants or screws positioned with the help of navigation are placed in the correct trajectory with higher accuracy and precision, compared to the freehand or fluoroscopic techniques. This may be particularly true for the younger generation of spine surgeons. They have less surgical exposure during their training due to legal working time restrictions. Modern technology may therefore add significantly to their practice and quality of patient care. Another very important factor to consider here is the use of intraoperative radiography/fluoroscopy. For myself, the most important reason not to do a surgery with the use of fluoroscopy is the radiation exposure I will encounter over 40 years of clinical practice. Despite being covered in led gowns, no full protection is warranted and my brain, my eyes, my hands, my arms, are not covered. The stochastic effects of radiation exposure cannot be estimated individually. Moreover, continuous radiation exposure does not only affect me as the surgeon, but also the entire operating team getting all the scattered radiation for several decades.
Therefore, there are a number of advantages but also some disadvantages associated with relying on modern technologies in spine surgery. It is likely that navigation but also more advanced technologies such as robotics and augmented or virtual reality will become standard of care and will be used routinely by every doctor. However, there is danger that the younger surgeons may not learn the conventional techniques anymore. We are convinced that for now, it is crucial to learn both.
The beauty of our specimen course in Bern is that participants can explore traditional and modern techniques in detail and find out for themselves, which technique they prefer for their daily clinical practice. This introduces an important point around how young surgeons learn to hone their skills and shape their surgical careers. Professional development is crucial, and at AO Spine Switzerland we developed an education program that covers not only technical skills, but also theoretical and "soft" skills which shall enable us to make correct treatment indications and improve the overall quality of managing patients with spinal disorders. This is where we as AO Spine Switzerland want to pick up and shape the younger rising generation of spine surgeons.
Martin Stienen:
The second point of action is to offer help during career planning. For this reason, we developed a two-part webinar series to tackle topics that will be interesting and helpful as a spine surgeon to build up a successful career. What kind of personality traits are required? And how can you actively push your career forward in this competitive field?
The first part of our webinar focuses on the needs of early residents. For many surgeons, orthopedic training involves a lot of knee and hip surgeries but often only a handful of spine procedures. Some surgeons are interested in spine, but they have had so little contact with spine surgery during their training that they don't know how to make a career in it. The webinar provides advice around essential prerequisites for spine surgeons.
In the beginning, a spine surgeon must have a very deep interest in the field, because then the surgeon will not mind working a lot. When you are fascinated by your work, you naturally dig deeper and learn. Second, a spine surgeon must be trustworthy. Some residents are technically very good, but it can be difficult to trust them. Residents and fellows should not rush into the case without the necessary reflection and potentially hurt the patient. I would even go so far as to say that in the beginning, it doesn't really depend on whether you're "very handy in the OR". It is much more important to be trustworthy. Things like speed, technical skills and ability develop naturally over time.
Training or development of these non-technical or "soft skills" were often missing during our own early careers as surgeons, so we feel it's very important to talk about them. As a trainee surgeon, you learn to do decompressions and how to insert pedicle screws—but how do you manage your fears and worries?
Finally, we explain how to apply for spine fellowships, including those supported by AO Spine. We talked about how important it is to network at conferences, and how to build professional friendships to support personal development. In a small country such as Switzerland, spine surgery is a highly competitive field, so you must invest a lot in order to find an attractive position as attending surgeon. It became evident that in order to achieve that goal, you should engage in academic projects and publish in parallel to the clinical work. You should develop ideas, build studies, organize funding, collect data, publish data, and present at conferences. When you manage to do this in parallel with developing excellent skills as a clinical spine surgeon, the future is open and bright.
In my own experience, exchange and change of perspective are extremely valuable. During my clinical fellowship in the US I scrubbed in with both neurosurgeons and orthopedic colleagues. This experience opened up a new world of complementing surgical strategies. To this day, I combine both neurosurgery and orthopedic surgery approaches and techniques, and I implemented many orthopedic concepts in my daily practice. My neurosurgery colleagues often say that for spinal fusions I operate much more like an orthopedic surgeon than a neurosurgeon.
I also spent two months in Korea, where the approach to spine surgery is very different compared to Switzerland and the US. Traveling, observing, and exchanging ideas over a glass of beer and a Korean barbecue was extremely interesting and I made friendships that persist to this day. I still exchange opinions with my (fellowship) mentors in the US and Korea, or I send them scans and seek their advice when faced with a challenging case or exceptionally rare condition.
The second part of the webinar is for more advanced residents or young board-certified consultants. We talk about our "first big cases" and how we felt about them, where we ran into problems and what our experience was, so that maybe we can prevent the participants from making the same mistakes. Even though it is still rare in surgery in general, we want to communicate that it is a natural sensation to feel insecure and maybe even afraid at the beginning, facing surgical challenges and the responsibility that comes along with it. Growing responsibility as your career advances can weigh heavily on your shoulders. This is a fact, and our young colleagues should be aware that we all went through it.
We look at how to manage complications—because big cases always go in line with complications, but they must be managed adequately. The idea that surgeons should have all the answers ready—immediately after board-certification—is an old-fashioned way of thinking. Here at AO Spine Switzerland, we try to have a realistic approach, emphasizing that it's never a bad thing to express a worry or uncertainty. I tell this also to our fellows, trainees, and observers, and encourage them to pose any possible question that may arise.
In my own early years after board-certification, I operated more and more complex cases step by step, but the night before I was often worried, I couldn't sleep well. I was tired the next day, and I am sure operative performance is worse when you're tired. It is good to exchange with colleagues, discuss and thoroughly plan cases—four eyes see more than two. In St. Gallen, we present all of our elective scheduled cases for the next week at a dedicated spine board and discuss the indication and surgical plan with the complete interdisciplinary team of orthopedic and neurosurgeons. If the surgeon responsible for the case is not 100% sure he/she can manage the case ideally, we organize another experienced surgeon to scrub in and operate together. We are not hesitant to express uncertainty and worries, because it's safer for both the patient and the surgeon. Communicating openly carries a benefit for everyone. This helped me to sleep well the night before the case. It really makes a difference.
Finally, the webinar looks at career progression. How can you go beyond what's established in your department and take it to the next level? As you progress in your career, it's important to consider how you can bring in new technology in a very settled department, where everything might have been running the same way for years. How do you create your niche, so that you are known for your special qualities and hereby affirm your position?
These were all aspects of our "career-building webinars", and the feedback we have received after each of the sessions demonstrated that we touched upon a topic, which is considered highly relevant by many young and ambitious spine surgeons.
Markus Loibl:
The third point of action to reach out to the next generation is the board-certification exam. We aim to reach out to residents in neurosurgery and orthopedic surgery who are preparing for the exam and will move on to an advanced position in the near future.
We developed a seminar which focuses on the theoretical background of common spinal pathologies and helps surgeons to prepare for the board-certification exam. In Switzerland and the German-speaking countries, the requirements and training of neurosurgeons and orthopedic surgeons is very different. Orthopedic surgeons are required to do a very limited number of spine surgeries during their residencies. For this reason, many of them have limited exposure to spinal pathologies. On the other hand, neurosurgeons have to focus on a fairly large number of specific spine surgeries to fulfill the requirements of their surgical training. Consequently, we felt it was important to invest more time to close certain knowledge gaps according to their needs. We help the senior resident to prepare for the exam and get a classic AO learning experience right before the exam.
The seminar covers nine very common and important topics of spinal pathologies. All topics are case-based and illustrate a real patient scenario with a clinical vignette. This is where we briefly discuss the patient's symptoms and complaints, looking at X-rays and MRIs in the big auditorium. We then split into small groups, which gives everyone the chance to ask their questions, express their ideas and management concepts, and build up confidence before going back into the big auditorium. One representative of every group has to present and defend the group opinion on the case. Everyone will have the chance to speak out loud. This is one of the learning experiences we are looking for: everyone should contribute according to his/her capabilities. The session is completed with a simple expert lecture in the end to round up the topic with the required theoretical background information.
The timing of the course is one week before the board-certification exam. The participants will have been studying for months. We held the course for the first time in 2021 and had 30 participants. All of them dedicated one of their last days to studying the most relevant spinal pathologies one week before the exam. We surveyed the participants after the final exam and several of them said they had a clinical case with a very similar spinal pathology during their exam. In particular, two participants were very grateful since we discussed a large part of the content of the final exam during our small group discussion at the course!
With this effort, we hope to reach out to the younger generation and make them aware of AO Spine. We aim to demonstrate the benefits of AO Spine to their board-certification exam, and even more to their professional development and personal life later on.
The course really benefits the faculty too, as we have twelve spine surgeons from all large spine centers in Switzerland, who dedicate a whole day to teach, promote knowledge and confidence, and network.
These are the experiences that we wanted to impart to the next generation of surgeons. This approach is very novel in AO Spine Switzerland. We saw our membership numbers increase by 40% last year. We see this course as an invitation for young surgeons to get experience and participate, to actively contribute, and to evolve. That is what the AO Spine community is all about.
***
Find all upcoming AO Spine educational events in Switzerland here.
PD Dr. med. Christoph E. Albers is a Swiss board-certified orthopaedic spine surgeon. He is co-chairing the spine unit at the Department of orthopaedic Surgery and Traumatology, University Hospital Bern. As a tertiary referral center, his unit covers the entire spectrum of spinal pathologies with specific focus on spinal trauma, tumor, and adult deformity. Academically, he is in charge for the onsite Spine Surgical Research Program. Albers is currently working on improving the outcome of spinal fusion surgery through the implementation of novel biological approaches that have previously been established by his own research group for fracture and critical size defect healing in long bones.
PD Dr. med. Martin N. Stienen is a Swiss board-certified neurosurgeon and Fellow of the European board of Neurological Surgeons (FEBNS). He is co-chairing the interdisciplinary Spine Center of Eastern Switzerland at the Kantonsspital St.Gallen (AO Spine center), where a team of 11 board-certified neurosurgeons and orthopaedic surgeons, 8 residents and a physician-assistant closely collaborate to cover the whole spectrum and take care of simple and complex spine pathologies, tumors and trauma. His academic interests focus on the development and validation of innovative, objective ways to measure disability and on complication detection and avoidance in spine surgery.
PD Dr. med. Markus Loibl is a German board-certified orthopaedic surgeon specialized in degenerative spinal pathologies and deformities. He served the AO Spine Country Council of Switzerland as Ortho Officer from 2019–2021 and was elected Chairperson last year. As a senior consultant, he is a member of the Spine Unit at Schulthess Klinik, Zurich, Switzerland (AO Spine Center), where an interdisciplinary team approach was established 35 years ago. As a surgeon with a strong basic science background, he is interested in translating basic science knowledge to clinical application, with the aim to restore spinal function.
Disclaimer
The articles included in the AO Spine Blog represent the opinion of individual authors exclusively and not necessarily the opinion of AO Spine or AO Foundation.