There is no other motivation than the belief that we can change something
BY DR NICOLAS DEA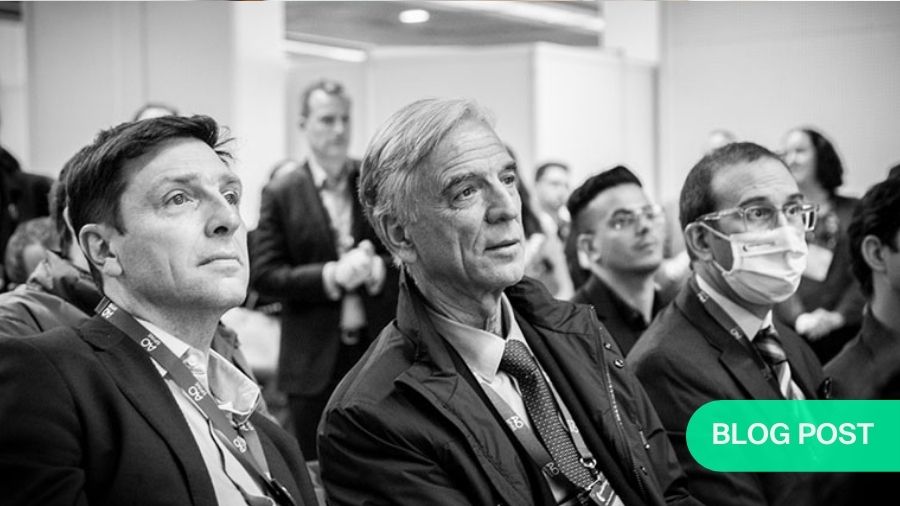 Vancouver neurosurgeon Dr Nicolas Dea is one of the first winners of the Luiz Vialle Award, which recognizes outstanding performance and leadership in the AO Spine Knowledge Forums. The other 2021 winners were Zorica Buser, Jorrit-Jan Verlaan, Ferran Pellisé, and Jefferson Wilson. In his very personal account, Dea reflects on receiving the award and his experiences with the AO Spine Knowledge Forum Tumor.
Winning the Luiz Vialle award means a whole lot. I am part of the Knowledge Forum Tumor, and the recognition is given to five associate members from five AO Spine Knowledge Forums annually. Many people in the AO Spine Knowledge Forum Tumor could have received this award, and I think everyone really deserves it.
I work hard and put a lot into the Knowledge Forum because I really believe in it. We all do. There's not only one pilot on the ship; everyone is doing amazing work. The Knowledge Forums have managed to bring lots of great people together into the same room to, facilitated by AO Spine, research things that are important. We look for answers to questions that we believe will result in improved patient care.
An inclusive, global community
That said, I'm really happy to have received one of the very first Luiz Vialle awards in 2021, and I look forward to seeing someone else getting it next year. What it means to me, at the end of the day, is that my work is recognized and valued. But it also means everyone is working in the same direction, and we're doing good work together. It's an amazing community to be a part of, and its way more than just work. These surgeons and researchers are not only my colleagues, they're also my dear friends. We even travel together outside of work, and we recently took a tour of the vineyards in Burgundy and Northern Rhone. We achieve the work, but we also build long term relationships. We always look forward to the next Knowledge Forum meeting, which is not always the case with work meetings.
It's a very tight knit and inclusive community. I don't feel one ounce of competition in the group, which is amazing. If anyone has a good idea, we bring them over. Every year, we welcome more and more new members from around the globe, and each person everyone brings different perspectives with them. This allows us to combine our efforts and knowledge to a pool of data that is more representative of the world.
The AO Spine Knowledge Forums recently marked their 10-year anniversary. I got in through mentorship. I owe a lot to my colleague Charles Fisher here in Vancouver, who at the time was chairperson of Knowledge Forum Tumor and is now chairperson of the AO Spine Research Commission. He hired me and saw that I have a strong interest in oncology, so he suggested I should join this group. The rest, as they say, is history.
I remember that first AO Spine Knowledge Forum meeting in Miami a decade ago. I knew the names of all these people I had looked up to for years, and here I was, getting to meet all the people behind those names... It was a blast, and I don't think I've missed a single meeting since. In any part of life, you get to meet people who believe in you and push you, and I was lucky to have met those people early in my career in the AO Spine Knowledge Forum.
Quality of life is the most important metric in oncology
Within AO Spine Knowledge Forum Tumor, I have looked a lot at patient outcomes and quality of life, which I believe is the most important outcome. Often in oncology, we care about survival. We might think "this new treatment will make you survive 200 days instead of 150 and that's why this is good." Well, yes, life expectancy is one metric we should look at, but I believe the quality of life of our patients is more important. Unfortunately, most of these people are dying, so aside from considering how long they live, we should look at how they live, and their quality of life. In the Knowledge Forum, we have tried to work a lot on defining and characterizing the quality of life of the spine tumor population.
One big project I have been involved in examines whether people with short life expectancy should be denied surgical care. Prior to this research, the spine literature said that if someone has less than three months to live, they shouldn't have surgery. This is the historical viewpoint, but it wasn't really based on anything—someone at some point had said, "it's probably not worth it" and this was repeated in the literature. Our group asked why we shouldn't give a dying patient the chance of surgery.
We have minimally invasive approaches now—we have a far bigger toolkit—so there's no reason why we could not or should not do a small intervention on a very disabled patient in the hospital so they can be close to their family and their home. We were able to study this through an international cohort of patients, and we saw that even if patients are dying there can be benefits to surgery.
This could be a game changer for these patients. I hope to see surgeons and physicians moving away from this approach of "no, your life expectancy is less than three months, get out of my office" towards a more comprehensive approach where they say "yes, your life expectancy is poor, we're not going to do a big operation, but there might be something I can do to help you and significantly improve your quality of life for the rest of your life."
Time to think outside the box again
The paper was named Best International Spine Paper of The Year by the Congress of Neurological Surgeons, so that was big. I wasn't expecting it at all. In fact, when I got the email, I thought it was spam! I was shocked when they followed up to tell me it was true. The award was very welcome and I'm very proud of it, but it's not only my work, it's the work of the group. Over the past 10 years the group has won a number of awards and commendations and brought many people around the table. But the real highlight is seeing how we have progressed in those years and everything we've achieved together.
It is not always easy, and the challenge we face now is that it's hard to meet as often as we'd like. Secondary to that, we're not progressing at the pace we'd like. The human aspect is so much less on a Zoom-call; the important in-person interaction has been missing. Of course, we all do this because we believe in it—we have no other motivation than the belief that we can change something. However, one of the benefits is we get to hang out together a few times a year and that is less present now.Looking ahead, that ability to gather around the same table is important for the Knowledge Forums to continue to be productive and successful. We need to start thinking outside of the box. There are a few things we know we can do well and have done them. Now, we need to look towards other fields in oncology. The molecular studies, the personalized oncology care—these areas will be important for us to tackle. It's also important that we look at patient expectations and bring in patients and non-medical persons. Sometimes, the things we think are important, they tell us are actually not that important. Surgery can't cure everything. As much as we surgeons like to believe otherwise, some things do take more than a knife.
Read more about the AO Spine Knowledge Forums in five spinal pathologies of Tumor, Deformity, Trauma, Spinal Cord Injury, and Degeneration here.
Dr Nicolas Dea
is Clinical Associate Professor of Neurosurgery at the
University of British Columbia
in Vancouver, BA, Canada. He completed his MD program and his neurosurgical training in Sherbrooke, Quebec, and his spine surgery fellowship in Vancouver, BC. Dr Dea completed his master's in health economics, Policy and Management at the London School of Economics & Political Sciences in London, UK. He is the Vice-Chair of the Neurosurgery Examination Committee at the Royal College of Physicians & Surgeons of Canada, playing an active role in the examination of neurosurgical candidates. He is an associate member of the AO Spine Knowledge Forum Tumor, an international multi-disciplinary panel of experts pursuing innovative research into spine oncology. He is the co-PI of an international study dedicated to the primary tumors of the spine by the Knowledge Forum. He also sits on the executive board of the Canadian Spine Society, is a Steering Committee member of the Canadian Spine Outcomes and Research Network, and the principal investigator of the Canadian Prospective Cervical Spondylotic Myelopathy study.