How a simple drug transformed the future of three young ameloblastoma patients
BY ARIEL HIRSCHHORN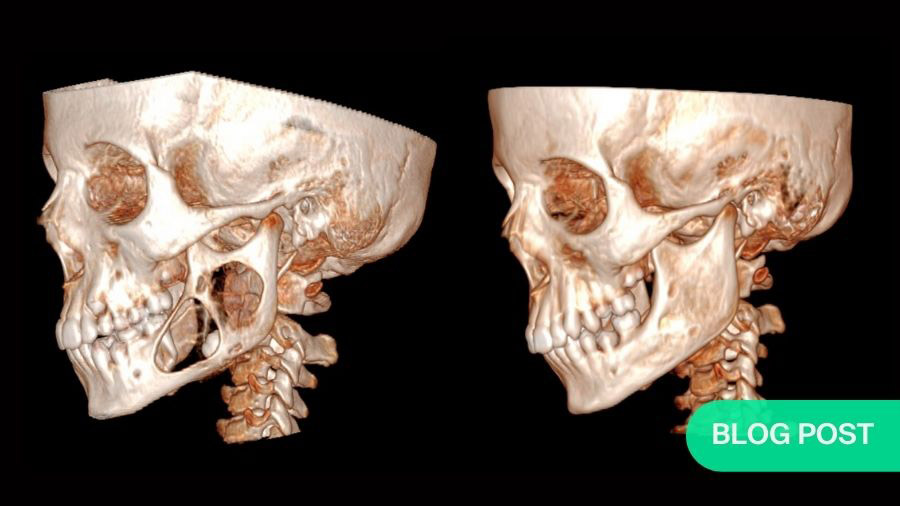 Shaun was 15 years old when his parents noticed a slight swelling in his left cheek. By the time we met Shaun at Sheba Medical Center (Tel Hashomer, Israel) he was 16 with significant facial disfiguration. Shaun had been diagnosed with ameloblastoma, a neoplasm arising in the craniofacial skeleton. Proliferating odontogenic epithelial cells comprise this benign, yet locally invasive, tumor, often causing severe disfiguration.
The area of destruction was significant. His right mandible was completely replaced by tumor tissue, there was no bone left. In patients presenting with this condition, surgical resection and reconstruction was the acceptable standard of care.
Surgery consists of the complete resection of affected bones, with safety margins of 1.5cm. Reconstruction of the ablative defect is carried out using bone harvested from the fibula and metal reconstruction plates.
Unfortunately, such treatment can never restore the exact facial appearance. No metal can precisely reconstruct the human skull, with its complex anatomy, grooves, and delicate tissue. The human face continues to grow until our early 20s, so in a growing child, the problem only gets worse.
Shaun had been to several hospitals before he came to us, and at that time surgery was the only treatment offered to Shaun. His father told me and Ran Yahalom, 'I don't want this kind of life for my son, there must be something else you can offer.'
Investigations begin
Our first thought was: can we buy him time? If we could get him to his early 20s, when the face is no longer growing, the consequences would be less grave. The human face is a biological organ that embodies our identity and is our primary means to communicate with each other, so facial disfigurement can have a devastating impact. It's not easy for an adult to lose their face and their identity, but it's considerably more difficult for a child. For Shaun, he was once a healthy young boy, whose life could negatively change in so many different ways.
I checked the literature to see what we could do. Research conducted at Stanford University showed a correlation between ameloblastoma and a mutation in a gene called BRAF. Surgeons are no experts in genetics, so I had to research further.
BRAF is a human gene that encodes the B-Raf protein, which is responsible for cell proliferation. When the BRAF gene is mutated, it is constantly activated. This leads to uncontrolled cell proliferation (independent of any external stimulus), a condition that may result in the generation of tumors. Somatic oncogenic mutations in the BRAF gene (specifically the BRAF-V600E mutation) occur in more than 60% of mandibular ameloblastomas.
We wondered: can this help Shaun? Professor Vered, our pathologist, proposed we immunostain Shaun's biopsy sample to verify the presence of this mutation. We extracted tumor tissue and undertook genetic sequencing, which revealed that Shaun's tumor did indeed harbor the BRAF mutation.
This was wonderful news because we knew there was a biologic drug that could target this. This drug is a pill that is taken twice a day, with only minor side effects. We thought wow, maybe we can give Shaun this drug before resecting his jaw – it might curtail additional growth of the tumor and may even reduce tumor size.
Astonishing results
Dr Campino, our pediatric hemato-oncologist, commenced targeted therapy treatment with Dabrafenib (Novartis Pharma AG, Basel, Switzerland) in a pediatric dose of 4.5 mg/kg/day divided bid with multispecialty monitoring. Throughout the treatment course, we conducted timely cardiologic, ophthalmologic, dermatologic and endocrinologic follow up. There were no serious adverse events.
This treatment had never been administered in an upfront manner for this disease. It was occasionally offered as a last line of treatment for patients whose tumor had returned and metastasized, but it had never been attempted as an alternative to major surgery.
The results were profound. As treatment progressed, we noticed new bone formation - his jaw has regenerated to almost its exact pre-disease state. His tumor receded until it could be removed with only a very minor operation. No surgery alone can reach this result, with symmetry restored and no scars remaining. Such is the limitation of surgery, but when surgery and genetics combine forces, this is the result.
We have now finalized treatment of three young boys presenting with BRAF V600E mutated ameloblastoma, and several more patients. We have seen how it has affected the lives of people. Our oldest patient was an 84-year-old male. We also treated a 40-year-old woman who had just given birth. We didn't think we could carry out treatment, but she insisted not to be treated by surgical resection. Thanks to this treatment, we have managed to completely remove the tumor, preserve her jaw and she's now a healthy, proud mother to a two-year-old daughter.
This is a big breakthrough. We have managed to tailor precision medicine, which is a genetically based patient specific treatment, to ameloblastoma. In the cases we treated, the BRAF inhibitor resulted in substantial tumor regression, allowing for non-mutilating complete surgical removal, bone regeneration and organ preservation. All patients showed a marked radiologic and clinical responsiveness to medical treatment, enabling organ preserving conservative, successful surgery. Microscopically, we observed minimally residual tumor with extensive tumor necrosis and fibrosis and generation of new bone. Ultimately, this treatment allows for unimpeded facial growth and disease-free survival.
The results of the study were published in the Journal of Tissue Engineering and Regenerative Medicine in September 2021, titled Upfront rational therapy in BRAF V600E mutated pediatric ameloblastoma promotes ad integrum mandibular regeneration.
Delivering change
My desire now is to bring this treatment to the attention of the clinicians treating. If a patient diagnosed with ameloblastoma looks up their disease on google - as patients often do these days - I want them to find this blog post and talk to their surgeon about it.
For the maxillofacial surgeons, we want them to know that precision medicine has the potential to transform our profession. It's simple to incorporate and doesn't require any unique equipment. For ameloblastoma, the method requires pathology staining for this mutation. When BRAF V600E mutated ameloblastoma has been verified by pathology and next-generation sequencing, treatment with the drug can be initiated. Ameloblastoma is a surgical disease, and nobody knows how to properly treat this disease better than a maxillofacial surgeon. Precision medicine can be a valuable tool in the hands of surgeons, giving us the ability to direct treatment towards organ preservation and tissue regeneration.
It takes a long time to incorporate change in medicine and surgery, especially when dealing with long-running, well-established treatments. Therefore, myself and the team here will continue to research and write articles and lecture at conferences. We want to drive change and introduce precision medicine-based treatment, which can potentially spare the need for extensive surgery. Currently, the medication is costly, but it's now in the process of being incorporated as a treatment for this indication, and we believe patients should be informed about this option, in appropriate cases.
Ameloblastoma has a profound impact on patients' lives. With this treatment, we have seen our patients become healthy again. For children, they can be spared the trauma of facial disfigurement, and allow them to return to their normal lives.

About the author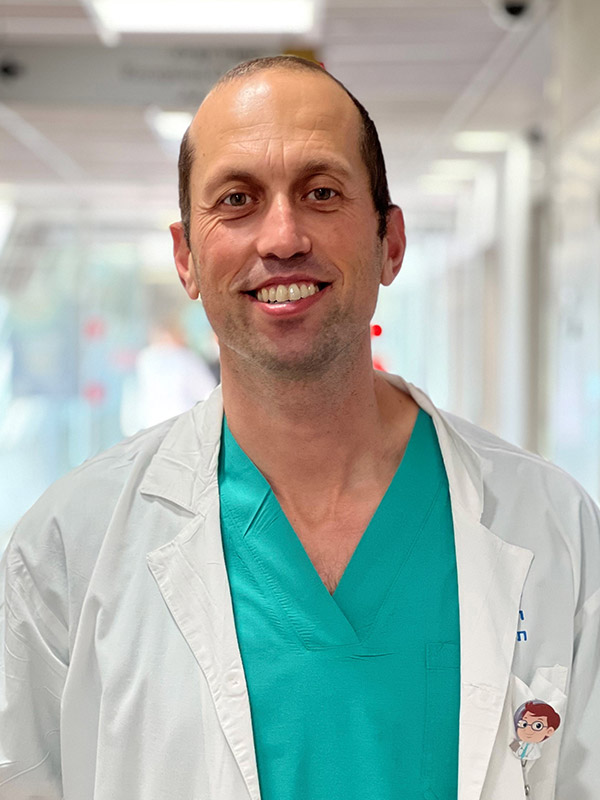 Dr Ariel Hirschhorn is an attending surgeon in the oral and maxillofacial surgery department at the Sheba Medical Center at Tel Hashomer in Israel, the largest and most comprehensive medical center in the Middle East. At Sheba, close to 7,000 health professionals provide almost four million treatments and medical tests to more than one million patients a year. Dr Hirschhorn has worked at the Sheba center for the past 12 years. Dr Hirschhorn attained his DMD from the Hadassah School of Dental Medicine at the Hebrew University, Jerusalem, and completed his residency program in maxillofacial surgery (2009 to 2014) at the Sheba Medical Center followed by a CMF surgery fellowship at The University Hospital in Basel, Switzerland. Ariel is an adjunct member of the AO CMF Community Development Commission representing the European and Southern African region and has been a CMTR open web editorial board member and AO CMF online faculty for several years.
References and further readings:
1. Tan S, Pollack JR, Kaplan MJ, Colevas AD, West RB. BRAF inhibitor treatment of primary BRAF-mutant ameloblastoma with pathologic assessment of response. Oral Surg Oral Med Oral Pathol Oral Radiol. 2016 Jul;122(1):e5-7. doi: 10.1016/j.oooo.2015.12.016. Epub 2016 Feb 23. PMID: 27209484.

2. Hirschhorn A, Campino GA, Vered M, Greenberg G, Yacobi R, Yahalom R, Barshack I, Toren A, Amariglio N, Rechavi G. Upfront rational therapy in BRAF V600E mutated pediatric ameloblastoma promotes ad integrum mandibular regeneration. J Tissue Eng Regen Med. 2021 Dec;15(12):1155-1161. doi: 10.1002/term.3254. Epub 2021 Oct 9. PMID: 34599642.
Disclaimer
The articles included in the AO CMF Blog represent the opinion of individual authors exclusively and not necessarily the opinion of AO CMF or AO Foundation.