AO VET's Mark Markel takes reins as AO President-Elect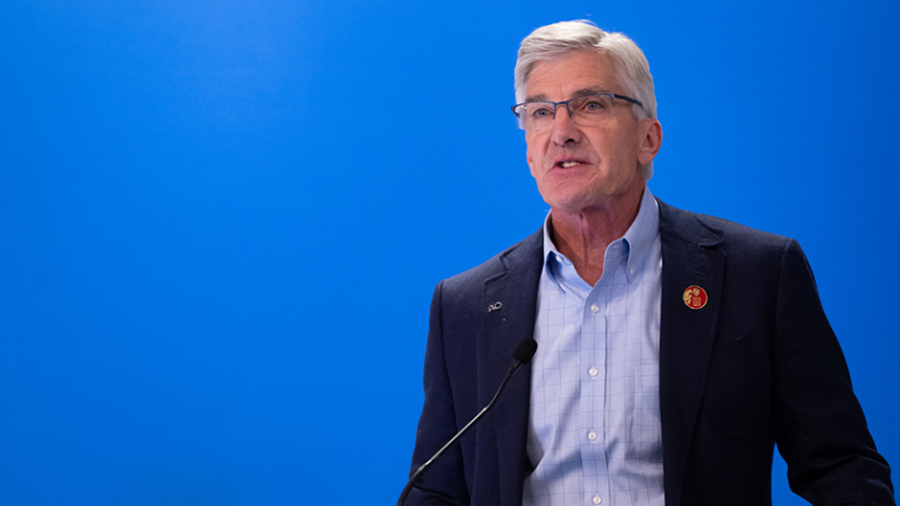 Nearly 40 years after taking his first AO course, veterinary orthopedic surgeon Mark Markel, DVM, PhD, has reached what he calls a career pinnacle: his election as AO President-Elect. As his two-year term gets underway, Markel outlined his priorities and his vision for keeping the AO at the forefront of education, innovation, and research.
Markel, dean of the University of Wisconsin (United States) School of Veterinary Medicine and a member of the University of Wisconsin-Madison faculty since 1990, was elected AO President-Elect in June 2023 during the AO Trustees Meeting in Sydney, Australia. Since becoming AO Faculty nearly 25 years ago, he has served the AO in a variety of leadership roles: six years as a member of the AO Research Fund Commission, seven years as chairperson of the AO Research and Review Commission; and for the past five years as the veterinary expert on the AO Foundation Board (AO FB). He is the first veterinarian elected as AO FB President-Elect.


"All of these experiences enhanced my understanding and passion for what the AO does in bettering patient care and outcomes," Markel said. "From my first AO course almost 40 years ago to now, the AO has served as the principal instrument for orthopedic surgeons to enhance their skills and knowledge to better treat patients—whether they are humans or animals—and to learn about state-of-the-art implants and techniques to achieve better outcomes. I'm proud to serve in a leadership position in an organization that truly has a global footprint aiming to improve patient care everywhere on this planet.
"Importantly, it will be critical for the AO FB to engage our clinicals divisions, unit, and institutes, and the AO regions to help the AO continue to lead the world in education and research. We need to position the AO to be financially sustainable so that we can continue to lead the world in all that we do in the coming decades," Markel said.
Working with all AO stakeholders is essential to creating the sustainable AO of the future and positioning the AO to excel in the education it provides to the next generation of orthopedic surgeons, he added.

"Many of our current initiatives, such as AO Access, will be critical to our future as we work with our clinical divisions and unit and our regions to determine pathways to better engage young surgeons and to enhance the value we bring to their careers so that they want to be part of the AO family throughout their lives," Markel said.
The most important mission of the AO is to advance patient care and outcomes through education, innovation, and research, he emphasized.

"The AO Research Institute Davos (ARI) is a crown jewel in this regard, and continuing to support our research and innovation mission with ARI at the forefront will be critical to our future success," said Markel.


Keeping the AO at the forefront
As the AO marks its 65th anniversary in 2023, Markel explained that AO FB leadership must create a financially sustainable future for the organization.

"It is imperative that the AO continues to lead orthopedic education and research for the next 65 years and beyond," he said.

Among the challenges the AO faces is competition from other organizations pursuing orthopedic education and research, and Markel said maintaining the AO's global leadership will require innovation and pursuit of best practices in pedagogy as well as research to benefit both human and animal patients.

Cultivating the next generation of AO leadership is a must as the AO looks to its sustainable future, he said.

"In the leadership positions I've been privileged to serve in during my career, I have found that the best way to help guide an organization toward excellence is to find outstanding leaders within the organization and to nurture and support them," Markel pointed out. "The AO is fortunate to have many outstanding key opinion leaders leading our efforts in education, innovation, and research. We will need to continue to focus on growing the next generation of leaders in orthopedic surgery and nurturing them both early in their careers and throughout their professional lives.

Whether it's through the AO Education Institute (AO EI), ARI, or the AO's many initiatives and platforms focused on innovation, Markel said the AO must remain dedicated to cultivating its next generation of leaders.

"We are fortunate that we are already considered world leaders in education, innovation, and research but we cannot rest on our laurels but, rather, we need to focus on the future, using innovative strategies to continue to advance the AO's mission," he said. "I believe that AO Access is an important effort for our future success because it engages young and diverse members and mentors them for their future success and—ideally—their lifelong commitment to the AO and all that it strives to achieve."


The role of technology
Technology will play an important role in the future of orthopedic surgery and Markel believes it presents opportunities for the AO.

"Whether it's how we provide education, the methods we use to conduct research, or our focus on innovation to benefit patients and their outcomes, technology will play an ever-increasing role in how we deliver education and how we perform surgical procedures," said Markel. "For us to continue to be at the forefront of research, we will need to use state-of-the-art technology as we do now in ARI and within our clinical divisions."

He said artificial intelligence (AI) and machine learning will play increasingly important roles in how surgeons diagnose and treat orthopedic conditions.

"AI will also be an important tool to assess surgical competencies for our trainees and in how we deliver patient care," he predicted. "The AO need to remain focused on these advances in order to stay at the forefront of education, innovation, and research."