Programs and concepts
Based on the philosophy of lifelong learning, a comprehensive curriculum was developed to enhance your skills

AO VET curriculum - the framework for continuing development in diverse practice settings
The curriculum is based on the competencies that enable veterinary orthopedic surgeons to perform effectively in their practice settings and meet the profession's standards. This curriculum is designed to ensure continuous acquisition of the necessary knowledge and skills that will aid lifelong career progression in areas of specialization.
A step-by-step educational path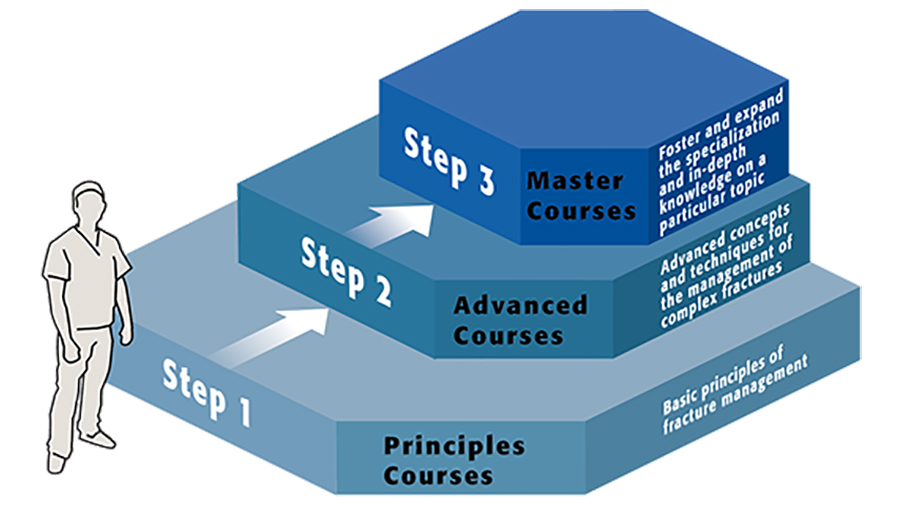 AO VET educational offerings give veterinarians the tools necessary to deliver high-quality care for orthopedic cases in an interactive, peer-to-peer learning environment.
Our consecutive courses teach methods—not products—and follow an established curriculum-based approach:
Principles courses introduce the basic principles of fracture management, using renowned AO techniques
Advanced courses enable application of advanced concepts and techniques for the management of complex fractures
Masters courses foster and expand participants' specialization and in-depth knowledge of specific topics.
The AO VET curriculum requires attendance at an in-depth AO VET Principles in Fracture Management course prior to participating in an AO VET Advanced Techniques in Fracture Management course.
Find your next educational event
Be at the top of your class! Broaden your horizons and knowledge within the global AO VET community
You might be interested in