Corrective osteotomy emerges as an effective treatment for more complex deformities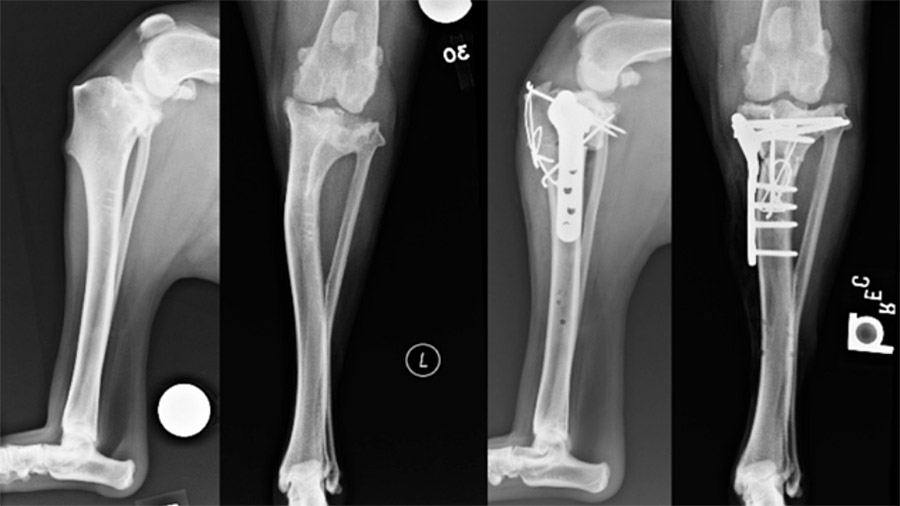 Over the past decade and a half, corrective osteotomy has evolved from an occasional elective procedure to treat various conditions to—today—an effective, reliable means of tackling more complicated small animal limb deformity, including pelvic limb deformity and patellar luxation complicated by deformity.
The increasing use of corrective osteotomy over the past 15 years has been driven by veterinary surgeons becoming more accustomed to electively cutting bone. At the same time, AO VET faculty member Derek Fox, chief of small animal surgery at the University of Missouri Veterinary Health Center, began applying the center of rotation of angulation (CORA) method of mechanical and anatomic axis planning for corrective osteotomies.
AO VET's faculty of master surgeons has long been at the forefront of veterinary orthopedic education teaching corrective osteotomy as an effective, reliable means of tackling more complicated veterinary limb deformity, and surgeon Mike Kowaleski says technology is developing alongside this method to even further improve patient outcomes.
Kowaleski, the AO VET Technical Commission Chairperson says, that in the past 15 years, veterinary surgeons have become more accustomed to electively cutting bone.
Rooted in human orthopedic surgery
"Derek and his group started looking into a methodology of planning deformity correction that was based on the work of Dror Paley, a medical doctor specializing in limb deformity correction, including corrective osteotomy," says Kowaleski. "Derek's group applied this same methodology to dog bone instead of human bone and that really increased veterinary orthopedic surgeons ' interest because it was a new way to understand what the problem was, the magnitude and location of the angulation or torsion—or both."
This new understanding made corrective osteotomy tenable for veterinary surgeons, he explains.
"And now that they were more familiar with cutting bones due to experience with the tibial plateau- leveling osteotomy (TPLO) and other elective osteotomy techniques, and repairing them routinely combined with a method to make it more sensible and easier to determine the magnitude and location of the deformity, I think that's what really has driven the increased popularity of corrective osteotomy," says Kowaleski.
The role of technology
Technological advances have contributed to the popularity—and success—of corrective osteotomy, as well.
"New technologies are affecting these surgeries on several fronts: Plating technology —plates and screws—and their sophistication are increasing, particularly with locking small animal implants. That makes the physical repair not only stronger, but technically easier," he says. "In addition, software allows you to do 3D planning and that makes the procedure so much easier. So, now, we can do all of the planning on the computer rather than with a pencil and paper or using a Sharpie on an old x-ray film—not like in the old days when it was 2D: two x-rays in 90-degree planes to each other. Today, you can have an actual 3D model on the computer screen and you can use your mouse to spin, rotate, and flip it right on the screen. And that really makes it all more understandable."
3D printing also makes a valuable contribution, Kowaleski says.
"To go even further, you can print that bone and even make a custom, 3D-printed plate that fits the bone, a cutting guide, or a model of the bone so that you can precontour the plate before the surgery," he says enthusiastically. "So, all of these advances have made the surgery easier to plan, understand, and execute, and the outcomes are better because you can virtually cut the bone on the computer screen and figure out whether your plan is correct or not, and modify it until it is correct. Then, you know exactly what you need to do to get the exact shape of the bone you want at the end."
Learning from the masters
Opportunities to learn from master surgeons—whether during an AO VET Fellowship or at an AO VET course—also make an important contribution to improving patient outcomes.
"There's no question that spending time with someone who is really good at what they do advances individuals' training substantially and very quickly and can lead to better outcomes," he says. "For example, if you are efficient in surgery and the surgery takes less time, your infection rate will likely decrease because infection is correlated with surgical time. So, the faster you can get the job done, the lower your infection rate is going to be, and of course you are faster and more efficient if you are more confident and better trained at what you're doing."
Among the most important lessons less experienced surgeons can learn from master AO VET faculty is deciding when corrective osteotomy is the appropriate treatment.
"For patellar luxation in particular, there are usually several causes and most of them have to do with alignment of the limb, the muscles, and the tendons: so, the quadriceps, the patella, the patellar tendon, and the attachment to the bone, as well as curvatures of the skeleton," says Kowaleski. "So, we'll measure the various parameters and compare them to normal, and then decide what in this particular patient needs to be straightened out. Is it femur crooked? Is the patellar tendon attached too far to one side or the other? Is the sulcus—the trochlear grove where the patella glides—too shallow and does it need to be deepened? Then we do a comprehensive treatment and correct all of the problems—and we've shown that by correcting all identifiable problems, the outcome is the best you can get with the lowest recurrence of patellar luxation. In one study, we had a 0 percent rate of recurrence of patellar luxation when performing femoral corrective osteotomy."
Familiarity with patellar luxation grading helps surgeons define the severity of the patient's condition, have implications on what the problem likely is, and play an important record-keeping role.
"For example, classifications are useful in record-keeping so that we can determine whether the condition is the same or worse later on when we see the patient again," he says.
Strategies for planning
Planning for corrective osteotomy is another important skill that master AO VET faculty teach.
"Ideally, we would do the planning digitally, using software—and the reason I prefer that is that in surgery you can see the actual location of the various corrections and the angles on the operating room monitors. And if we plan digitally and use that for reference in surgery, it is more efficient to do the procedure because you know exactly what distance from the landmark you need to place the cut, what angle, and so forth, and again it really comes down to increasing your precision, accuracy, and operating efficiency in surgery," he says. "Once we have a thorough plan, then we go into the operating room with the goal of executing a plan—not trying to figure it out as we go along.
Getting it all right is particularly important for mechanical problems like patellar luxation, where, Kowaleski says, "there really aren't other options."
"If it were an arthritic joint, for instance, there are medical options. But when we're talking about a mechanical problem, nothing short of straightening the limb will prevent the patient from being lame," he notes.
Cremona courses: education and camaraderie
The annual AO VET masters courses in Cremona, Italy, are the ideal venue for veterinary surgeons to hone their skills, learn from master AO VET faculty, and network with their peers from around the world, says Kowaleski. He has been involved with the Cremona courses for over a decade and in 2022 chaired the very popular AO VET Masters Course—Corrective Osteotomies: Pelvic Limb and Patellar Luxation.
"In addition to the really high level of AO VET education delivered at the Cremona masters courses and the outstanding facility, Cremona has been the home of the Italian Companion Animal Veterinary Association (SCIVAC) for nearly 30 years, so the city is well-known in the veterinary community for having high-quality veterinary continuing education ," he says. "The other thing is that in Europe and in the United States to some degree, courses with cadaveric specimens are difficult to organize and conduct because cadaver availability is limited, as are facilities amendable to using cadavers. So, as long as there is a demand, the Cremona courses will continue."
Going forward, he expects the Cremona courses to remain must-have continuing education opportunities.
"I think the topics will change over time, but I think the two-course combination of masters and advanced courses will probably remain for many years because the facility—the Palazzo Trechi—is excellent, the location is easy to get to from the United Kingdom and Central Europe," he says, noting that being in Italy is always a pleasure.
Central to the Cremona courses' magic is the legendary AO spirit of camaraderie and shared passion for improving patient outcomes, he adds.
"For example, we have new faculty who previously were participants at the courses—it's nice to see people as their careers progress and they evolve from participants to assistants to course instructors ," he says.
You might be interested in: