Technology Transfer
As part of the AO ITC, Technology Transfer helps drive the development and acquisition of innovative solutions to advance surgeon education and patient care in trauma and musculoskeletal disorders. The AO offers inventors and product developers a pathway to transform their ideas from workbench to bedside through funding, expert knowledge, proof-of-concept, clinical validation, and valorization.
There are two funding streams, the Development Incubator, which partners with inventors to advance product and treatment concepts in musculoskeletal surgery toward clinical implementation, and the Strategy Fund, providing seed funds for innovative early-stage ideas strengthening the AO in strategic areas.
The Technology Transfer Board provides leadership and mentorship to applicants, thanks to expertise in clinical practice, the orthopedic industry, company building, financing, marketing and sales, and research and development (R&D). Below is introduced a fireside chat between two board members, Prof Anita Ignatius and Dr Robert Frigg.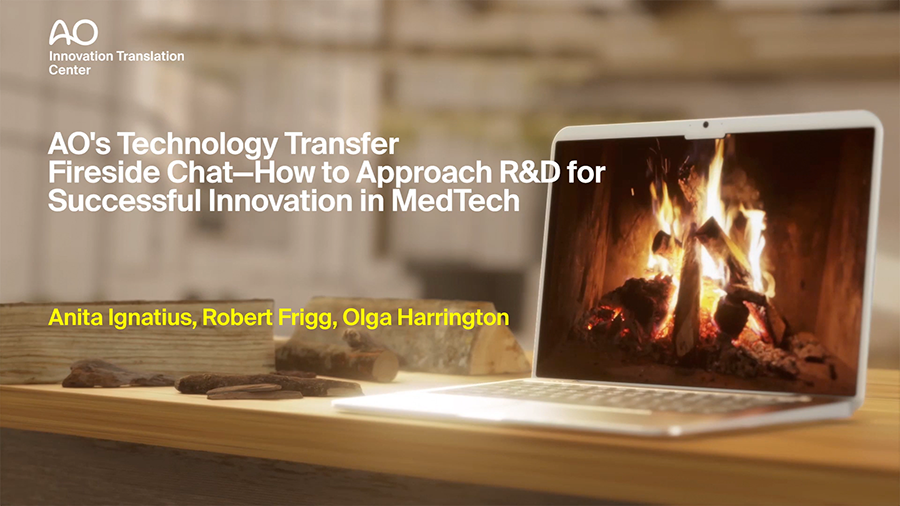 Technology Transfer of the AO fireside chat
AO Technology Transfer Board members Prof Anita Ignatius and Dr Robert Frigg say the AO is uniquely positioned to help innovators conquer those hurdles in order to improve patient care and outcomes.
Presented below some projects of the growing portfolio managed by the Technology Transfer.