AO Foundation and Rimasys enter strategic partnership to advance surgical education
In March 2021, the AO Foundation and German-based education start-up Rimasys announced a strategic partnership to join forces in their efforts to develop high-fidelity solutions to educate surgeons. Rimasys technological capabilities and disruptive product portfolio complement the state-of-the-art expertise in orthopedics and trauma surgery that the AO has built with global impact over the past 60 years. The partnership focuses on advancing the technology used to train and engage practitioners worldwide in the surgical treatment of trauma and musculoskeletal disorders.
Going forward, the AO Foundation will be integrating Rimasys products and services in selected high-end surgical training formats globally and leverage Rimasys dynamic innovation force especially around novel online education, their 3D virtual interaction platform, and artificial intelligence (AI) powered support tools for surgeons.
The partnership is built on successful past collaborations with the long-term perspective to create synergies and use strengths of both organizations advancing innovation in a dynamic environment.
Christoph Lindenmeyer, CEO of the AO Foundation, and Marc Ebinger, CEO and Co-Founder of Rimasys, sat down for an interview with Dankward Höntzsch, MD, who was an early advocate of the synergies of a potential partnership, to provide more information about the future benefits of the collaboration for both the surgeon community and industry partners.
Höntzsch: I am pleased to learn of the partnership, and proud that my vision of a collaboration has materialized. Chris, what is the AO's motivation for and expectation of the strategic partnership with the Rimasys Group?
Lindenmeyer: Rimasys is an innovative group in the field of surgical education. They started with the systematic generation of lifelike fractures and developed totally new educational formats. Their Trauma Academy and the Cadlab in Cologne, Germany, generated a lot of attention quickly. We have been loosely in touch with the three founders, Marc Ebinger, Robert Holz and André Passon, over the past years and were impressed with their creative ideas and drive to both innovate and implement. Over time we concluded that a strategic partnership could add value to both organizations and last year we began to engage in more serious discussions. I am happy that the discussions and negotiations moved forward rapidly at the end of last year and resulted in this strategic partnership.
Höntzsch: I can imagine that this was a complex and inspiring process. What are the opportunities and benefits of the strategic partnership for the Rimasys Group and the AO? And how can the partners of both organizations benefit in this strategic collaboration?
Ebinger: We are delighted to contribute to the AO's mission of promoting excellence in patient care and outcomes in both trauma and musculoskeletal disorders with our innovative products and solutions. The partnership agreement feels like an accolade for our hard work over the last years. The AO is a global network of surgeons comprising over 215,000 healthcare professionals. The impact of this status and subsequently the partnership will help to provide our surgical training concepts to a broader audience worldwide. Our trusted and longstanding partners are also benefiting from this partnership through the capability of reaching more surgeons in upcoming digital and hybrid projects including our live World Surgery Tour.
Lindenmeyer: As mentioned before, we are impressed by the creativity of the three founders and their drive for innovation. They are not only creative but also fast in implementing innovative approaches for surgical education. We are looking forward to bringing their concepts or elements of them into AO's educational offerings. As we are moving toward more digital and hybrid formats, their innovations fit well into our organization.
Höntzsch: How does a startup company like Rimasys interact with a globally established organization like the AO Foundation? How can you ensure that the individual strengths and characteristics of each organization is leveraged?
Lindenmeyer: The last intensive negotiation with the founders were productive. They confirmed the chemistry that exists among all those involved in the collaboration which demonstrates that we can all benefit from the partnership quickly. We have set-up a small and agile structure which acts as both an interface and a catalyst for value creation in both organizations. Rimasys is a fast-moving company, and we are fully aware that they need a lot of autonomy to remain agile and innovative. We will ensure that this remains the case.
Ebinger: Without a doubt the AO is the biggest organization of its kind worldwide with an impressive history from which we can benefit and learn a lot. Our young and diverse team loves to challenge the status quo with new innovations and uncommon, sometimes controversial, approaches from time to time. Our formula for success is rapidly trial, improve and professionalize ideas within a brief timeframe without being afraid of making mistakes. It is mandatory that we remain independent in decision making and maintain our working style. We complement the partnership with our vision to address the surgical challenges of the future, our knowledge of the digital world and desire to meet the needs of a new generation of surgeons.
Höntzsch: This sounds promising and thrilling. What are the first joint initiatives and when will they be visible to the surgical community?
Lindenmeyer: We have plenty of ideas for bringing innovations into AO's educational programs, especially across the digital offerings. A specific idea is bringing the mobile lab "The Shard" to the next Davos Courses.
Ebinger: The Shard is a polarizing example of one of our latest innovations and we will be happy to stream in and out from Davos 2021 to the AO network. We have already initiated various strategic projects from video-based education platforms to AI algorithm-based medical image recognition and gamification. Bringing all this together, we are now looking forward to accelerate on a global level.
You might also be interested in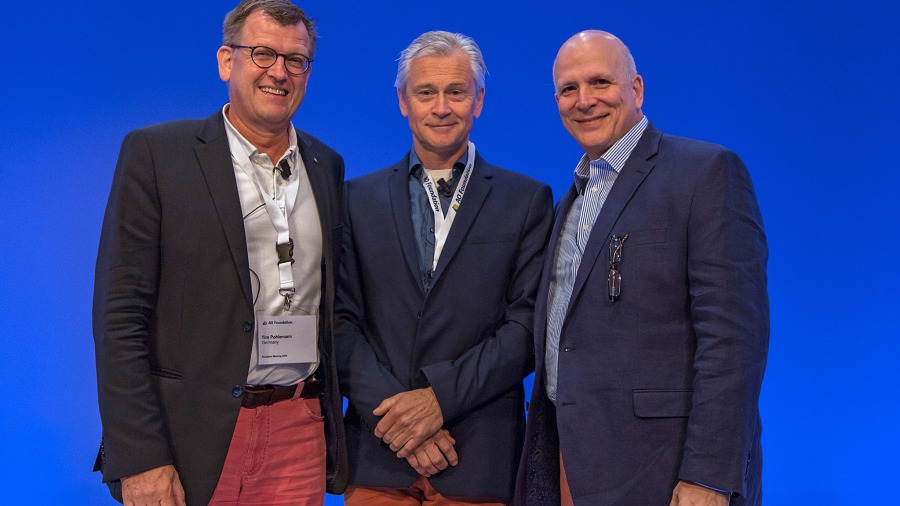 AO TC Executive Board welcomes a new Chairperson
The AO Technical Commission (AO TC) is delighted to welcome Maarten Spruit as the new Chair of the AO Technical Commission Executive Board (TCEB).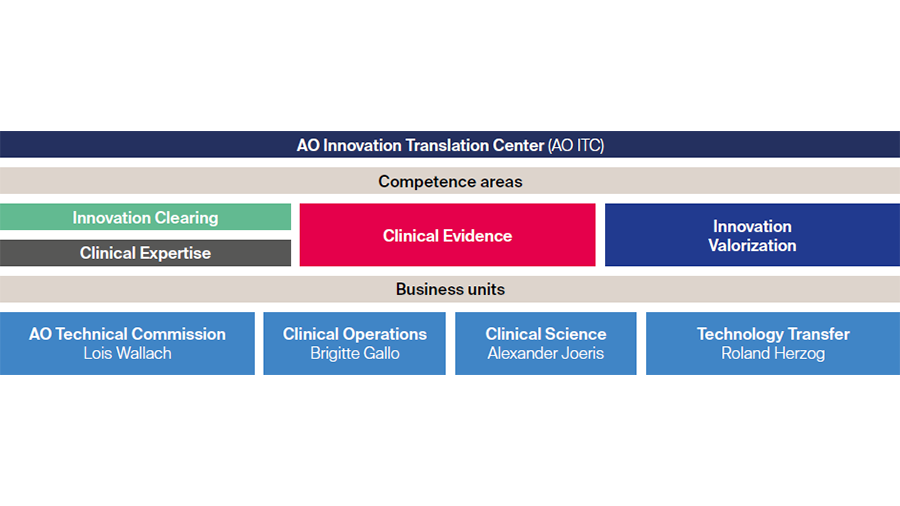 Strengthening innovation within the AO
See how the AO ITC boosts the AO's innovation potential and delivers results for patients across the globe.