ARONJ
Anti-osteoclastic drugs and their impact on maxillofacial and orthopedic bone biology, disease, diagnosis, surgery, and treatment modalities
Background
Bisphosphonates (Alendronate, Zolendronate, Pamidronate and others) and additional anti-osteoclastic drugs such as RANKL inhibitors (Denosumab) are among the most prescribed drugs in the world today. 26 million prescriptions for Alendronate in the US alone are used for treatment of postmenopausal osteoporosis and 250,000 patients with metastatic bone cancer are treated with high dose intravenous bisphosphonates. These drugs have been noted to have profound influences on oral and orthopedic health including exacerbation of dental diseases, osteonecrosis of the jaw requiring ablation, spiral fractures of the femur, bone pain, and spinal and other foramenal stenosis These medications have also been associated with a marked decrease in femoral neck fractures, compression fractures of the spine and other osteoporotic fractures such as wrist and humerus.
Research Questions
The risks of the exposure to these medications with regard to the outcome of orthopedic, oral and maxillofacial procedures is not well established and has only been reported in case series. Optimal means of treating fractures, managing infection, performing ablative surgery or reconstructing patients with exposure to these drugs has not been established.
Example:
Is vascularized tissue transfer beneficial in jaw bone reconstruction in this subgroup?
Can free grafts be used in trauma reconstruction in the patient exposed to these drugs?
Should bone fixation be modified in fractures occurring in patients taking anti-osteoclastic drugs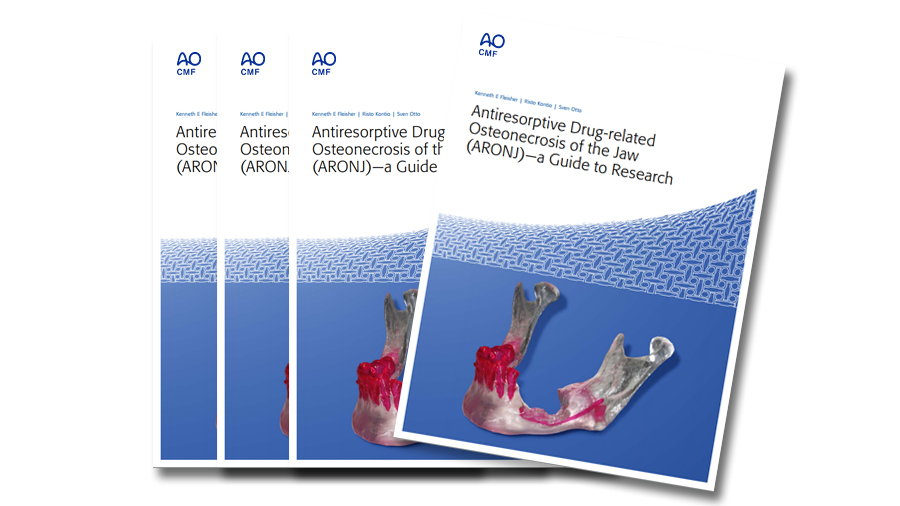 ARONJ - A GUIDE TO RESEARCH
With dozens of clinical images to help illustrate the impact of this condition on real patients, the publication is an excellent resource for anyone involved or interested in this important medical field.
Free online access for AO CMF Members
Price (non-members): EUR 49.50
ARONJ Funded Research Projects
The abstracts of the latest funded projects under the ARONJ Research Topic
AO CMF-14-06Z Project title: Prevention and treatment of ARONJ using blood-derived endothelial progenitor cells.

The pathogenesis of Bisphosphonate-related osteonecrosis of jaw (BRONJ) is not fully understood. Although numerous studies demonstrated deficient angiogenesis in BRONJ, to date no studies using stem cells application to improve angiogenesis have been reported. Endothelial progenitor cells (EPC) participate in angiogenesis, vasculogenesis and vascular repair, and their recruitment to ischemic sites has already been demonstrated. Our previous studies showed improved neovascularization and osteogenesis following local transplantation of peripheral blood derived EPC in critical size bone defects in sheep and rat. Given the importance of adequate blood supply to bone turnover and wound healing, we hypothesize that improved angiogenesis by local application of EPC before or immediately after an invasive oral procedure may prevent BRONJ. Furthermore, local injection of EPC may help healing areas in which BRONJ has developed.
In this proposed study BRONJ will be induced in rat by s.c injection of zoledronic acid (ZA) 7.5 µg/Kg and 1mg/kg dexamethasone (dex) once a week, for 3 weeks duration prior to molar extraction. Peripheral blood derived ratEPC and bone marrow derived ratMSC will be isolated, cultured and characterized (by FACS). EPC and MSC will be labeled with lenti-GFP or lenti-RFP (respectively) before transplantation. In order to explore the preventive role of EPC in BRONJ, rats will be treated with ZA/dex. Rats will be allocated into 2 groups.
Group 1: one week before extraction, local injection (adjacent to the planned extraction site) of: Control 1-200 μL medium. EPC 1- 106 EPC. EPC/MSC 1 – 106 mixture of 1:1 EPC/MSC. Group 2: local transplantation of collagen sponge soaked with medium w/wo cells into the fresh extraction socket. Control 2-collagen sponge soaked with medium. EPC 2- collagen sponge soaked with 106 EPC EPC/MSC 2- collagen sponge soaked with 106 mixture of 1:1 EPC/MSC. Rats will be sacrificed 8 weeks after teeth extractions and jaws will be evaluated clinically, radiographically (micro-CT), histologically and immunohistologically to analyze: BRONJ occurrences, soft and hard tissue healing, vascularity, inflammatory response and bone turnover. In order to explore the curative role of EPC, BRONJ will be induced and established lesions will be treated as follows: Control– local injection of medium EPC- local injection of 106 EPC. EPC/MSC- local injection of 106 1:1 EPC/MSC. Rats will be sacrificed 8 weeks following treatment. The healing of BRONJ will be evaluated clinically, histologically and radiographically. The results of this study may prove and define the effect of EPC on BRONJ and pave the way to developing a new strategy for prevention or treatment of BRONJ.

Published articles:

Eskander-Hashoul L, Elimelech R, Gutmacher Z, Frankenthal S, Rozitsky D, Tamari T, Zigdon-Giladi H "Extent of surgical trauma may not be a key factor in Medication-related osteonecrosis of the jaw - a pilot study" J Mol Clin Med, 1:2(2018). https://jmcm.imrpress.com/EN/10.31083/j.jmcm.2018.02.005

Tamari T, Elimelech R, Cohen G, Cohen T, Doppelt O, Eskander-Hashoul L, Zigdon-Giladi H Endothelial Progenitor Cells inhibit jaw osteonecrosis in a rat model: A major adverse effect of bisphosphonate therapy, Sci. Rep. (2019)
Doi: 10.1038/s41598-019-55383-5

AO CMF-14-07O Project title: Large animal model for antiresorptive drug induced osteonecrosis of the jaw

Bisphosphonates and Denosumab are the most widely used classes of antiresorptive drugs for the treatment of osteoporosis and metastatic bone disease. An important adverse effect is antiresorptive drug induced osteonecrosis of the jaw (ARONJ). Bisphosphonate-related osteonecrosis of the jaw (BRONJ) mainly occurs in cancer patients receiving intravenous administrations of nitrogen-containing bisphosphonates (1). Current research has identified sustained therapy with Denosumab (an antibody against RANK–ligand) as a risk factor for the development of ONJ (2). Denosumab related ONJ (DRONJ) occurs at a similar rate as BRONJ (3-5). If diagnosis or treatment is delayed, ARONJ can develop to a devastating disease. The pathomechanisms of ARONJ are not completely understood. Current theories include over-suppression of bone turnover, anti-angiogenetic effects or soft-tissue toxicity but cannot answer all questions associated with ARONJ. A novel potential pathomechanism discusses local infections and acidification as crucial steps of BRONJ etiology (1, 6). Local Infections might play a key role in the pathogenesis of ARONJ because especially then the activity of osteoclasts is mandatory but severely suppressed due to the activity of antiresorptive drugs.
The applicants have successfully introduced a minipig large animal model for BRONJ using Göttingen minipigs. Therefore, it is planned to establish a large animal model for osteonecrosis of the jaw due to denosumab treatment (DRONJ) and to compare the clinical, radiological and histological features of both ARONJ entities namely BRONJ and DRONJ. However, due to the fact that denosumab is a human monoclonal antibody in a first step the functionality of denosumab should be tested for pig RANKL and sheep RANKL. In case the antibody works for pig RANKL the main experiments shall be done with Göttingen minipigs. To date, no large animal model for DRONJ has been established. In the animal model, the investigation of the pathogenesis as well as possible preventive measurements is intended. The animals will receive denosumab (n=8), or zoledronate (n=8) in oncological dosing. The control group will receive no antiresorptive drug (n=8). Tooth extractions (1 molar teeth) are performed in the mandible and the maxilla after 6 months. Outcome will be evaluated clinically and radiologically for 3 months postoperatively and after sacrification detailed histological evaluation and comparison of both entities is planned.

Published articles:

Fliefel F, Popov C, Tröltzsch M, Kühnisch J, Ehrenfeld M, Otto S (2016): "Mesenchymal stem cell profilertion and mineralization but not osteogenic differentiation are strongly affected by extracellular pH", Journal of Cranio-Maxillofacial Surgery, 44(2016) 715-724.
Doi: 10.1016/j.jcms.2016.03.003

Otto S, Ristow W, Pache C, Troeltzsch M, Fliefel R, Ehrenfeld M, Pautke C (2016): "Fluorescence-guided surgery for the treatment of medication-related osteonecrosis of the jaw: A prospective cohort study", Journal of Cranio-Maxillofacial Surgery 44 (8) (2016) 1073-1080.
Doi: 10.1016/j.jcms.2016.05.018

Wissenschaftspreis DGMKG 2015 - S. Otto, M. Troeltzsch, F. Probst, E. Burian, O. Ristow, D. Arens, D. Nehrbass, M. Stoddart, C. Pautke, M. Ehrenfeld (2016): Von der Zellkultur über das Grosstiermodell zur Optimierung der klinischen Prophylaxe und Therapie medikamenten-assoziierter Kiefernekrosen. Doi: 10.1007/s12285-016-0067-0

AO CMF-15-26H Project title: Prevention of bisphosphonate related osteonecrosis of the jaws using a novel tissue engineering strategy

With an aging population the prescription of bisphosphonates to treat osteoporotic or oncologic patients is increasing. These patients often have to take bisphosphonates at high doses, or for long periods of time thus, accumulating large doses of the drug in their bones. A complication of taking bisphosphonates is necrosis of the jaw termed bisphosphonate related osteonecrosis of the jaws (BRONJ). This condition affects approximately 9% of the population in Australia after tooth extraction and is extremely debilitating, disconcerting for the patient and difficult to treat clinically. BRONJ is usually precipitated by trauma to the alveolar bone in the maxilla and mandible, with the most common cause being the extraction of a tooth. There is currently no treatment protocol to prevent the development of BRONJ in patients taking bisphosphonates who require dentoalveolar surgery. Additionally, because bisphosphonates have a high affinity for hydroxyapatite they bind to bone permanently and therefore, thorough screening prior to commencement of the drug is the only current strategy for prevention of BRONJ. Tissue engineering and the use of bone morphogenetic proteins (BMPs) have recently developed as promising alternatives for replacement of lost bone, due to BMPs osteogenic potential. We hypothesize that BMPs ability to stimulate osteoclasts, osteoblasts and promote angiogenesis coupled with a polyethylene glycol/heparin (PGE/heparin) and arginine-glycine-aspartic acid(RGD) cell adhesion sequence in a hydrogel carrier, placed in the socket after tooth removal may locally stimulate bone turnover and therefore, mitigate the development of BRONJ. In this proposal we will develop a PGE/heparin/ BMP hydrogel capable of sustained growth factor delivery to the tooth socket and surrounding bone. Our group is currently investigating (unpublished data) the use of PGE/heparin with BMPs in a rat bisphosphonate animal model, with early data showing increased osteoclasts, osteoblasts and angiogenesis in the surrounding bone. Consequently, we aim to show the proof of principle that BMPs can be used to prevent BRONJ in a large animal with similar bone remodeling to human bone. Explant analysis of the alveolar bone will be carried out using histological, polymerase chain reaction and micro-computed tomography techniques. This may prove the first step towards developing a therapeutic solution for thousands of patients taking bisphosphonates and requiring dental alveolar surgery.

Published articles:

Brierly GI, Baldwin J, Hsu E, Nikolarakos D, Woodruff M, Hutmacher D "Prevention of Medication-Related Osteonecrosis of the Jaw in a Rat Animal Model:" Journal of Oral and Maxillofacial Surgery, 74;9, Supplement, 2016, e45-e46. doi: 10.1016/j.joms.2016.06.071

Brierly, G., Bray, L., Theodoropoulos, C., Saifzadeh, S., Hsu, E., Nikolarakos, D., Woodruff, M., Hutmacher, D., "A pilot study into prevention of antiresorptive drug-related osteonecrosis of the jaw in a porcine animal model" International Journal of Oral and Maxillofacial Surgery Vol 46, Supplement 1, 2017, Page 201. doi: 10.1016/j.ijom.2017.02.686

AO CMF-16-02H Project title: Osteonecrosis model and experimental treatment with autogenous graft and calcium triphosphate β- (β-TCP)

Osteonecrosis is one of the side effects associated with the use of bisphosphonates. It is a clinical condition characterized by bone necrosis resulting from systemic and local factors that compromise bone vascularization. Such drugs are able to modify the bone remodeling, raising questions about the influence of the drug in clinical procedures in maxillofacial surgery, due to excessive suppression of bone repair. Objective: The purpose of this study was to assess bone formation in rats with osteonecrosis induced by bisphosphonate in the region where a dental extraction was performed and filled with autogenous bone graft and β- calcium triphosphate (β-TCP).
Methods: Male Wistar rats 3 months years old, weighing 350 - 450g, will be submitted to induction of osteonecrosis by using bisphosphonates during 8 weeks. At the ninth week the animals will pass through a dental extraction surgery of the right maxillary molars, and the alveolus will be filled with autogenous graft, β-TCP, and clot (Control) according to each group. The euthanasia will be performed with 7, 14, and 21 weeks after the start of the experiment, and will be made histological and immunohistochemical analysis.
Expected results: It is expected that animals group that will be treated with autogenous graft and β-TCP present qualitative improvement of bone formation, and recovery or improvement of local osteonecrosis compared to the group that only clot was used.

AO CMF-16-06R Project title: Investigation of soft tissue toxicity in anti-osteoclastic drug-related osteonecrosis of the jaw (ARONJ)

Although the first anti-osteoclastic drug-related osteonecrosis of the jaw (ARONJ) case was reported over a decade ago1, the pathogenesis of the disease remains unclear. Consequently there is no unified recommended prevention or treatment protocol. One of the proposed mechanisms of medication-related osteonecrosis of the jaw (MRONJ) involves the toxicity of the surrounding mucosa. However, the role of soft tissue in the pathogenesis of MRONJ is not well defined, and may play a key role in bone exposure and impaired bone healing.
This project will attempt to clarify the pathogenesis of MRONJ due to the medication-related damage of the surrounding soft tissue by investigating the role of human gingival fibroblasts (HGF) to induce or inhibit apoptosis and inflammation that may influence angiogenesis and wound healing in response to bisphosphonates, denosumab, and combination therapies. We will attempt to investigate if this effect is medication dose-dependent, and whether it could be augmented by bacterial lipopolysaccharide (LPS). Zolendronate, denosumab, and combination therapy with other medications reported in association with MRONJ (sunitinib, sorafenib, bevacizumab, and sirolimus) will be tested on an in vitro HGF culture model in the absence and presence of LPS from P.gingivalis. The readout will be cell adhesion, proliferation, cell death of HGF at various dosages via the xCELLigence Real-Time Cell Analyzer (ACEA Biosciences) system, a non-invasive approach to assess cellular activity via electrical impedance measurements in real-time2. LIVE/DEAD fluorescent staining will confirm these findings, and wound healing will be analysed using a traditional scratch assay for wound healing in 24-well plates. Quantitative PCR assay will be performed for pro-inflammatory (IL-1, TNF-α, IFN-γ, IL-6) and angiogenic (IL-8, VEGF) gene expression. A further co-culture of peripheral blood mononuclear cells (THP-1 cells) with HGFs aims to explore additional immunological reactions triggered by these medications. ELISA of the co-culture media in the presence and absence of various anti-osteoclastic medications will be performed for the same inflammatory and angiogenic mediators with additional osteogenic/osteoclastogenic markers (RANKL, Osteoprotegerin).

Published articles:

Hoefert S, Yuan A, Munz A, Grimm M, Elayouti A, Reinert S: Clinical course and therapeutic outcomes of operatively and non-operatively managed patients with denosumab-related osteonecrosis of the jaw (DRONJ). Journal of Cranio-Maxillo-Facial Surgery 45 (2017) 570-578. doi: 10.1016/j.jcms.2017.01.013

Hoefert S, Sade Hoefert C, Munz A, Northoff H, Yuan A, Reichenmiller K, Reinert S, Grimm M: "Altered macrophagic THP-1 cell phagocytosis and migration in bisphosphonate-related osteonecrosis of the jaw (BRONJ)" Clinical Oral Investigation (2016) Jun;20(5):1043-1054. doi: 10.1007/s00784-015-1584-3

Hoefert S, Sade Hoefert C, Munz A, Schmitz I, Grimm M, Yuan A, Northoff H, Reinert S, Alexander D: "Effect of bisphosphonates on macrophagic THP-1 cell survival in bisphosphonate-related osteonecrosis of the jaw (BRONJ)". oral surgery, oral medicine, oral pathology and oral radiology. doi: 10.1016/j.oooo.2015.10.008

Hoefert S, Schmitz I, Weichert F, Gaspar M, Eufinger H: "Macrophages and bisphosphonate-related osteonecrosis of the jaw (BRONJ): evidence of local immunosuppression of macrophages in contrast to other infectious jaw diseases" Clin Oral Invest (2015) 19:497-508. doi: 10.1007/s00784-014-1273-7

Hoefert S, Hoefert CS, Albert M, Munz A, Grimm M, Northoff H, Reinert S, Alexander D: "Zoledronate but not denosumab suppresses macrophagic differentiation of THP-1 cells. An aetiologic model of bisphosphonate-related Osteonecrosis of the jaw (BRONJ)" Clin Oral Invest (2015) 19:1307-1318. doi: 10.1007/s00784-014-1358-3

AO CMF-16-21O Project title: Investigation into BRONJ development in a wild type and tenomodulin knock-out mice model

The efficacy of bisphosphonates (BPs) in the treatment of bone diseases has been established in multiple studies. However, bisphosphonate-related osteonecrosis of the jaw (BRONJ) has been characterized as a main side effect of BP therapy. Investigations of BRONJ patients showed reduction of circulating endothelial cells as well as significant decrease in VEGF serum levels, indicating that possible interaction between bisphosphonates and the endothelial cell lineage during vasculogenesis. There is preclinical evidence that BPs act directly on endothelial cells and interfere with all major steps of the angiogenic process such as endothelial cell migration, proliferation and tube formation. Zoledronic acid has demonstrated superior potency compared with other compounds inhibiting the proliferation of human umbilical vein endothelial cells in vitro.
It has been shown that Tenomodulin (Tnmd), an inhibitor of angiogenesis, reduces proliferation and tube morphogenesis of vascular endothelial cells in vitro, and suppresses tumorigenesis in vivo due to inhibitory effect on vessels proliferation. Tnmd might have diverse implications in various tissues and intriguingly in various pathological conditions. Using Tnmd knockout mouse model, it was reported that Tnmd acts on the maturation or maintenance of the periodontal ligaments (PDL) and is expressed during murine tooth eruption. In addition to PDL expression, Tnmd had a broad expression in the maxillofacial tissue, including: mandibular condylar, bone, gingiva and odontoblasts.
In this proposal, we focused on oral and maxillofacial region as first challenging study. We would like to investigate expression of Tnmd in jaws derived from Tnmd KO/WT mice, examine the role of Tnmd in jaw bones by inducing BRONJ in Tnmd knockout (KO) mice as we think that Tnmd is playing a modulatory role in osteonecrosis depending on its expression levels, as a protective factor at low levels or risk factor at high levels, via its anti-angiogenic actions.
Based on our analysis, we will be able to find out new factors that can contribute in BRONJ disease. In addition, our study will help us to correlate Tnmd genetic backgrounds to BRONJ etiology. Altogether, this combination of BRONJ induction with mouse knockout (or transgenic) models can suggests to the research community to investigated other gene factors that might play role in BRONJ.

Published articles:

(2019) Fliefel R, Entekhabi S, Ehrenfeld M, Otto S: Geranylgeraniol (GGOH as a Mevalonate Pathway Activator in the Rescue of Bone Cells Treated with Zoledronic Acid: An In Vitro Study. Hindawi Stem Cells International, Volume 2019, Article ID4351327, 9 pages. Doi: 10.1155/2019/4351327

(2018) Fliefel R, Ehrenfeld M, Otto S. Induced pluripotent stem cells (iPSCs) as a new source of bone in reconstructive surgery: A systematic review and meta-analysis of preclinical studies. J Tissue Eng Regen Med. 2018 Jul;12(7):1780-1797. Doi: 10.1002/term.2697

Palla B, Burian E, Fliefel R, Otto S. Systematic review of oral manifestations related to hyperparathyroidism. Clin Oral Investig. 2017 Jun 14. Doi. 10.1007/s00784-017-2124-0

(2017) Aljohani S, Fliefel R, Ihbe J, Kühnisch J, Ehrenfeld M, Otto S: What is the effect of anti-resorptive drugs (ARDs) on the development of medication-related osteonecrosis of the jaw (MRONJ) in osteoporosis patients: A systematic review Journal of Cranio-Maxillo-Facial Surgery:45 1493-1502. Doi: 10.1016/j.jcms.2017.05.028

(2017) Panya S, Fliefel R, Probst F, Tröltzsch M, Ehrenfeld M, Schubert S, Otto S: Role of microbiological culture and polymerase chain reaction (PCR) of actinomyces in medication-related osteonecrosis of the jaw (MRONJ): Journal of Cranio-Maxillo-Facial Surgery: 45 357-363, Doi: 10.1016/j.jcms.2017.01.006

Published Book Chapters:

Aljohani S, Otto S. Medication-related osteonecrosis of the jaw. In: Ehrenfeld M, Futran N, Manson P, Prein J (Editors)
Advanced Techniques of Internal Fixation of the Craniomaxillofacial Skeleton. AO publishing 2017 (Cited the AO grant).

Fleisher KE, Kontio R, Otto S (Editors). Antiresorptive Drug-related Osteonecrosis of the Jaw – a Guide to Research. Thieme 2016

Fliefel R, Otto S. Pathogenesis of Antiresorptive-drug induced osteonecrosis of the jaw. In Antiresorptive Drug-related Osteonecrosis of the Jaw – a Guide to Research. Thieme 2016

AO CMF-16-15T Project title: Large animal model for periodontitis related antiresorptive drug induced osteonecrosis of the jaw

Antiresorptive drugs for the treatment of osteoporosis and metastatic bone disease are widely used. An important adverse effect is antiresorptive drug induced osteonecrosis of the jaw (ARONJ). If diagnosis or treatment is delayed ARONJ can cause severe complications. Pathomechanism theories of ARONJ include over-suppression of bone turnover, anti-angiogenetic effects or soft-tissue toxicity but cannot answer all questions associated with ARONJ. A novel pathomechanism discusses local infections and acidification as crucial steps of ARONJ etiology (1, 2) that can impede osteoclastic activity.
The relationship between oral surgical interventions, consecutive infectious processes and ARONJ has been well researched (1, 3, 4). However, clinical evidence showing a direct association between ARONJ and chronic oral infections, such as periodontitis, without preceding surgical interventions is limited (5, 6). Large animal models investigating the relationship between periodontitis and ARONJ have not been implemented. It is unclear whether the simple presence of infectious processes without surgical manipulation can trigger ARONJ.
The applicants have introduced a minipig large animal model for bisphosphonate – related ONJ (BRONJ) using Göttingen minipigs. It is planned to advance this model to clarify the following research question: is there a link between chronic oral infectious processes (periodontitis) and the occurrence ARONJ in the absence of oral surgical procedures. Specific aims of the study are (1) the introduction of periodontitis in a minipig model as previously described (7, 8), (2) the investigation whether ARONJ can be triggered by periodontal disease, (3) the examination of clinical, radiological and histological features of periodontitis - associated ARONJ and (4) to explore whether this pathology is identical to ARONJ triggered by oral surgical procedures the proof of principle of which has been achieved in previous projects. If chronic inflammations, such as periodontitis, in isolation can cause ARONJ, this would further corroborate the theory that local infection and acidification are the vital step in the etiology of ARONJ. The animals will receive zoledronate (n=8) in oncological dosing (0.05 mg/kg / week). The control group will receive no antiresorptive drug (n=8). Periodontitis lesions will be induced with respect to established procedures after 3 months. The outcome will be evaluated clinically and radiologically for 3 months postoperatively and after sacrification a detailed histological evaluation is planned.

AO CMF-16-16K Project title: Computer-assisted ranking to assist in risk evaluation, diagnosis and treatment decision

Antiresorptive agent-induced osteonecrosis of the jaw refers to necrosis associated with the administration of anti-osteoclastic drugs that are indicated for the treatment of metabolic bone diseases for osteoporosis and cancer. It comprises cases associated with bisphosphonates, and cases associated with the use of other antiresorptive agents. Despite the clinical benefits the agents may lead to osteonecrosis of the jaw, a complication observed in a subset of patients. Even though ARONJ can occur spontaneously it is more often associated with specific medical and dental conditions and procedures that increase the risk of experiencing a bone trauma of within the maxillofacial region.
The definition of risk factors, the diagnosis and treatment modalities rely on the medical history and clinical examination as they are considered to be the most sensitive tools. Clinical signs and symptoms may be supported by radiographic assessment. Oral cancer must be considered in the differential diagnosis and may require a biopsy. Once a diagnosis is made it is possible to refer the patient to treatment. Currently, different treatment modalities (conservative vs. surgical management) are used.
However, the clinical standard procedure for risk assessment, diagnosis, and treatment decision still remains a demanding task leaving an open space for interpretations: There are cases where clinical signs of osteonecrosis may not be obvious or not detectable. Additional radiographic assessment might demonstrate no or unspecific signs, exhibit a late stage or complex course, or even display signs of malignant conditions. The clinical condition might be aggravated by potential risk factors and comorbidities. An early and facilitated diagnosis might prevent or reduce the morbidity resulting from advanced destructive lesions of the jaw bone.
Artificial intelligence is being used increasingly as an aid to diagnosis in medicine. The aim of this study is to develop a computerized ARONJ ranking system and to rank given ARONJ cases to improve and facilitate the risk assessment, diagnosis and treatment decision. We will collect patient records and radiographs from a retrospective series of patients affected by ARONJ, oral cancer with jaw bone involvement and a control group and elaborate a ranking system that is based on the patient data, and machine learning that allows for a new case to be classified in a more objective, and near to automated fashion.

AO CMF-16-12P Project title: Surgical treatment of ARONJ using a local antimicrobial agent

Antiresorptive related osteonecrosis of the jaw (ARONJ) has become a frequent complication in oral- and maxillofacial hospitals. Due to aging of society the indications for the use of bone-modifying agents rise. Therefore the incidence of ARONJ is rising despite increasing awareness and prophylactic measures. The clinical management of osteonecrosis is still challenging since conservative treatment leads to complete healing in only 0-62%, whereas early surgical debridement of affected bone and a throughout soft tissue closure is successful in 86-95%. In the pathogenesis of ARONJ pH value and infections plays an important part and the influence of a local disinfecting agent in the area of the necrosis is to be investigated. Perisolv was initially developed for the treatment of periodontal disease as a local active agent to reduce bacterial load during scaling and root planning. It contains Natriumhypochloride that has antibacterial and antifungal properties and a long history in dental practice. It leads to a rise in local pH value and degradation of biofilm, destruction of toxins and anti-inflammatory activities. In the presented study we want to investigate the effect of local application of a new antimicrobial agent on antiresorptive related osteonecrosis of the jaws. In a prospective study 40 patients with ARONJ stage II and up will be included and randomly assigned in two groups. Local administration of Perisolv will be performed on two days preoperatively on the necrotic lesions in the intervention group. Following perioperative antibiotic treatment, the intervention group will undergo surgery and necrosis will be surgically and fluorescence-guided removed with plastic wound closure. The control group will also undergo surgery including debridement of necrotic bone and plastic wound closure but no administration of a local disinfecting agent will be performed. Primary endpoint will be complete wound closure at clinical evaluation at follow-ups after two weeks, one, three, and six months and after one year. Other endpoints will be the systemic inflammatory parameters including white blood cell count, C-reactive protein and Procalcitonin at different time points. In addition, the local bisphosphonate and antibiotic concentration will be measured by using chromatography-tandem mass spectrometry from the necrotic bone tissue harvested at the time of surgery. Pre- and post-operative MRI will be used to evaluate the extent of the lesion and the healing process.

AO CMF-16-21O Project title: Investigation into BRONJ development in a wild type and tenomodulin knock-out mice model

The efficacy of bisphosphonates (BPs) in the treatment of bone diseases has been established in multiple studies. However, bisphosphonate-related osteonecrosis of the jaw (BRONJ) has been characterized as a main side effect of BP therapy. Investigations of BRONJ patients showed reduction of circulating endothelial cells as well as significant decrease in VEGF serum levels, indicating that possible interaction between bisphosphonates and the endothelial cell lineage during vasculogenesis. There is preclinical evidence that BPs act directly on endothelial cells and interfere with all major steps of the angiogenic process such as endothelial cell migration, proliferation and tube formation. Zoledronic acid has demonstrated superior potency compared with other compounds inhibiting the proliferation of human umbilical vein endothelial cells in vitro.
It has been shown that Tenomodulin (Tnmd), an inhibitor of angiogenesis, reduces proliferation and tube morphogenesis of vascular endothelial cells in vitro, and suppresses tumorigenesis in vivo due to inhibitory effect on vessels proliferation. Tnmd might have diverse implications in various tissues and intriguingly in various pathological conditions. Using Tnmd knockout mouse model, it was reported that Tnmd acts on the maturation or maintenance of the periodontal ligaments (PDL) and is expressed during murine tooth eruption. In addition to PDL expression, Tnmd had a broad expression in the maxillofacial tissue, including: mandibular condylar, bone, gingiva and odontoblasts.
In this proposal, we focused on oral and maxillofacial region as first challenging study. We would like to investigate expression of Tnmd in jaws derived from Tnmd KO/WT mice, examine the role of Tnmd in jaw bones by inducing BRONJ in Tnmd knockout (KO) mice as we think that Tnmd is playing a modulatory role in osteonecrosis depending on its expression levels, as a protective factor at low levels or risk factor at high levels, via its anti-angiogenic actions.
Based on our analysis, we will be able to find out new factors that can contribute in BRONJ disease. In addition, our study will help us to correlate Tnmd genetic backgrounds to BRONJ etiology. Altogether, this combination of BRONJ induction with mouse knockout (or transgenic) models can suggests to the research community to investigated other gene factors that might play role in BRONJ.

Published articles:

(2019) Fliefel R, Entekhabi S, Ehrenfeld M, Otto S: Geranylgeraniol (GGOH as a Mevalonate Pathway Activator in the Rescue of Bone Cells Treated with Zoledronic Acid: An In Vitro Study. Hindawi Stem Cells International, Volume 2019, Article ID4351327, 9 pages. Doi: 10.1155/2019/4351327

(2018) Fliefel R, Ehrenfeld M, Otto S. Induced pluripotent stem cells (iPSCs) as a new source of bone in reconstructive surgery: A systematic review and meta-analysis of preclinical studies. J Tissue Eng Regen Med. 2018 Jul;12(7):1780-1797. Doi: 10.1002/term.2697

Palla B, Burian E, Fliefel R, Otto S. Systematic review of oral manifestations related to hyperparathyroidism. Clin Oral Investig. 2017 Jun 14. Doi. 10.1007/s00784-017-2124-0

(2017) Aljohani S, Fliefel R, Ihbe J, Kühnisch J, Ehrenfeld M, Otto S: What is the effect of anti-resorptive drugs (ARDs) on the development of medication-related osteonecrosis of the jaw (MRONJ) in osteoporosis patients: A systematic review Journal of Cranio-Maxillo-Facial Surgery:45 1493-1502. Doi: 10.1016/j.jcms.2017.05.028

(2017) Panya S, Fliefel R, Probst F, Tröltzsch M, Ehrenfeld M, Schubert S, Otto S: Role of microbiological culture and polymerase chain reaction (PCR) of actinomyces in medication-related osteonecrosis of the jaw (MRONJ): Journal of Cranio-Maxillo-Facial Surgery: 45 357-363, Doi: 10.1016/j.jcms.2017.01.006

Published Book Chapters:

Aljohani S, Otto S. Medication-related osteonecrosis of the jaw. In: Ehrenfeld M, Futran N, Manson P, Prein J (Editors)
Advanced Techniques of Internal Fixation of the Craniomaxillofacial Skeleton. AO publishing 2017 (Cited the AO grant).

Fleisher KE, Kontio R, Otto S (Editors). Antiresorptive Drug-related Osteonecrosis of the Jaw – a Guide to Research. Thieme 2016

Fliefel R, Otto S. Pathogenesis of Antiresorptive-drug induced osteonecrosis of the jaw. In Antiresorptive Drug-related Osteonecrosis of the Jaw – a Guide to Research. Thieme 2016