Combating a silent epidemic: AO CMF and AO Alliance collaborate to build surgical capacity in the developing world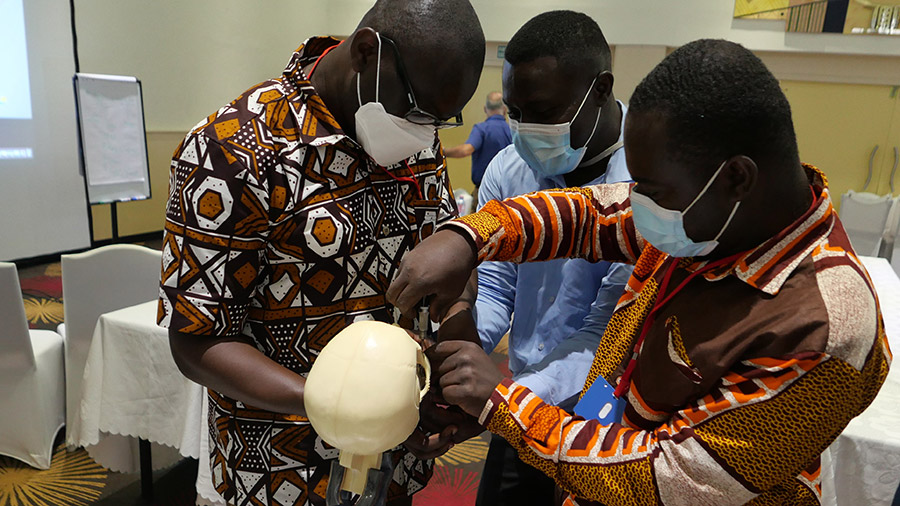 A silent global epidemic of injuries is taking a massive toll and AO CMF has joined the AO Alliance—a development health care nongovernmental organization (NGO) dedicated to improving the care of the injured in low- and middle-income countries (LMICs)—to combat that silent epidemic.
The AO Alliance/AO clinical division collaboration project that began in 2019 today is bearing fruit by educating surgeons in accordance with their local needs, inspiring surgeon champions to cascade that education, and living up to its motto: making a big impact with the smallest possible footprint.
"If you look at the latest World Health Organization figures, there's a silent epidemic of injuries worldwide," says AO Alliance Managing Director Claude Martin Jr. "The latest figures show 4.4 million people die of injuries on a yearly basis, and we know that about 1.25 million of these injury-related deaths are secondary to road traffic injuries. Much of the burden of injuries lies in LMICs. But this is just the tip of the iceberg because we know that for every survivor, there are approximately ten to 50 people who are left with some type of disability-related to their fractures or their injury."
Among those injuries—and with the advent of motorization in low-resource countries in combination with poor road conditions, poor car safety measures, little or no use of helmets, and few or minimally enforced traffic regulations—is craniomaxillofacial (CMF) trauma.
Making a dent
Most health care provision in these countries is paid out of pocket, Martin explains.
"You can imagine that it takes a long time to find the money to treat the injuries, which leads to a lot of complications and poor results. The results are malocclusions, nonunions, malunions, disfigurement and the social stigma associated with it, plus the inability to work," he says. "So, you have a recipe for an absolute disaster financially."
The clinical division collaboration with AO CMF aims to make a big dent in the problem by offering educational interventions on the ground in LMICs. AO CMF faculty members Travis Tollefson and David Shaye were involved in the development of the Essentials in Facial Trauma curriculum that is being deployed through the AO Alliance project.
"In 2017, the AO CMF International Board thought this [project] was so important that they put together a group from all around the world. Every region was represented," says Tollefson, who calls the clinical division collaboration the most important work of his life. "We outlined, from a patient's perspective: If you are living in a low-resource setting, what do you need most? What surgeon care? What infrastructure care? What do you need to take care of? With David Shaye and an international group, we sat down and made a patient-first, backward-planned curriculum that then needed to be tested."
Big impact with the smallest footprint
The outcome of that collective passion for patient care in LMICs was the delivery of over a dozen courses in Zimbabwe, Rwanda, Cambodia, Ethiopia, Haiti, Bangladesh, Thailand, and now Ghana.
"We kept working on improving and seeing how we could adjust the curriculum, making it hands-on…with the motto that we wanted a big impact with the smallest possible footprint," Tollefson recounts. "We wanted to bring people together and forge relationships because we knew that the core message we wanted to deliver was that we could work together to improve craniomaxillofacial injury outcomes in low-resource settings. It all comes down to [building] relationships with [local] surgeons who are working hard in their own countries to try to make improvements."
Shaye said that the curriculum resulted in multiple courses to train local surgeons in LMICs. True to AO CMF's identity as a multispecialty group of surgeons working together for a common goal, those courses on basic facial trauma care have educated local surgeons across a range of specialties: dental, oral maxillofacial, plastic, and otolaryngology as well as general surgeons. Local surgeons also have joined Shaye and Tollefson to work on curriculum development and discuss local cases.
Proof lies in the countries
"It has led to a number of other benefits where we've had surgeons work on research projects looking at critical questions about epidemiology and etiology of trauma, led to surgeon champions who we heavily rely on even as cross-cultural ambassadors to visit us and take other courses around the world and to come back and spread that information themselves," Shaye says, adding that many of those local surgeons are teachers themselves. "It's been an exciting process."
In Rwanda, for instance, surgeons trained through the AO Alliance/AO clinical division collaboration project with AO CMF today are not only teaching in the capital city of Kigali but in satellite hospitals around the country. In Cameroon, the surgeon champion wants to start a course.
"It has generated a lot of excitement around research, new techniques, and a sharing opportunity. That goes both ways: When we come in and teach, we learn at the same time," Shaye adds.
Teaching the local teachers are acclaimed AO CMF faculty members Amir Elbarbary and Gregorio "Goyo" Sànchez Aniceto.
Elbarbary emphasized that the curriculum is flexible enough to accommodate specific country needs. In Ghana, for example, surgeons wanted emphasis on hands-on training. At the same time, the project helps build up local expertise—and momentum.
Sustaining the momentum
"We know we can rely on these surgeons for future events. We need to keep that engagement," Elbarbary says, noting that establishing face-to-face relationships with local surgeons is an essential prerequisite for online study clubs, for example, to maintain the engagement.
The project gathered steam in Accra, Ghana, thanks to a perfect combination of factors: six months of planning, a local AO Alliance administrative team for English-speaking Africa, astute identification of prospective course participants, buy-in from leadership, logistical support, and equipment donated by AO industrial partner DePuy Synthes.
"In Ghana, we ended up with seven surgeons from around the country receiving faculty education, and they were then faculty with us at the subsequent trauma course. The reach we had in Ghana has been tremendous because the 32 participants actually were the vast majority of surgeons in training in the country," says Sànchez Aniceto. "So, we have planted a seed there for building this AO Alliance and AO CMF network in Ghana. So now we must look at the next steps, to plan ahead for how best to keep this momentum going."
Sustaining that momentum is essential, Martin adds.
"We were able to run a train-the-trainers program to teach doctors how to be better teachers before the course. They were able to execute immediately in the course; the curriculum was tailored to the needs of participants," he says. "Now we have to sustain that."
In addition to educating local surgeon teachers, the project has led to reverse fellowships in which senior AO CMF surgeons visit low-resource countries to teach and coach for as few as three weeks or as long as a few months.
Passionate about patient care
"That's part of the beauty of the AO Alliance: It's not a top-down organization. It's a grassroots organization, which allows the AO Alliance and AO CMF to work together and improve outcomes," Tollefson says.
For those driving the collaboration, the results to date have been extremely satisfying—even when there's much more to be done.
"We're really on the ground, grassroots up, and I think this is what makes the job interesting: meeting a lot of very interesting people every single day and making a difference—just a small difference—in patient outcomes and avoiding the cycle of poverty secondary to an injury is what drives our work. But it's a challenge every single day," Martin says.
Elbarbary agrees.
"We are educators by nature, and we are passionate about what we do as both educators and as surgeons because the most important thing for us, as Claude has mentioned, is to stop patients' suffering," he adds.
Watch the interview about AO CMF and AO Alliance on AO TV
Recorded at the AO Davos Courses 2021