Twin toddlers on their way to healthy, active lives, thanks to two AO CMF surgeons on multidisciplinary team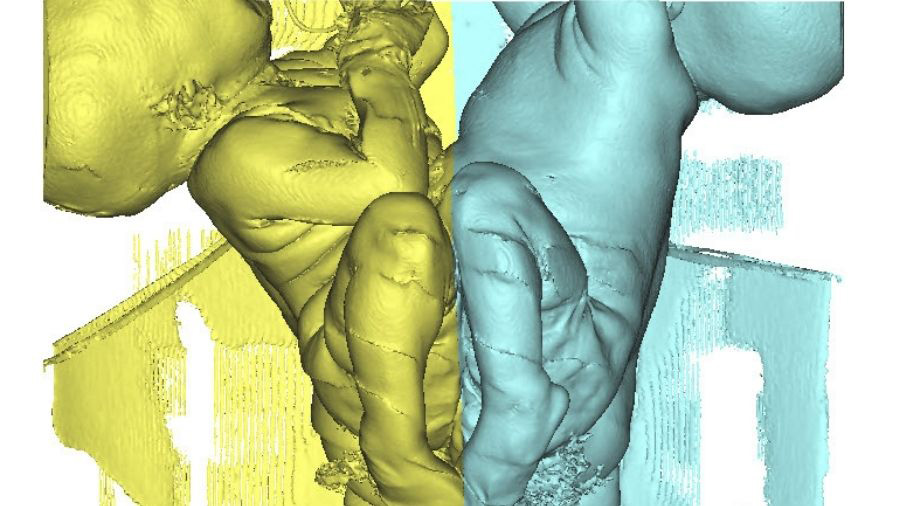 Formerly conjoined toddler twin brothers today are on the road to independent, healthy, and active lives, thanks to the expertise of two AO CMF faculty members who took leading roles in a multidisciplinary team's successful effort to separate them.
Plastic/maxillofacial surgeons and AO CMF faculty members Amir Elbarbary and Mohamed Amin were key to an Ain Shams University (Egypt) surgical team's yearlong effort—including preparation and surgeries—that ultimately gave the Burundian twins a new lease on life. Both Elbarbary and Amin are professors at Ain Shams University in Cairo. The twins were born joined at the abdomen and pelvis and shared digestive, reproductive, and urinary system organs.
"Back when I was doing my craniofacial fellowship at the University of California, Los Angeles (UCLA), I became involved in a case of twins who were joined at the heads. That, too, was a multidisciplinary effort involving plastic surgeons, neurosurgeons, anesthetists, pediatricians, and a lot of staff," said Elbarbary. In 2005, when he was asked to support the separation of twin girls joined at the pelvis back in Cairo, he enlisted his friend and colleague, Amin.
Very rare cases
"These cases are very, very rare and each time you encounter a case of conjoined twins and go through the very extensive planning and preparations, you become more confident," said Elbarbary who today has been involved in seven such surgeries, six of which also involved Amin.
In the case of the Burundian twins, it was Elbarbary's and Amin's task to provide tissue coverage for the patients' internal organs.
"Surgeons from other specialties do the actual separation, but kids can't live without coverage: the muscle, subcutaneous tissues, and the skin. And it's not just coverage. For example, if you close up a wound very tight around the abdomen, that can cause an increase in the internal abdominal pressure and might lead to a disaster called 'compartmental syndrome.' So, everything has to be very carefully calculated," he said.
Amin said he and Elbarbary examined all the potential issues from a variety of perspectives and said preoperative, three-dimensional, virtual planning them to estimate the amount of tissue to be reconstructed after separation.
"We had to ask: Could these kids be operated on with safe coverage or not? Are we going to operate or not? How much tissue is missing? How many expanders do we need? Where will we put the expanders? Will there be tension from the muscle? So, placement and number of the expanders—and how to expand them—were key questions," Amin explained, adding that each tissue expander increases the potential for complications—and there's no "Plan B" if the expansion effort goes awry. "If that happens, you're set back further than the starting point because you have to wait six months to a year—to make sure the tissue is stable—before attempting a revision surgery."
Responsible for twins' lives
For the Burundian twins, Elbarbary and Amin decided to use four tissue expanders with placement of two expanders at separate intervals in November 2020 and March 2021. They were under tremendous pressure because the subsequent separation surgery depended on their success.
"If we failed, we would be taking a failure for the whole team because failure would have set everything back even beyond the starting point," Elbarbary said. "When we first saw these twins, we learned that some colleagues had been reluctant to even attempt a separation. We were responsible for the lives of two children."
By June 2021, it was clear that the two surgeons' approach had worked, and the twins were ready for the actual separation surgery. Elbarbary and Amin made the first incision separating the soft tissues before turning the operation over to the pediatric surgeons who separated the boys' internal organs, followed by orthopedic surgeons taking over to perform osteotomies to close the pelvis. Elbarbary and Amin returned to close the patients' muscles and soft tissues toward the end of the 16-hour surgery.
True multidisciplinary effort
"This truly was a multidisciplinary effort involving seven plastic surgeons, four orthopedic surgeons, eight pediatric surgeons, eight anesthesia specialists, eight operating room nursing staff, and many more operating room personnel," Elbarbary said.
Working in such a multidisciplinary environment is nothing to these AO CMF faculty members: AO CMF is, in fact, a global multispecialty community consisting of clinicians with different backgrounds and areas of expertise: oral and maxillofacial surgery; plastic surgery; ear, nose, and throat; head and neck surgery; ophthalmology; and neurosurgery.
"Our AO involvement gives us a better understanding of multidisciplinary teamwork because we're used to that within the AO—and we also learned about virtual surgical planning from the AO," Elbarbary said. "One of the most important aspects of putting together a multidisciplinary team is to assemble people who can work together. For example, when we placed the tissue expanders, we had a lot of discussions with the pediatric and orthopedic surgeons: Would the expanders cause problems for the osteotomies? With their input, we placed the expanders as far away as possible from the surgical field, but close enough to the defect that was to be reconstructed."
"This is the beauty of talking together. We were able to adapt our work to other surgeons' needs, for example by allowing access to the expanders from the underside rather than the outside in order to allow best blood supply to the skin," Amin said.
New lease on life
The twins—now 24 months old and taking part in physical therapy—will soon return to Burundi with their mother, but they will not be forgotten by the two surgeons who helped give them a new lease on life.
"The happiest moment was seeing their mothers' eyes. After the separation surgery, she kept going from one twin's bed to the other's bed, jumping from happiness and crying. When we saw this happiness, we knew we were lucky to be part of such a special moment," Amin recalled.
"That's one of the beauties of our specialty," Elbarbary said. "You see the results instantly; it's very rewarding."