AO VET's Amy Kapatkin is blazing a path to a more diverse and inclusive AO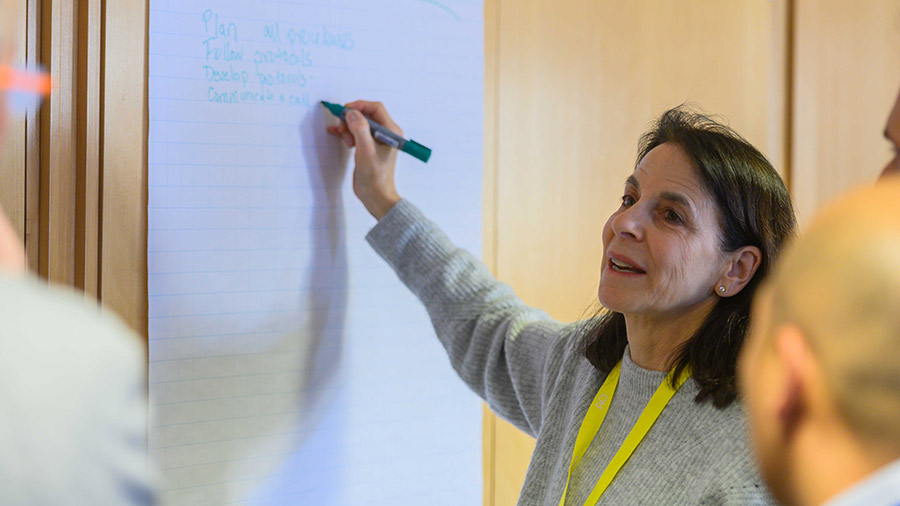 Amy Kapatkin, DVM, MAS, DACVS, had always dreamed of becoming a veterinarian but at young age had few role models to help her navigate that journey in the late 1970s and early 1980s, when most veterinary school students were male. In 2019, she became the first woman—and first AO VET member—elected president of AO North America (AO NA). Today, she chairs the AO NA Board of Directors and—as a member of the AO Access Steering Committee—is helping drive the AO's diversity, inclusion, and mentorship programs.
A full professor in the University of California, Davis (UC Davis) School of Veterinary Medicine's Department of Surgical and Radiological Sciences, Kapatkin cannot recall a time when she didn't want to be a veterinarian. Even as a three-year-old, when asked "What do you want to be when you grow up?" her answer was clear.
A passion for animals
"I'm one of those people…that always wanted to be a veterinarian and always really liked surgery—had a passion for it. I always had a passion for the animals. I rode horse; we always had family pets. It was definitely a passion from the beginning," Kapatkin recounted.
As a baby boomer, she attended veterinary school in the late 1970s, when there were few women vet students. But that fact could not extinguish Kapatkin's resolve to become a veterinarian. Tenacity and passion were her secret weapons.
"It was mostly men in my class and of course, like many people of my generation, I was told that it was an impossible dream," she said. "But I was the type of woman who felt that the more people told me I couldn't do it, the more I felt that I was going to prove them wrong—so, tenacity…and my passion."
Opportunity knocks
Though there weren't many women veterinarians available to serve as role models, Kapatkin did find male veterinarians—trusting that everyone has something to offer the profession—willing to be sponsors.
"Early on as a woman, [I] felt that everyone had to fight to the top by themselves because that's the only way to get there," she said. "But over the years, you realize that's not the case. I had people help me along the way, give me opportunities, and I felt that was something that you need to give back. Whatever it is in your profession, we all give back in some way."
Kapatkin was accepted as AO Faculty in 2006 in North America and it was In fact it was a man—Dr Ken Johnson—who invited her to her first AO teaching assignment in Ohio in 2007.
"He was the first person who gave me the first chance—my first opportunities in North America," Kapatkin said.
Women role models in veterinary medicine came later in Kapatkin's career. Chief among them was University of Illinois Urbana-Champaign College of Veterinary Medicine Professor Emerita Ann Johnson, who eventually nudged Kapatkin to the AO's international stage.
"She was one of the few women in AO VET North America who had a teaching faculty spot," said Kapatkin, who at the time had applied to become AO VET faculty but had never officially been invited to the role. "My opportunity came in 2010 when [Ann Johnson] couldn't make a course in Taiwan: She called me and said, 'I know it's really hard to break in. I'm going to recommend you.' That's when I said, 'Absolutely, I'd love the opportunity.'"
Paying it forward
Today, Kapatkin is paying that opportunity forward.
"When those things happen, it's so important to do [the same] for other people. And it doesn't have to be just women. It could be any young person," she emphasized. "It's very important to realize that people have the will and the desire [to succeed] but they also need help along the way."
Given the opportunity, Kapatkin jumped feet first into the world of AO VET teaching. She said that while imposter syndrome—feelings of inadequacy or incompetence—is common among both men and women surgeons, it can also inspire learning, achievement, and constant improvement.
"You can let it hinder your career or you can have that motivate you to really continue to learn, which is what the AO is all about," she said. "It's a constant learning environment of trying to do the best, teach the next generation, and then have them continue the learning for the next generation."
After three years of teaching national and international AO VET courses, Kapatkin wanted to become even more involved in the AO—and opportunity knocked again. Dr Ken Johnson, who was chairperson in the AO VET North America course for 25 years, knew that Kapatkin wanted to become more involved with the AO.
"He said, 'Would you like me to recommend you for the AO VET Education Commission?' I said, 'Absolutely! Thank you!'" she recalled.
That opportunity—and Kapatkin's willingness to seize it—kicked off her AO leadership journey.
'Put yourself on the ballot'
"There was no way in without someone like that saying, 'Are you interested?'" she said. "And then I became North American chairperson for education, sat on the AO VET International Board, and—once I became chairperson of the AO VETEC—encouraged many AO women to please apply for open leadership positions."
These women often reply with "Oh, we never get in," but Kapatkin's answer is straightforward: "No, if you don't put yourself on the ballot, you'll never get in."
"As women, if we want to lead, we have to be willing to lose a few times before we do win," she said. "That's really the model I've taken all along in leadership. Leadership is difficult and we all learn to be better at it—and we need to encourage others to try it."
The fact that Kapatkin was elected president of AO NA in 2019 is proof that the AO is changing, she said.
"I give credit to the membership because timing was such that there was a lot of support to change the culture," Kapatkin said. "I had been involved with AO Access and the diversity, equity, and inclusion movement for three years and I think people appreciated that, whether they were women or underrepresented groups. I think they appreciated that this was a new push and they wanted to support somebody who fit that role."
'Open for everybody'
Several of the women Kapatkin has encouraged have, indeed, put themselves on the ballot for AO leadership roles—proof, she said, that the push is working.
"If we don't put ourselves out there, we're never going to get there," she said, emphasizing that diversity is about more than gender, but also about diverse ages, talents, and representation. "We need to bring up our young people and elevate them, make sure they can be the next leaders. We have to develop future leaders and I think we're opening up the opportunity so that you don't have to know somebody or get tapped on the shoulder [in order to advance in the AO]. It really is going to be open for everybody."
You might also be interested in: