AO VET faculty member Lisa Adele Piras recounts her professional journey and underscores the value of mentorship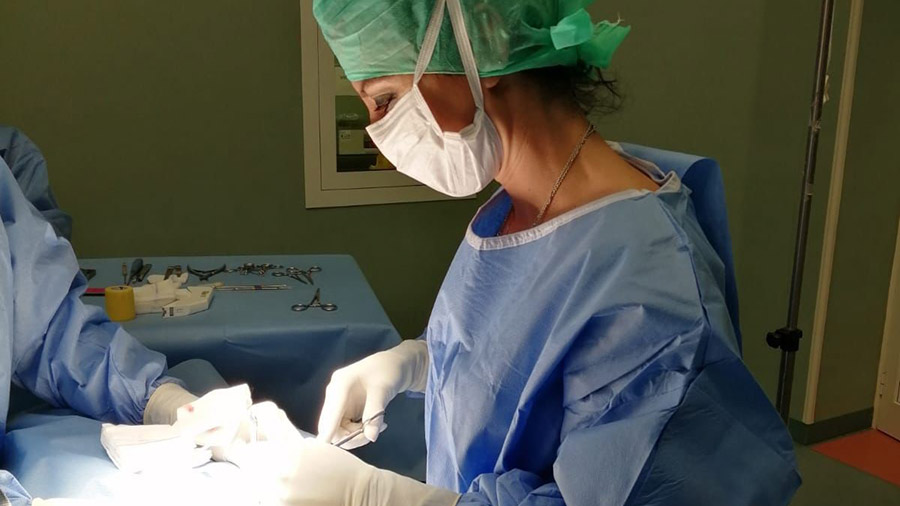 No one should be surprised that Lisa Adele Piras grew up to become an animal lover and—eventually—a veterinary researcher, professor, and orthopedic surgeon: The family story is that when she was born, one of the family's hunting dogs gave birth to a litter of puppies in her crib.
Today, Piras is a veterinary orthopedic surgeon, researcher, and assistant professor at the University of Turin in Italy. She represents an emerging generation of AO VET faculty members who have been nurtured—and pushed—by mentors within AO VET. In Piras' case, that mentor is AO VET Community Development Commission Chairperson Bruno Peirone, professor of orthopedics in the University of Turin Department of Veterinary Sciences.
"I decided to become a vet when I was a child. My father was a hunter so we always had hunting dogs; that was the beginning of my lifelong love of small animals, dogs in particular," Piras explains. "I've never wanted to do anything else. When I was deciding what I wanted to study at university, my mom encouraged me to become a human doctor. She thought it would be safer and more prestigious and that I would make more money. But I was never interested in a career in human medicine."
More than a career
For Piras, veterinary orthopedic surgery and research are more than a career. They are her life.
"I like to try to help the animals. What I explain to people is: The worst dog or cat that I have treated is better than some of the people I know," she says. "When you look into these patients' eyes, it's something special."
Piras experienced that personally when, four years ago, a 12-year-old female Jack Russell terrier was brought into the clinic with near-fatal wounds after being mauled by a much larger dog. The patient, Ania, required amputation of her front forelimb and all of the toes on her right leg. When all was said and done, Ania's owners didn't want her—so Piras stepped up, took the patient home, and cared for her until her death last February.
The value of mentorship
It was during her fourth or fifth year as a veterinary student of Peirone that her fascination with veterinary orthopedic surgery was cemented.
"I thought, 'This is very cool,' and then all of the surgeries were very interesting to me," Piras says.
Little did she know at the time that Peirone would become her mentor.
"It is very, very important—mandatory, even—to have a mentor if you really want to achieve something. A mentor offers experiences, suggestions, and inspiration, and can teach you more than the books," Piras says. "Bruno was not an easy mentor, but he has been a good one. He pushes you, of course. He's like a superstar, so you always have to be as good as him in order to be at his side in the operating room. So, he is always pushing you to do better, pointing out where you need to improve. It's very stressful—and it has made me a better surgeon."
It was also Peirone who encouraged Piras' AO VET involvement after she took her first AO VET course in 2007. In 2018, she became an AO VET faculty member, and in 2020, she cochaired her first course with Peirone. In 2022 in March, she will co-chair the AO VET course in Italy on complications and be part of the faculty of the osteotomy course. In addition to allowing her to contribute to AO VET's aim of advancing the practice of veterinary surgery to improve patient outcomes, being a faculty member offers Piras opportunities to work with—and learn from—the world's best veterinary orthopedic surgeons.
"What I like about teaching is sharing my experience with participants. I like to share my passion for this work because I have been lucky to have had a mentor and a program in which I could learn and study. Many people don't have the same opportunities that I've had," Piras says.
Her path to the upper echelons of her profession has not been an easy one, however.
"When I was young, people didn't want to have me as a surgeon for their pets because I was young and female. And because Bruno is a very popular veterinary orthopedic surgeon in Italy, most clients came to him to care for their animals," she says. "But at some point, I noticed that something was changing: People were coming and asking for me. I understood that I was not a normal vet and that all of this work was beginning to pay off."
Another turning point was when she became AO faculty for the first time.
A mark of credibility
"When I took my first AO VET course as a participant, I thought, 'One day, I will be AO VET faculty.' And when that day finally arrived, I was very proud," she recalls. "It's a mark of credibility because our AO VET educational content is evidence-based and unbiased."
Still, Piras says, there are challenges—and she is eager to help lead AO VET into the future.
"For one thing, there are not so many female faculty members. This has not been a problem for me personally because I was not made to feel different because I'm female," she says. "At the same time, becoming AO VET faculty may not be easy if you don't have a mentor within AO VET. I was lucky to have Bruno as a mentor."
A living example
In her profession in Italy, Piras says she senses that women are sometimes invited as speakers simply because they are women—a situation that strikes her as tokenism. She prefers to live her passion for veterinary orthopedics by doing excellent work and by mentoring up-and-coming students and surgeons.
"I try to be an example in the way I treat my patients, speak with their owners, study every day, and try to improve. I never say I'm perfect; I'm always finding something wrong," she says. "It's important to set an example, too, by being honest with ourselves and our patients' owners. To be a mentor, you have to spend time with the mentee in order to really teach and discuss cases and papers. And mentees have to understand when it's the right time to ask for mentorship because the patients always come first."
Would you like to learn more from Lisa Adele Piras and Bruno Peirone? Check out these courses:
AO VET Masters Course—Corrective osteotomies: pelvic limb and patellar luxation
Cremona, Italy | March 26–28, 2022
AO VET Masters Course—How to avoid, recognize and manage complications in Small Animal Fracture
Cremona, Italy | March 30 – April 1, 2022