AO VET makes strong showing at ECVS Annual Scientific Meeting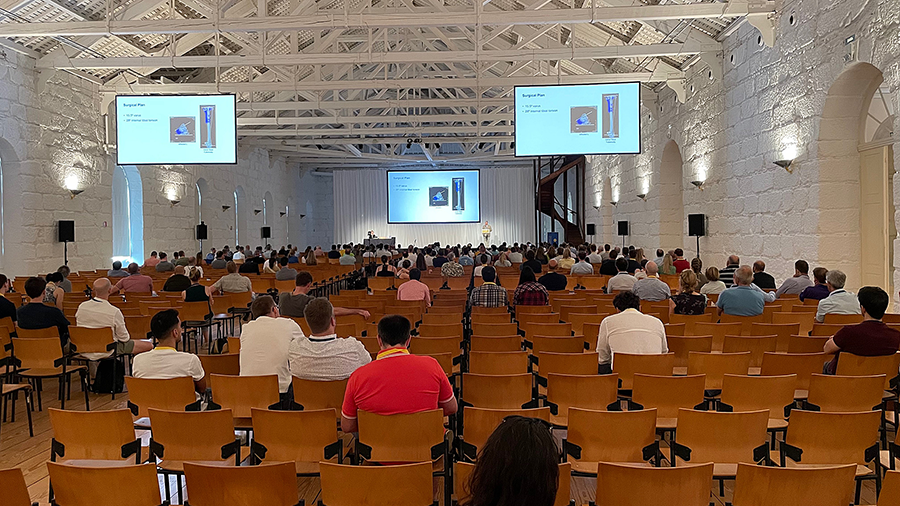 With two well-received seminars delivered by acclaimed faculty, sponsorship of the two forums for residents, and a booth in the exhibition area, AO VET made a strong showing at the European College of Veterinary Surgeons (ECVS) Annual Scientific Meeting, July 7–9, 2022. The hybrid event took place in Porto, Portugal, and online.
At the 31st annual event, renowned AO VET faculty led half-day large and small animal seminars on July 7:
AO VET Seminar—Complex Feline Fractures and Joint Disorders, with chairperson Ignacio Calvo (Spain) and faculty members Elvin Kulendra (United Kingdom) and Karen Perry (United States), addressed the principles, techniques, and concepts related to the management of an array of complex feline fractures and joint disorders and the clinical problems that may arise. The seminar featured very interactive discussions with real cases and participants were encouraged to bring their own cases to discuss.
AO VET Seminar—Common Complications in Fracture Repair in Large Animals, with chairperson Christoph Lischer (Germany), and faculty members Michelle Jackson (Switzerland), Fabrice Rossignol (France), and Jeffrey Watkins (United States), focused on dealing with—and learning from complications. The experienced faculty members brought their own cases for a lively, interactive session on common complications in fracture repair, and participants were encouraged to send in their own cases for discussion.
AO VET also sponsored small animal and large animal forums for residents on July 7. Additionally, the AO VET booth in the exhibition area at the meeting showcased all that AO VET—a global network of surgeons, scientists, and other professionals highly specialized in the field of veterinary surgery of the musculoskeletal system—has to offer. Booth activities included a raffle for prizes like an AO VET history book, operating room hats, and plush animals.
In addition the AO VET Research and Development Commission met on July 6, in advance of the ECVS event.
All in all, the event highlighted the strengths of AO VET, which continues to grow as new, motivated, young members join its ranks. We are delighted to welcome the new AO VET members in the AO VET Family, who from now can benefit from the membership privileges; such as discounts on events and publications; chance to apply for fellowships, grants; educational tools including the AO Surgery Reference Veterinary; access to videos and webinars; access to AO PEER and to AO VET's global network; research and development opportunities, and much more.
Keeping the global AO VET family connected is the AO's secure, digital myAO platform—the fastest, most relevant digital network of trauma and orthopedic surgeons worldwide. With over 5,000 veterinarians already using the platform, myAO is the place to be if you want to discuss clinical cases, read recommended scientific publications and connect with surgeons from all corners of the world.
---
The next three ECVS annual scientific meetings are a great place to connect with AO VET's distinguished faculty—in both formal educational settings and informal coffee and lunch breaks—are:
32nd Annual Scientific Meeting, July 6–8, 2023, Kraków, Poland
33rd Annual Scientific Meeting, July 4–6, 2024, Valencia, Spain
34th Annual Scientific Meeting: July 3–5, 2025, Antwerp, Belgium