AO VET Chairperson-Elect Ignacio Calvo is ready to hit the ground running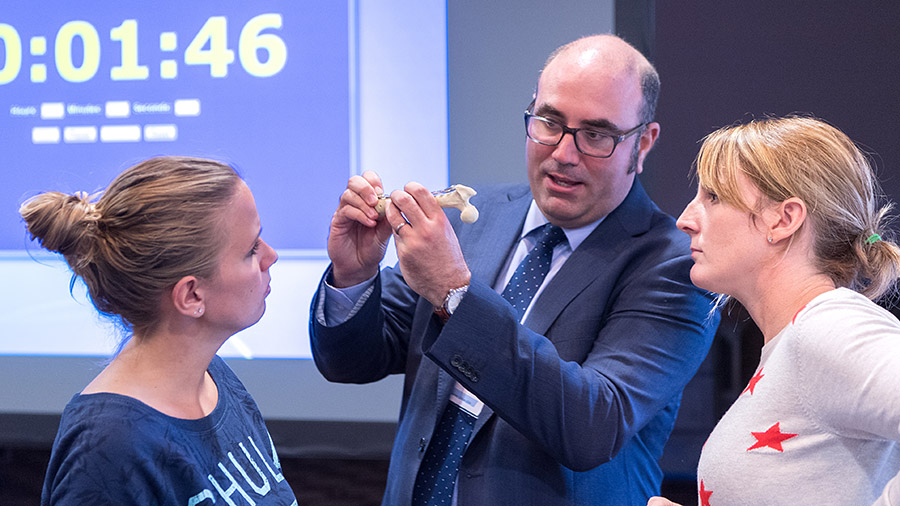 With hope that the end of the COVID-19 pandemic is just ahead, incoming AO VET Europe and Southern Africa (AO VETESA) Chairperson Ignacio "Nacho" Calvo is ready to hit the ground running to reaffirm AO VET's position as the gold-standard provider of postgraduate veterinary orthopedics and traumatology education.
Nacho, who will succeed current AO VETESA Chairperson Toby Gemmill when his second term ends in July 2022, brings to the role a passion for education. He has significant experience teaching audiences of different backgrounds, cultures, and career stages, due to his past experience working for the European College of Veterinary Surgeons (ECVS), the Royal Veterinary College (London, United Kingdom), University College Dublin College of Veterinary Medicine (Dublin, Ireland), and the University of Glasgow School of Veterinary Medicine (Glasgow, United Kingdom).
A 2001 graduate of the University of Cordoba (Spain), Nacho did his surgical residency at Glasgow University School of Veterinary Medicine, became an ECVS Diplomate in 2012, and earned his doctor of philosophy degree in 2016. Additionally, his postgrad studies at the University of Glasgow helped him earn a Post Graduate Certificate in Academic Practice (PGCAP) and a British Higher Education Academy Fellowship. He has close ties to the ECVS and currently is a member of the ECVS Examination Committee. Nacho practices small animal orthopedics at VETSIA Hospital Veterinario in Madrid, Spain.
"The AO has been part of my life for as long as I can remember and has played a significant role in my career path," Nacho explains. "My father was an orthopedic surgeon and I remember seeing the AO manual of fracture fixation on his desk when I was five or six years of age."
When he was presented with a chance to become involved as faculty at the AO VET courses in the United Kingdom in 2012 and as chairperson for the 2018 AO VET courses in Spain, Nacho did not hesitate.
"It was time for me to start giving back to AO VET and I have not stopped since then," Nacho says. He was a member of the AO VETESA Board and the AO VET Education Commission from 2018–2021 and served as the AO VET representative to the AO Faculty Alignment Group from 2020–2021.
Looking toward his term as AO VETESA chairperson, Nacho's priorities include reestablishing and enhancing AO VET's traditional on-site courses, improving the regional educational offering to include courses in local languages, consolidating and expanding AO VET education in Eastern Europe and Scandinavia, and exporting AO VET education to Southern Africa and the Middle East. At the same time, he wants to improve communication between local/regional AO VET groups, develop a comprehensive, global online education strategy, and maintain collaborations with regional groups like ECVS and the European Society of Veterinary Orthopaedics and Traumatology (ESVOT), develop new membership initiatives, and establish clinic research initiatives similar to the AO VET Symposium—Bridging The Gap: Translating Clinical Research to Clinical Practice concept developed by AO VET Asia Pacific and recently adopted by AO VET Latin America.
"The last two years have been turned upside down by the COVID-19 pandemic which led to the cancellation of a number of courses around the world," Nacho says. "I remain hopeful that we are getting closer to the end of this ordeal. We need to be ready to hit the ground running to reestablish AO VET as the premium provider of postgraduate veterinary education in orthopedics and traumatology."