Bridging the gap: Recently elected AO VET Asia Pacific Board member Lucas Beierer looks to reach untapped base in Asia Pacific region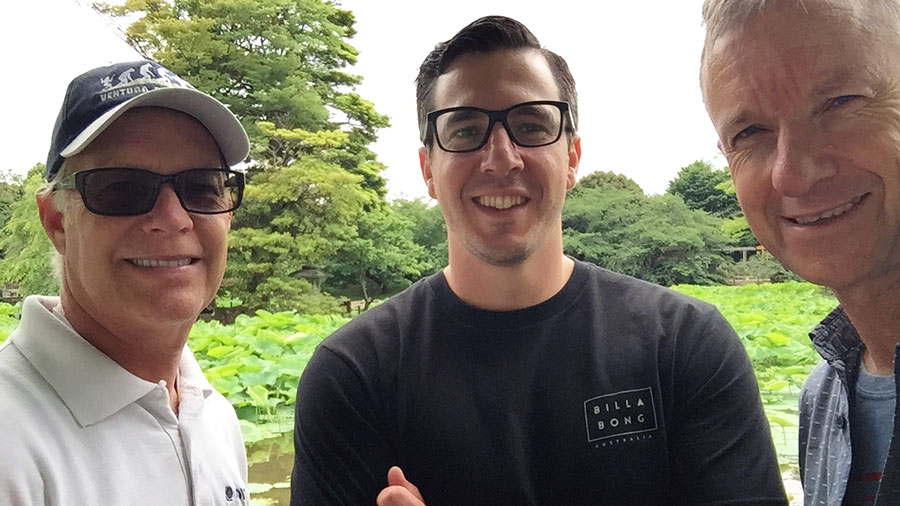 Kenneth Bruecker, Lucas Beierer, Mark Glyde (from left to right)
Bringing AO VET education to an unreached base of veterinarians in the Asia Pacific region is at the top of Australian Lucas Beierer's priorities as he begins his first term on AO VET Asia Pacific (AO VETAP) Board and as the board's education representative to the AO VET Education Commission.
Beierer, a small animal specialist and veterinary orthopedic surgeon with Queensland Veterinary Specialists (QVS) in Brisbane, Australia, is a strong believer in the AO mission of promoting excellence in patient care and outcomes in trauma and musculoskeletal disorders.
"An essential component of this mission is accessing and educating practitioners in the fundamentals and principles of orthopedic surgery," he explains. "As a member of the AO VETAP Board, I want to positively impact AO VET's reach and influence across the Asia Pacific region."
Based on his own teaching experiences, Beierer is well aware of the great impact orthopedic education has on patient outcomes—and at the same time he recognizes that there is a great need for AO VET education in his region.
"There is an immense unreached base of veterinarians who can be supported in their clinical decision-making," he says. "I see bridging this gap as one of my roles in working on the AO VETAP Board."
Calling himself "feverishly passionate" about delivering orthopedic education to veterinarians, Beierer sees benefits to both veterinarians and animals alike
"There is no greater personal satisfaction than seeing the direct effect of your teaching efforts, resulting in veterinarians reflecting on their own clinical practices, improving their decision-making, executing this improved decision-making in management of their patients, and—ultimately—getting better outcomes for animals. That is the addiction of AO VET: the understanding that your educational efforts continue to flow far beyond the courses or laboratory."
Beierer also knows the value of mentorship and considers his service to the AO VET Education Commission and the AO VETAP Board a means of giving back to the AO and the AO VET community.
"I have been fortunate to have excellent mentors in the AO VET community. Through their selfless guidance and support, I have seen my own professional opportunities expand and the improvement in patient care as a direct result of AO VET education," says Beierer. "I want to feed back into this network of professionals and promote the common goals and love of orthopedics by promoting AO VET teachings and opportunities."
Beierer graduated as a veterinarian from the University of Queensland in 2007, and in 2011 earned a graduate diploma of adult and tertiary education from Murdoch University. He received his master's degree in veterinary surgery from Murdoch University in 2014. In 2015, he became a Diplomate of the American College of Veterinary Surgeons (Small Animal) and the following year became a Royal College of Veterinary Surgeons recognized specialist in small animal orthopedics. Beierer's AO VET involvement began with a small animal principles course in 2011 and continued with additional courses in the United Kingdom. He became both regional and national faculty in 2017.