Reelected to AO VET Latin America Board, Francisco Javier Corral outlines priorities for next three years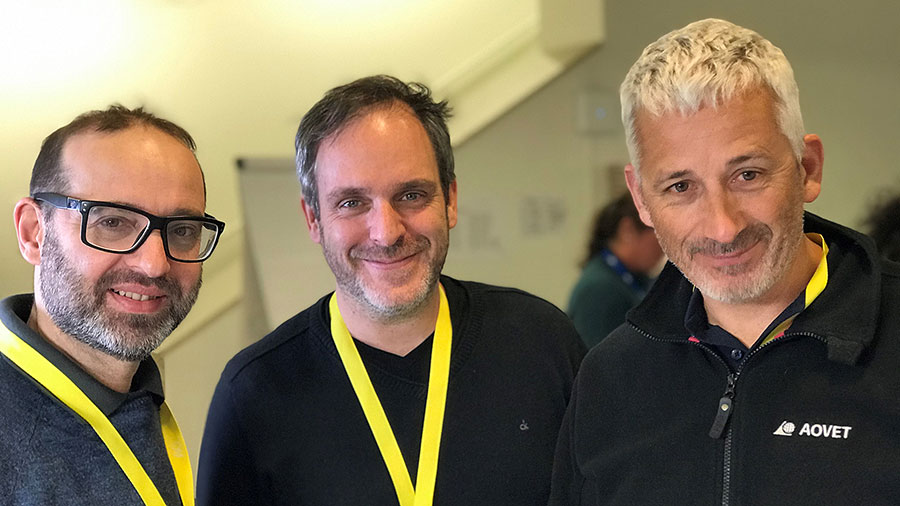 Esteban Mele, Javier Corral, Tomas Guerrero (AO Davos Courses 2019)
A team player with well-developed interpersonal skills and a penchant for collaborative, efficient, and effective problem-solving, Argentina's Francisco Javier Corral in July began his second three-year term as education officer on the AO VET Latin America Board and as the board's representative to the AO VET Education Commission.
Corral, a veterinary orthopedic surgeon and professor with the University of Buenos Aires (UBA) Veterinary Medicine Teaching Hospital Surgery Service, brings valuable education competence to the board. He says he's eager to advance several education-related projects he championed during his first term.
"I want to execute the long-awarded AO VET masters course on stifle surgery in Latin America; this course was postponed due to the COVID-19 situation," says Corral. "Additionally, it is important to continue developing and offering courses—whether face-to-face on-site, online, or hybrid—that are relevant to the needs of Latin America."
Small and large animal webinars are another priority for Corral because they help expand AO VET's educational foundation in the region in participants' native language.
"That increases the interest and engagement in the AO VET community," he says, adding that encouraging the region's young and diverse pool for talented surgeons to apply for fellowships is also key to developing future AO VET faculty and guaranteeing succession planning.
In addition to these priorities, Corral currently is working on an online introductory course on the basic principles of fracture management in Latin America.
"This course is aimed at novice surgeons and final-year students, so that through lectures and small group discussions, they can learn the AO philosophy and begin the lifelong learning pathways offered by AO VET," he says. "This new online course is dictated by faculties of various nationalities, many of them enthusiastic young surgeons of different genders. It is very important to continue this policy of improving opportunity, diversity, and inclusion in our region."
Corral graduated from the UBA Veterinary Medicine College in 2004 and received specialty training in university teaching with guidance in biological and veterinary sciences at UBA. He is a scientific researcher in a UBA-approved and financed clinical research project. Corral joined AO VET in 2010 and since 2015 has been a faculty member for a wide range of AO VET educational events across the AO VETLA region and chaired AO VET principles and advanced courses in small animal fracture management in Argentina.