Back to the wild: Surgeon's skills and rescue's dedication help young bobcat return 'home'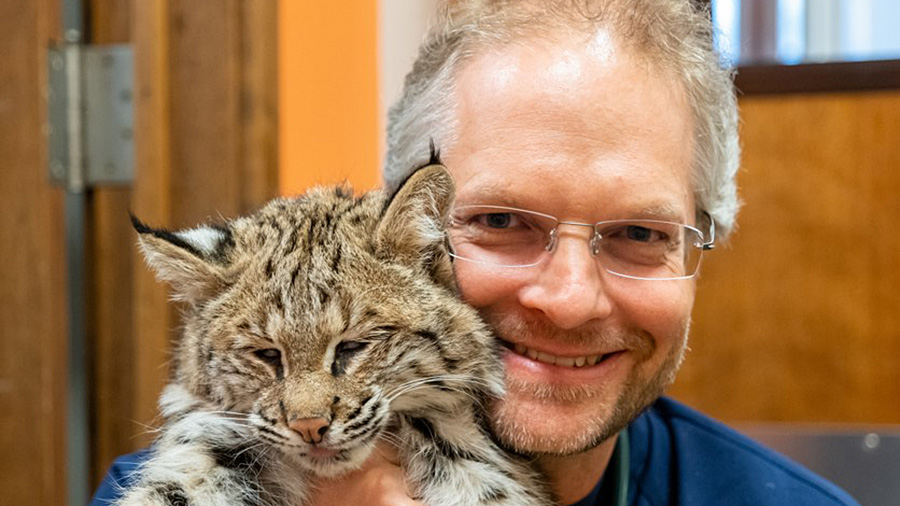 Dr. Dirsko von Pfeil with bobcat
Von Pfeil, DrMedVet, DVM, DACVS, DECVS, DACVSMR, DECVSMR (Small animals), ACVS Founding Fellow, Minimally Invasive Surgery (Small Animal Orthopedics) of Small Animal Surgery Locum, PLLC, foresaw significant challenges when Laura Stastny, director of the Nebraska Wildlife Rehab, contacted him about the bobcat.
Confronting a sad reality
"Unfortunately, the sad reality is that, often, they either do not make it through anesthesia, have problems too advanced to be surgically corrected, or they self-mutilate and destroy surgical work," von Pfeil explains. "I was very frank with Laura: I would be willing to try the surgery but I told her that we would face significant challenges along the road."
Presenting with a fractured femoral neck and additional avulsion fracture of the greater trochanter, the bobcat, if left untreated, likely would have had limited use of the limb due to nonfunctional malunion. Without treatment, the bobcat likely would have ended up in a zoo or similar facility; euthanasia was never an option. The rescue organization's main goal is to recover injured wildlife and then release them—and all animals receive the same dedication and care, whether opossum, rat, or bobcat.
"When he was found, he was more or less dead already and needed to be nursed by the rescue organization for several days, just to be strong enough to survive anesthesia," adds von Pfeil.
Fortunately, those efforts paid off.
"I tell you, he was a 'pistol' when he arrived at our clinic: he needed five intramuscular injections to get him sedated," von Pfeil says. "This patient would have taken your hand off if you had tried to touch him."
'Extremely eager to help'
"The reason we were extremely eager to help this specific bobcat was that he was young and those animals have the best chance to recover and heal well," he says.
The treatment included placement of a screw with a washer and a pin to reestablish the femoral neck, and a tension band to secure the trochanter.
"His young age was the only reason this surgery was a success. During the procedure, I knew this was not going to look good on post-op radiographs. Indeed, when I saw those films, I was more or less convinced it would fall apart, especially knowing that this was a wild, energetic bobcat," von Pfeil notes. "Only the dedicated care of Laura's team—and the extremely good cooperation between us to stage the recovery process—allowed this injury to heal."
'Extremely remarkable'
In fact, von Pfeil was so committed to the bobcat's recovery that he stayed in constant contact with Stastny—even from the Amazon, the Andes, and the coast of Ecuador where he traveled to on a regular basis for family-related reasons during the months following the surgery.
"The rehab phase was extremely challenging for the rescue organization to get this cat through the recovery," he emphasizes.
That nine-month process included initial confinement to a very small enclosure, then to a custom-built, low-ceiling crate with shelves and opportunities for mild climbing and jumping, and—eventually—transfer to a much larger cage, originally build to allow birds of prey to relearn how to fly. Throughout the course of rehabilitation, the bobcat's caretakers transitioned him to high-energy food so he could regain strength, then introduced dead mice, birds, etc., to reacquaint him with a "wild" menu. Intermittent fasting was eventually introduced to evoke hunger and prepare him for similar episodes in the wild. Finally, live mice, birds, etc, were presented, requiring the bobcat to prove that he could survive by hunting—and he showed he could survive independently!
"It is extremely remarkable that this bobcat could be released into the wild. The rescue organization has worked with many other bobcats in the past—none with an injury as severe as this one was ever released back into the wild," says von Pfeil.
'Don't give up too fast'
A reward in addition to the very successful treatment and recovery is the fact that a wildlife photographer's photo-trap captured the bobcat several months after his release. The bobcat's specific markings clearly identified the cat in that photo as the one that was operated on by von Pfeil.
"This case reminded me: don't give up too fast in surgery and convert to a salvage procedure—even if that would have been easier and faster. I myself had severe back pain during the surgery and could hardly move during and after the procedure," von Pfeil recalls. "I will never forget the moment when this bobcat left his cage on the day we released him back into the terrain where he was picked up about ten months earlier. At that moment our group of caregivers knew it was all worth it!"
Training and wisdom
Von Pfeil is also quick to credit the training and wisdom he received from his mentors at Michigan State University (MSU).
"All of my mentors have been involved in one way or another with the AO. My surgical skills and knowledge in orthopedics are for the most part a direct result of the training I received at MSU. I myself became an AO faculty a few years ago and have been involved with several AO courses, teaching and lecturing about some of the techniques used in this case—without which I think the outcome for this bobcat would have been different," he says.
Additional and final icing on the cake: In thanks for von Pfeil's above-and-beyond commitment to its patient, Nebraska Wildlife Rescue officials named the bobcat "Dirsko."