Jeffrey P Watkins elected chairperson of AO VET International Board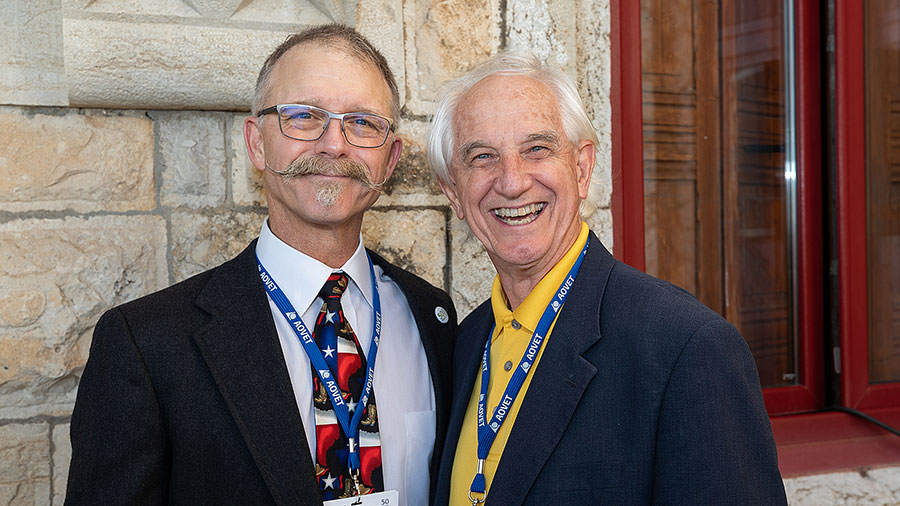 Jeffrey Watkins with AO President Robert McGuire, AO VET Retreat, Lisbon, 2019
As longtime AO VET faculty member and equine orthopedic specialist Dr Jeffrey P Watkins prepares to take the reins as AO VET International Board chairperson in July 2021, he looks forward to representing the entire AO VET community with integrity, honesty, and fairness.
A large animal surgery professor and group leader in the Texas A&M University College of Veterinary Medicine & Biomedical Services' Department of Large Animal Medicine & Surgery (College Station, Texas, United States), he earned his doctor of veterinary medicine degree from Kansas State University (United States) and went on to earn his master of veterinary science degree from Texas A&M while completing his residency in large animal surgery. Watkins has been a diplomate of the American College of Veterinary Surgeons since 1986. He has been active in all facets of orthopedic surgery, from clinical care and education to clinical research and outreach. Additionally, he has been AO VET international faculty since 1991, and has served AO VET in a host of official capacities. Watkins currently is chairperson of AO VET North America and previously was chairperson of the Veterinary Expert Group of the AO Technical Commission.
Moving AO VET forward
Watkins said his major focus as chairperson of the AO VET International Board will be helping to move AO VET forward while navigating the ever-changing environment in which the board operates.
"That environment is the umbrella of the AO in parallel with the executive management while working to meet the unique needs of each region," Watkins explained. "There are many great initiatives in the works that I wholeheartedly support and will advocate for. At the same time, I know from experience that there will be new issues that come into play and require us to make adjustments to our plans."
First and foremost, Watkins is committed to keeping AO VET at the forefront of veterinary orthopedics and maintaining its position as the best-in-class education provider—all while focusing the clinical division's resources in areas where AO VET can have the greatest impact and provide sustainable educational events.
"We've come to realize the importance of online content and delivery," he said, adding that it will be imperative for AO VET to continue expanding its online presence, providing an experience that meets veterinary orthopedic surgeons' needs, and promoting interaction.
In parallel, Watkins supports increased engagement with younger, diverse colleagues while honoring the contributions of longtime members, keeping them involved, and making use of their institutional knowledge.
"I'm committed to giving my best effort," he said. "I'll do what it takes to keep AO VET on the upswing."