Future AO VET Education Commission Chairperson Mark Glyde looks ahead with an ambitious slate of priorities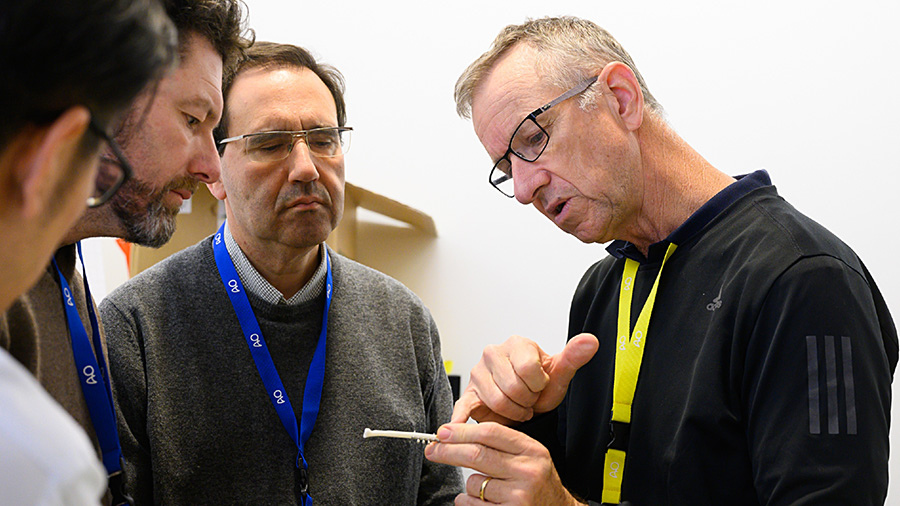 Leading and inspiring the AO VET education team in contributing to the AO clinical division's mission of global leadership in the management of animal musculoskeletal disorders is at the top of Mark Glyde's priorities as he will take the reins as chairperson of the AO VET Education Commission.
Glyde, who will succeed Alessandro Piras as chairperson of the commission for a two year term in July 2021, has been an AO VET member since 1990. A diplomate of the European College of Veterinary Surgeons, Glyde is associate professor of small animal surgery at Murdoch University in Perth, Australia. With broad and effective knowledge, experience, and perspective, he has served the AO and AO VET in a variety of leadership roles. He was a member of the AO VET Education Commission from 2015–2019 and currently is chairperson of the AO VET Asia Pacific Board and a member of the AO VET International Board. Glyde has served as AO VET faculty since 2007 and been a member of the AO Assembly of Trustees since 2017.
Glyde's international reputation as a specialist clinician, educator, and researcher is reflected in 40 peer-reviewed publications in surgery and adult medical education as well as in his presentations at major international congresses.
"I believe that educating veterinarians and veterinary undergraduates to develop their potential in achieving the best patient outcomes is both my professional gift and goal," said Glyde, who has been driving curriculum and assessment development for undergraduates, graduates, and veterinary residents since 1998.
Glyde looks forward to building on the excellent foundation created by Piras and the work of the commission and the AO VET staff team and faculty. Moreover, he aspires to continue to increase AO VET membership internationally —and particularly female membership—by providing relevant, reflective, and dynamic, needs-based education to better reflect the diversity of the veterinary profession.
Ambitious
goals
"I also want to increase the number of exceptional AO VET faculty and particularly female faculty with multinational versatility enabled by the Faculty Education Program (FEP) and Chairperson Education Program (CEP) in a sustainable and needs-based method," Glyde explained.
Other priorities include:
Expanding the diversity of courses offered in small animal, equine, operating personnel (ORP), and undergraduate education, with particular focus on expanding AO VET offerings beyond trauma and more broadly in managing musculoskeletal disorders

Embedding and expanding online and blended course offerings in the face of the major challenges—and opportunities—presented by the COVID-19 pandemic

Expanding the AO VET Education Commission to include a permanent equine representative

Facilitating professional development of AO VET Education Commission members to optimize performance and effectiveness of the education team and develop future leaders




Raising AO VET's profile
Glyde said he also is eager to increase the AO VET education profile through publication of its educational innovation while, at the same time, raising the profile of AO VET research through integration of AO faculty and member research outcomes in blended course offerings.
"AO VET is uniquely positioned in that we have access to the AO Education Institute and the AO Research Institute Davos (ARI)," he explained. "Education and research are strong pillars of the AO and we have the opportunity for further integration with our courses.
Furthermore, Glyde looks forward to:
Making the AO VET Clinical Research Symposia part of AO VET's standard offerings to directly connect the latest evidence-based science with clinical practice

Embedding blended learning into AO VET education

Using online learning as a cost-effective means of reaching low- and middle-income countries

Use multilingual AO VET faculty to cost-effectively facilitate access to AO VET's considerable webinar resources

Continuing to build sustainable partnerships with local and international professional organizations
"I have been privileged to be an active part of AO VET for the past 14 years," Glyde said. "I look forward to using my skills, experience, passion, and vision to lead and inspire the AO VET Education Commission team and AO VET staff in contributing to the AO Foundation mission of being a global leader in the management of musculoskeletal disorders."