The new AO ITC Innovations Magazine is here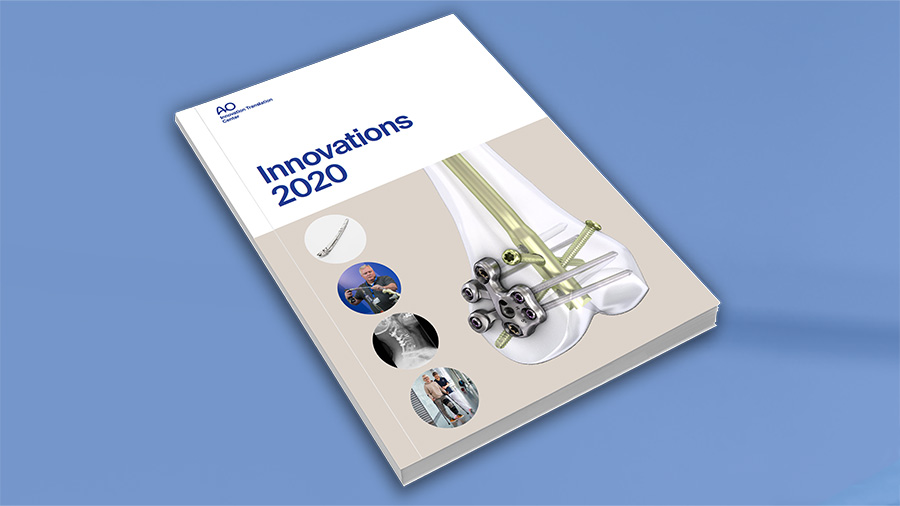 The latest edition of the AO ITC Innovations Magazine has been published and is available online. The annual magazine showcases the most recent AO approved solutions and offers insight into cutting edge treatments and tools across all clinical areas.
The AO Innovation Translation Center (ITC) is responsible for streamlining and driving the AO's innovation projects. The AO approved solutions support the AO Foundation's mission to advance patient care worldwide.
For veterinary specifically, the magazine features an article about the newly approved 3.5 mm LCP Distal Femoral Osteotomy Plate which is indicated for treatment of distal femoral angular deformities and distal femoral fractures in medium to large breed dogs including case reports. The plate has been developed in cooperation of the AO Technical Commission's Small Animal Expert Group (SAEG) and DePuy Synthes and received AO TC Approval in April 2020. The two cases (kindly provided by Michael Kowaleski, North Grafton, Mass, USA, and Erik Asimus, Nice, France) illustrate common canine femoral deformities associated with moderate to severe medial patella luxation and demonstrate application of the 3.5 LCP DFO Plate.
Additionally, the magazine provides in depth information about the AO ITC's structure, its activities, and updates about collaboration projects with the AO Research Institute Davos (ARI).
Access the AO ITC Innovations Magazine here.
"Pelvic lameness in dogs frequently results from patellar luxation. If substantial femoral varus is a contributing factor, local techniques such as trochlear wedge or block recession and tibial tuberosity transposition may not align the quadriceps mechanism sufficiently, and the problem recurs. Currently available distal femoral osteotomy implants do not match the anatomic contour of the distal femur in many patients. The case reports featured in Innovations 2020 explore the application of the LCP Distal Femur Osteotomy Plates."
Michael Kowaleski, Chairperson of the Small Animal Expert Group