Zoo lioness back in fine form, thanks to cross-specialty veterinary team and the AO principles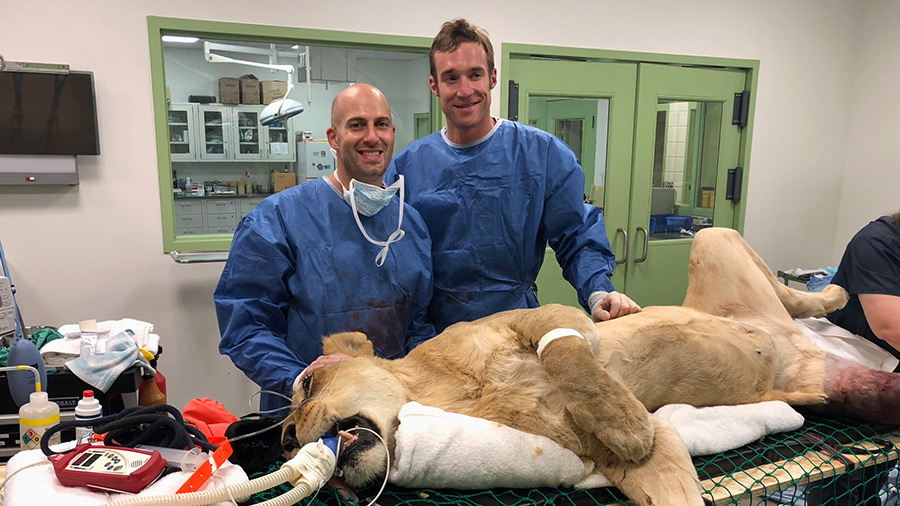 A 15-year-old lioness has recovered from open, comminuted fracture of the right proximal tibia and fibula and is back to inspiring zoo visitors, thanks to the efforts of a cross-specialty veterinary team led by an AO VET faculty member and guided by the AO principles.
After the 330-pound lioness was injured in her enclosure in 2018, zoo veterinarian Jon Bergmann reached out to his veterinarian friend and colleague, small animal surgery specialist Thomas Monaco who, in turn, contacted AO VET faculty member and equine orthopedic surgery specialist Janik Gasiorowski.
"The veterinary specialty community is relatively small and most people know each other through school, conferences, colleagues, etc.," said Monaco, who practices at Katonah Bedford Veterinary Center in Bedford Hills, New York, US. "I had met Janik at the University of Pennsylvania School of Veterinary Medicine's New Bolton Center when I was a fourth-year veterinary student and he was a large animal surgery resident—around ten years ago," Monaco explained.
Gasiorowski, co-owner of the state-of-the-art Mid-Atlantic Equine Medical Center in Ringoes, New Jersey (United States), is an expert at repairing fractures in horses and he had all the orthopedic equipment necessary to repair the lioness's fracture.
"Her fractured limb was dangling useless, and she had an open skin wound. The long-term consequences of not fixing this fracture would have been chronic pain and permanent deformation of the limb. In the wild, she may not have survived," Gasiorowski said.
Gasiorowski and Monaco were up for the challenge of what turned out to be a three-hour surgery from induction to closure of the surgical incision.
"It was an exciting opportunity. The principles of surgery, orthopedics and repair are the same as for a horse, but without a team approach to repairing the fracture, it would not have been possible," he said. "Our challenges including the absence of scientific literature on fixing a fracture in a lion, as well as determining which plates to use and the approach. And of course, you can't help but think, 'I sure hope she doesn't wake up before we're finished." Her paw was the size of a person's face."
After the patient was sedated with a dart gun, the surgical team—including Bergmann running anesthesia, technicians grabbing necessary supplies and taking intraoperative radiographs, and Gasiorowski and Monaco performing the surgery—had to move fast. The fracture was repaired with bone plates on both the medial (4.5 mm locking compression T-plate) and lateral (4.5 mm narrow locking compression plate) aspects of the tibia. Intraoperative radiographs were used to guide plate and screw placement.
"One of the biggest differences between operating on a lion and operating on a small animal or a horse is in the postoperative care and rehabilitation," Gasiorowski said. "We're used to seeing pets every minute of every day, but with a lioness, you can't get near her to assess wound healing, change bandages, or initiate passive range of motion."
After the surgery, the lioness woke up in a small room with bedding and observation windows, and the zoo veterinarian remained by her side until her vital signs were stable. After an initial period of confinement to limit the patient's physical exercise, zoo staff began to exercise the lion daily. After 10 weeks, she was back on display at the zoo.
"She has full use of the limb and full range of motion," Gasiorowski said. "This patient case highlights how universally applicable the AO principles are. Bone is a unique tissue and to achieve optimal results, you need to adhere to these principles."
Those principles in combination with the surgical team's expertise—including Gasiorowski's large animal know-how and Monaco's experience with felines—were the foundation for a successful surgical outcome.
"For me, the most exciting thing was the confidence offered by the group effort. I enjoyed my role and I learned a ton from Jon and Tommy," he said.