Polar bear Nora on the mend with help of AO VET faculty network
WITH DR KATI GLASS, JEFFREY WATKINS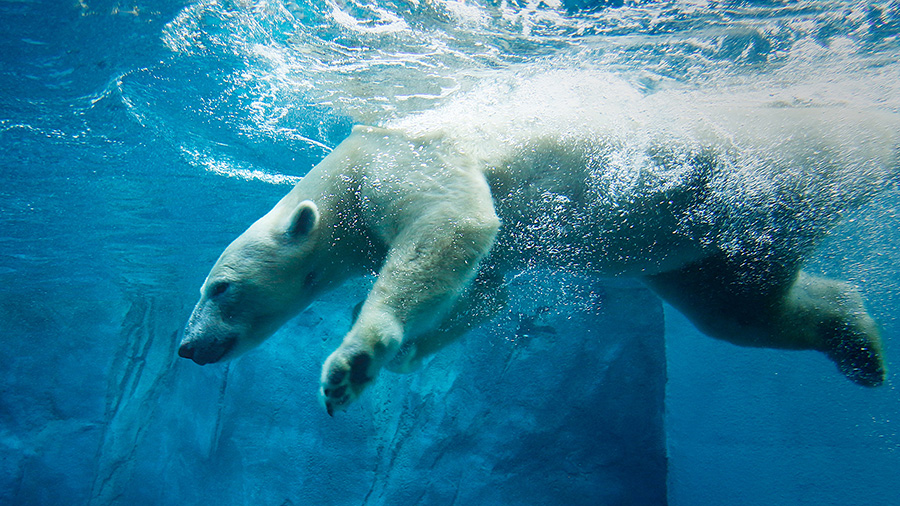 That was the scenario faced by AO VET faculty member and equine orthopedic specialist Dr Jeff Watkins when he was asked to operate on three-year-old Nora, a female polar bear at the Utah's Hogle Zoo in Salt Lake City, Utah (US).
A beloved Youtube celebrity
In late January 2019, the 500-pound patient was not moving around normally in her exhibit, unwilling to place weight on her right forelimb. A couple of days after she began showing lameness, Nora's keepers were able to coax her into a holding area where she could be examined. Radiographs confirmed that her right humerus—the long bone in the forelimb that runs from the shoulder to the elbow—was broken, making it difficult for her to walk. And the fracture wasn't Nora's first brush with adversity; she had been abandoned by her mother at birth and, in addition, had been diagnosed with metabolic bone disease as a cub. Her life has been chronicled in social media, and she has captured the hearts of millions, becoming a bona fide Youtube celebrity. One video featuring her has had nearly 13 million views.
Upon discovering Nora's injury, veterinarians at Utah's Hogle Zoo consulted with many experts—zoo veterinarians, veterinary surgeons, radiologists and human orthopedic surgeons across the country—including AO VET faculty member Dr Amy S Kapatkin, who without reservation recommended Dr Watkins and his Texas A&M team.

'A lot of unknowns'
From the moment he first heard about the case, Watkins knew he was facing a number of challenges.
"There were a lot of unknowns with this case, which added to the pressure. In addition to the fact that no one had ever repaired a polar bear humerus and the absence of anatomical and surgical references, I had concerns about whether we could get the equipment we needed. We also were very concerned as to our ability to realign and stabilize the fracture because of the fracture's severity and Nora's size," said Watkins, current chairman of the AO VET North America Board and a professor and equine orthopedic surgeon at the Texas A&M University's College of Veterinary Medicine & Biomedical Sciences' (CVM) Large Animal Hospital in College Station, Texas (USA).
"On top of that, we weren't sure if the intramedullary, interlocking nail, a custom fabricated implant that we developed here at Texas A&M for use in foal humeral factures, would be of sufficient strength to repair a humerus fracture in a 500 pound polar bear and if there was enough room in Nora's humerus for the implant," Watkins added.
Knowing the challenges ahead and her experience with the intramedullary, interlocking nail, Watkins asked Dr Kati Glass, clinical assistant professor at Texas A&M CVM Veterinary Medical Teaching Hospital and fellow AO faculty member, to assist with surgery.
"I shared Dr Watkins' concerns—and they were amplified by the magnitude of people following Nora's case," Glass explained. "People care deeply for Nora, and the zoo maintains complete transparency with her fans—meaning thousands of people would be watching and waiting with us."
The surgery
Watkins' team provided the instrumentation necessary for the interlocking nail fixation. An AO Foundation industrial partner provided additional instrumentation and implants.
"If it hadn't been for their support, the surgery would not have been possible," Watkins said.
The surgery took a little over five hours, primarily because of the severe overriding of the fracture, complicating the process of bringing the fractured bone ends into apposition and getting the bone back into its normal alignment.
"We basically had to figure out polar bear anatomy as we approached the bone. Once we had exposed the humerus it took quite a bit of time to get the fracture reduced. This was due to the marked overriding of the fractured ends and the fact that the powerful muscles in Nora's limb were contracted—all of which we had to overcome to return the fractured ends to their normal position and realign the humerus," Watkins recalled. "Once the fracture was aligned, fixation with the interlocking nail was fairly straight-forward, but with the density of her bone, it was more difficult than typically encountered when repairing a foal's humerus."
It takes a team
Nora was using her injured leg normally within weeks of the surgery. She is gradually being reintroduced into her exhibit, and at this point, is expected to make a full recovery, Watkins said.
"This was an incredible team effort and underscores the significance of the entire team in a successful outcome," he emphasized. "Although the surgery is a key element, a good outcome for the patient doesn't happen without so many other things going on in the background before and long after the surgery. Of course, the surgery has to be done well, but the outcome is dependent on all of these other elements."
The entire staff at Utah's Hogle Zoo, led by Dr Erika Crook and Dr Nancy Carpenter, did a tremendous job before, during, and after surgery, Glass added. The anesthesia was overseen by Dr Alessio Vigani from the North Carolina State College of Veterinary Medicine and Dr Erika Crook from the Hogle Zoo. Peter Chalmers, MD, a Salt Lake City orthopedic surgeon and University of Utah Department of Orthopaedic Surgery faculty member, volunteered his time as a member of the surgery team.
"Literally, everyone played an important part," Glass said. "One thing was clear, everyone was working towards a singular goal: to help Nora heal."
Techniques and implants developed by AO VET were additional stars in the successful surgery, Wakins said.
"It's the community spirit. When you look at a solar system, AO VET is the sun that everything revolves around. Without our involvement in AO VET, this wouldn't have come to be," he said. "We're friends but we are also part of a big family."