AO Principles gave red kangaroo a new lease on life after injury
Alessandro Piras thought he had seen everything in his 30-year career as a specialist in surgery. Then came Luca, an 11-month-old male red kangaroo with a highly comminuted femoral shaft fracture.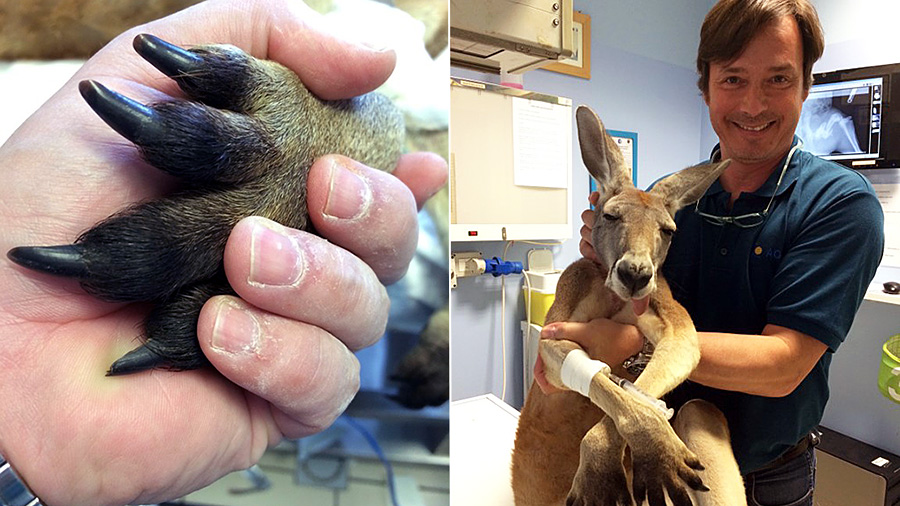 Even with no specific references for red kangaroo anatomy, Alessandro was undeterred: He had the AO principles to guide him.
Alessandro, who is the AO VET Education Commission Chairman and a long-time AO VET faculty member, recalled first hearing about the patient.
Built for running and jumping
"This young kangaroo had just been acquired by a safari adventure park in Italy and the park's veterinarian sent it to the hospital where I was working in 2015. The poor thing suffered from a comminuted fracture of the femoral shaft extending from the subtrochanteric region to the distal femur," he explained. "The park owner wasn't too convinced to let us try to fix the patient because he was told there was no way to successfully treat the fracture. But I was keen to do something about it and Matteo, the park's vet, was very convincing with the owner. The hospital staff could not stop taking pictures as the patient was like a big, funny mouse!"
The challenges were many and they had to be taken seriously. First, there was no time to find sources of anatomical reference for red kangaroos in the medical literature. Surely, they existed with an accurate search, but the clock was ticking. Second, anesthetizing a kangaroo is not a straightforward procedure, a factor that had to be taken seriously as a mistake could have jeopardized the patient's life or resulted in serious harm to the surgical team, given the animal's powerful and potentially lethal hind quarters.
"The red kangaroo—Macropus rufus—is the largest terrestrial mammal native to Australia and the largest marsupial. Males can reach 1.8 to 2 meters in height with a body weight ranging from 55 to 80 kg," Alessandro explained. "The red kangaroo can jump as high as 1.8 to 3 meters and run at speeds of 20 km per hour as fast as 45 to 50 km per hour if threatened. This species has extremely powerful and large muscles in its hind limbs."
Alessandro knew he had to act quickly to help the young patient.
"I knew I could fix the bone but I was concerned because I could not gather enough information regarding the approach. I did a quick Internet search but I found no references in the literature and this fracture needed to be fixed as soon as possible, considering the huge muscles involved and the possibility for dramatic contracture that would have made the reduction impossible or even a compartment syndrome," he said.

Surprising discoveries
Alessandro, supported by a brave anesthetist, was surprised upon approaching the patient's bone.
"In terms of material characteristics, the bone was not what I expected. It was more like a bird bone than like a dog or a horse, almost like ceramic," said Alessandro. "I had to use special tools to distract the fracture; fortunately, I had just received a very nice bone spreader from my good friend, Andrew Sands, MD, who at the time was the Chair of the AO Technical Commission Foot and Ankle Expert Group."
Using an intramedullary pin associated with double locking plates (rod and plate configuration) the fracture was bridged without an attempt to achieve perfect anatomic reduction but just focusing on the correct alignment.
"I had to identify similarities of anatomical structures. Some were different from what I was expecting. For example, the shape of the biceps femoris was deceiving and was converging toward what I expected to be the patella," he said. "I discovered that the kangaroo doesn't have a patella! I had to place the implant in a position that would not interfere with other anatomical structures, so I placed it as distally as I could. The realignment had to be perfect and the fixation super strong in order to allow the patient to bear weight on the hind limbs as soon as he was awake."
But other challenges lay ahead.
"This patient presented the same challenge as horses that have had internal fixation of a limb fracture: They have to stand and walk on the leg the moment they wake up from the anaesthesia. But there was just one difference to make it more challenging: The kangaroo stands only on the hind limbs like a human being," said Alessandro. "You cannot give a crutch to a kangaroo, so we needed a solution for confining the patient postoperatively. Matteo, who is an expert equine surgeon, suggested a wake-up box with padded mats and hay so that's what we did. All of a sudden, after the surgery, the kangaroo started moving his head and suddenly he was up on two legs, looking around and scratching his belly."
Life-changing AO principles
Within a few weeks, the patient was at the safari park, once again proving the life-changing value of the AO principles.
"The end results were far, far more exciting than I expected. After the patient recovered, you couldn't even tell which leg had been injured," said Alessandro. "This case demonstrates that we can do something for these species by just applying the AO principles and using the best available implants for the particular fracture."