Unique patient, unique challenge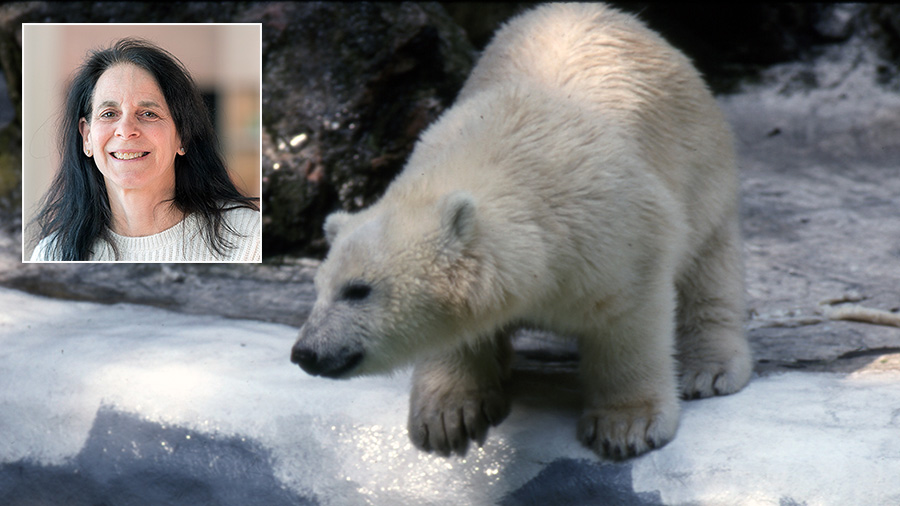 In 1993 when Tundra, a polar bear at the Bronx Zoo in New York City, was just 18 months old, he broke his femur and three of his digits. With the cause unknown, a team of experts were called upon to help. Then Chief Veterinarian Dr. Robert Cook and veterinary clinician Dr. Paul Calle (currently the Chief Veterinarian) at the zoo, together with AO VET trained Veterinary surgeon, Dr Amy S. Kapatkin, and Dr. Christopher Thacher from The Animal Medical Center, were well prepared to help care for the young polar bear.
AO VET is one of the four clinical divisions of the AO Foundation, with headquarters in Davos. It is a medically guided, not-for-profit organization led by an international group of surgeons specialized in the treatment of trauma and disorders of the musculoskeletal system. Upon starting her veterinary residency in the late 1980s, Amy took her first AO VET course in Ohio State University in the USA.
Amy, today a veterinary pioneer and the AO VET North America Chair of Education and AO VET Surgery Reference editor, recalled rushing to the young polar bear's side in 1993.
"That was the most exotic patient I've ever operated," Amy recalled. "When we got the call, we brought along all this equipment with us but we didn't know what kind of intervention we would be doing."
Unique patient, unique challenge
The challenge? Securing the fracture while allowing continued growth in the cub.
"How do you take care of that? You still worry about growth," Amy explained. "We actually did a combination pin-plate type of repair on Tundra and I remember thinking: 'Wow, this is a big plate but it doesn't look very big on this animal!'"
On top of that, there were concerns about the scenario of large animals waking up after surgery and injuring the same bone.
"Even though it was only 18 months old, and cute and furry, it would kill you. Tundra was big," she said. "So the zoo veterinarians made sure it was anesthetized before we arrived. Once they wake up, that's it. You can't get near them. They're wild."
Amy and Christopher expertly repaired Tundra's fractured femur, applying pins and plates, some of which were subsequently removed as the cub was nursed back to health over a 10-week period. In the following months, case notes indicate, Tundra's ability to walk improved and he returned to good health, Tundra lived a long life. At 26, he was recently euthanized due to medical conditions associated with old age. Tundra remained active and playful throughout his life.
"Tundra served as an important ambassador for his species, giving our guests an opportunity to see the power, majesty and grace of polar bears while learning about the problems these bears face in the wild due to a changing environment," said Jim Breheny, who is Director of the Bronx Zoo and Executive Vice President of Zoos and Aquarium for the Wildlife Conservation Society.
Stellar educational content
For the veterinarians who helped Tundra when he was just a cub, that event underscored the value of the AO's educational offering and network.
"There's no resident who doesn't remember their first AO VET course or Davos experience," she said. "The AO VET Principles course was what really inspired me. First you realize: 'Wow, there's a lot I don't know' and then you realize what a fascinating group of people you're studying with."
Remembering her first course in Ohio, Amy commented on the quality of the education: "Surgeons went there because the AO VET Courses were the premier educational events. There was never a question that you wouldn't get trained by the AO as a resident."
Involvement in the AO inspired Amy to become a global ambassador for her profession.
"That's the cool thing about veterinary medicine," she said. "In human surgery, you get trauma surgeons who focus on one thing, like the pelvis. But we're much broader. We would do arthroscopy, total joint replacements, we do growth deformities...we do everything."
As demonstrated by Tundra's case, the patient care delivered by AO VET-trained veterinarians can have a ripple effect, touching both their animal patients and the humans who cherish them, in far-reaching places globally.