New dawn
WITH RICO VANNINI, MIKE KOWALESKI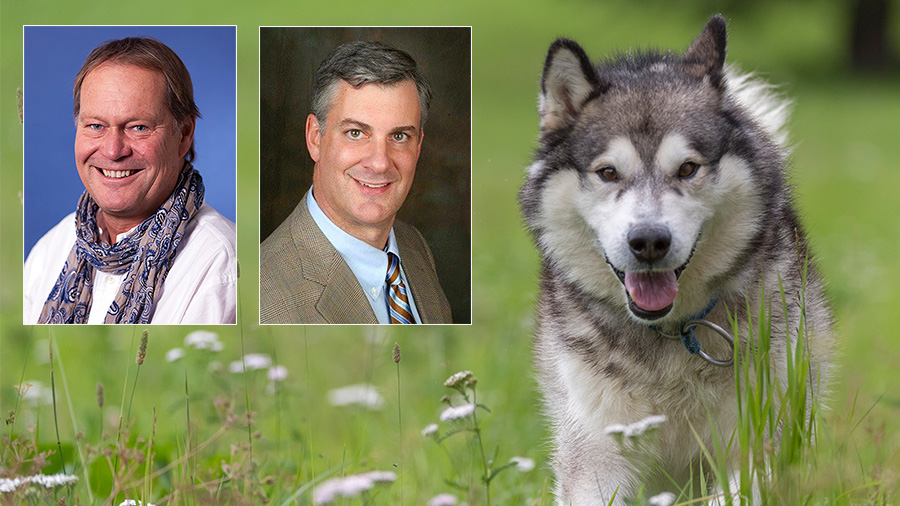 Michael and Christine Hanselmann live in the beautiful canton of Appenzell, Switzerland, along with their two children and seven Alaskan Malamutes—the largest and most powerful sled dog on the planet. In 2008, when the sledding family's ten-month-old dog, Chuganaai, meaning "Little Sunshine" in Inuit, presented with lameness in his right-hind limb, all stops were pulled out to ensure a brighter future for him.
Veterinarian Dr Rico Vannini first met Chuganaai at his clinic in Zurich, when he was called in to provide a second opinion.
"Radiographs revealed a unilateral hip dysplasia," the surgeon shares. "However, hip problems are very uncommon in Malamutes. We suspect that Chuganaai endured some sort of trauma when he was a puppy, most likely during birth, as there was no history of an injury that could have caused an abnormal growth of the hip joint," Rico adds.
No real alternative, except for surgery
As the dog was already ten months old when he was presented, Rico saw a total hip replacement (THR) as the best, and only real option for the dog to become fully active. Yet, the surgery would be very special: a THR on a sled dog had never been done before.
The surgical aftercare would also require a significant amount of effort to restrict the animal's movements, which would not be so easy for the owners of an energetic, young dog.
"People thought we were crazy to even consider surgery on Chuganaai," Christine Hanselmann explains. "It would be expensive—the cost of two or three new dogs—and may not be successful," she adds. Despite the challenges, the family decided to go ahead with the operation for Chuganaai's benefit.
First total hip replacement in a sled dog
"With this case, I had to make sure that we had the best chances for success," explains Rico. "As the first sled dog to receive a THR, I knew that Chuganaai was going to become a representative for this procedure, and I wanted to prove that THR is a valuable treatment option for a working dog, to give the animal a full quality of life. If the procedure failed, many sporting dog owners could have condemned it," he reveals.
Drawing on the strength of AO VET's worldwide network of like-minded surgeons, Rico enlisted the support of an outstanding expert in THR for the surgery, fellow top surgeon, Professor Dr Mike Kowaleski.
"While I am based in North America, I am able to perform total hip replacement surgery with Rico several times each year," shares Mike. "I was already planning a trip to Europe when Rico told me about Chuganaai. I was able to adjust my schedule, so that I could work alongside him on the case," he explains.
Intensive occupational therapy
For seventeen weeks after the surgery, the young sled dog's movements were restricted, and the occupational therapy protocol required that the family care for him around the clock.
"During this time, we cared for Chuganaai in a heated room, and had to carry him up a flight of stairs multiple times a day so that he could relieve himself. When he was outside, he wanted to be social with the other dogs, yet we had to reduce his movements, as a successful outcome depended on a gradual build-up of weight on his hips," Christine Hanselmann explains. "As he was healing, Chuganaai needed constant care, and it was exhausting," she said.
"Fortunately, the check-ups with Dr Vannini revealed that everything had perfectly healed. The muscles on both sides had developed evenly, and the hip completely stabilized, which enabled us to slowly introduce Chuganaai to work on the sled," she confirms.
A successful surgery: a pain-free, good life
Nine years on, Rico shares: "The surgery turned out excellent. We did the right thing, and I am glad we did it. Chuganaai has lived a good life as a sled dog, without pain."
From the family's perspective, Chuganaai has had an outstanding run as a sled dog. "His gate became very rhythmic and synchronous, and he fully-integrated into the team as a vivacious sled dog," shares Michael Hanselmann. "Despite his hip replacement, he never showed signs of discomfort over the years, such as muscle soreness or pain, while jogging or pulling the sled through trails of deep snow," he explains.
A new adventure: as the face of AO VET
Chuganaai who is now in retirement, due to his age and some polyethylene wearing of the prosthesis (loss of the plastic in the cup) from his active lifestyle—has a new adventure: serving as one of the new faces for AO VET Education. As the only sled dog in the world with a full hip replacement, Ruede Chuganaai clearly shines his light on how surgery can improve patient outcomes.