AO Recon expands its range of options for complex courses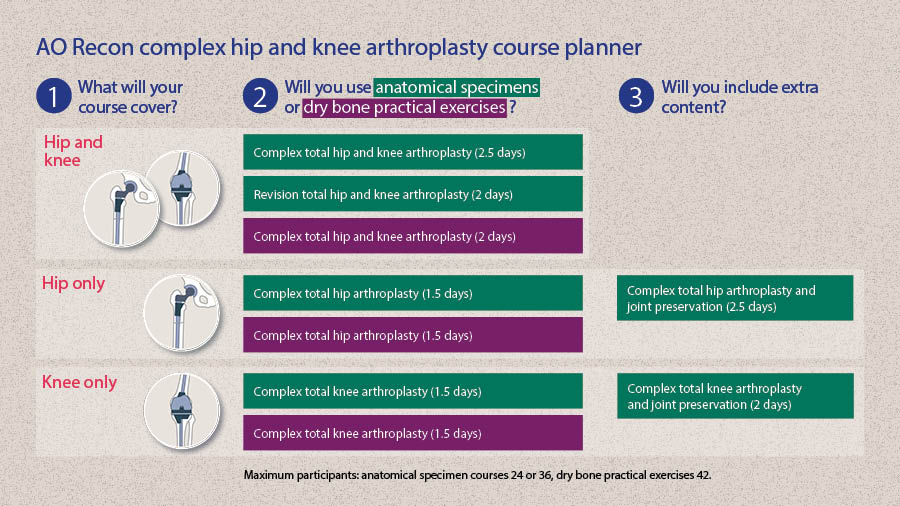 True to its purpose of providing best-in-class education in joint preservation and replacement, AO Recon has expanded its wide array of high-quality, educational events so that faculty now have many aspects to consider when proposing a new event.
There are now nine standard programs available at the complex course level, giving excellent flexibility when proposing an event that meets local needs. In the planning phase, several decisions must be made to make a final selection from the nine options shown above: 1. hip only, knee only, or combined hip and knee, 2. with or without joint preservation, and 3. delivery of procedures with an anatomical lab or with dry bone practical exercises.
The competency-based AO Recon curricula and the content for the AO Recon courses are developed in a backward-planning process, ensuring that our education is focused on addressing patient problems and improving patient care.
Collaborative expert input is the foundation for building exceptional educational activities, integrating sound adult education concepts. A robust global framework supports the consistent delivery of core concepts globally and the adherence to highest-quality standards.
A task force of surgeon experts, appointed by the Education Forum and supported by the AO Education Institute, continuously integrates new best practices from educational research into the dynamic programs to ensure a continuous improvement process, fueled by ongoing assessment and evaluation. As always, we thank all the surgeon faculty who develop all the programs, cases, and lab plans in the various task forces , and we acknowledge their great contributions."
All faculty are asked to view the planned courses in their respective regions on the website and are reminded to highlight these educational opportunities to their local colleagues and broader network whenever possible.
"When you accept a faculty or chairperson position, please ask the event owner to provide you with the communication tools—WhatsApp cards, etc to help reach the potential target audience," said AO Recon Education Forum member Robert Hube.
All of the support materials for the curricula are available in the faculty lounge after logging in at
https://www.aofoundation.org/recon/education/faculty/faculty-lounge and at
https://www.aofoundation.org/recon/education/practical-exercises.
Learn more about AO Recon's gold-standard education in arthroplasty and reconstruction and its competency-based curriculum courses here.