Latest Issue of Surgical Insights - THA Short Stem
Short stems in primary total hip arthroplasty - Not all short stems are created equal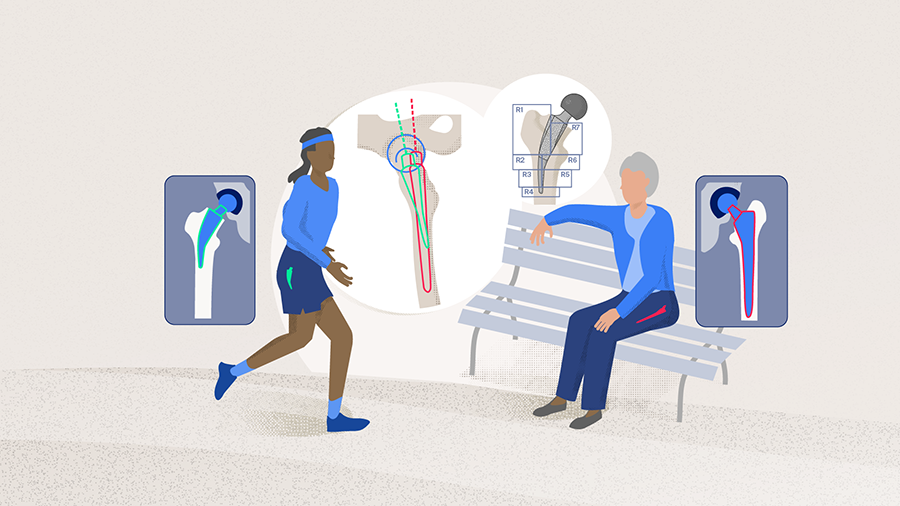 Written by surgeons from the AO Recon network in collaboration with the AO Education Institute, this publication provides interesting insights. The contributing surgeons in this issue were Marco Ezechieli, Martin Buttaro, and Carlos Martin Lucero.
This latest issue covers the following key topics of short stems in THA:
"Biomechanical advantages of a short hip stem" Over the past two decades, short, cementless hip stems have increasingly been used in total hip arthroplasty (THA). The design concept of these short (hip) stems promises better bone and soft-tissue preservation without negatively affecting implant survival. What is the biomechanical basis for such promises? Do short stems of different design concepts, such as the geometry, materials, and surface finishing, differ in their biomechanical properties? How does the length of the stems affect their biomechanical properties? In this article, Marco Ezechieli (chief orthopedic surgeon at the Clinic for Orthopedics, Traumatology, and Sports traumatology, St Vincenz Hospital Ltd. Paderborn, location St. Josef's Hospital, Salzkotten, Germany) reviews the current evidence on the biomechanical advantages of short stems over traditional designs.
"Midterm results of short-stem total hip arthroplasty" Based on the biomechanical evidence, short stems should provide reasonable primary stability and potentially reduce stress shielding. How have the short stems performed clinically so far? In this article, Martin Buttaro, chief orthopedic surgeon at the Hospital Italiano de Buenos Aires, Argentina, reviews for us the midterm (ie, 4–10 years) clinical results—more specifically, the midterm implant survival, bone remodeling, and functional and patient outcomes.
"Clinical performance of short versus conventional stems in primary cementless total hip arthroplasty" Short stems were originally designed to be used in total hip arthroplasty (THA) in younger, more active patients who are likely to need future revisions. The idea of a short stem that preserves femoral bone stock both proximally and distally is extremely attractive, but these features should not come at the expense of a shorter lifetime, higher complication rates, worse function, or increased pain. In Part 2 of this series, a review of midterm clinical evidence has shown that short-stem THA has performed well overall, with good implant survivorship and good clinical outcomes. But how do short stems perform in comparison to conventional stems? In Part 3, Carlos Lucero, orthopedic surgeon at the Hospital Italiano de Buenos Aires, Argentina, shares the results of some recent comparative studies examining the performance of short stems and conventional stems.
Follow the links above to read each of this issue's 3 parts. Don't miss out on the previous 12 issues of our Surgical Insights publication here.