AO Recon Education Forum and Hip and Knee Task Force approves program updates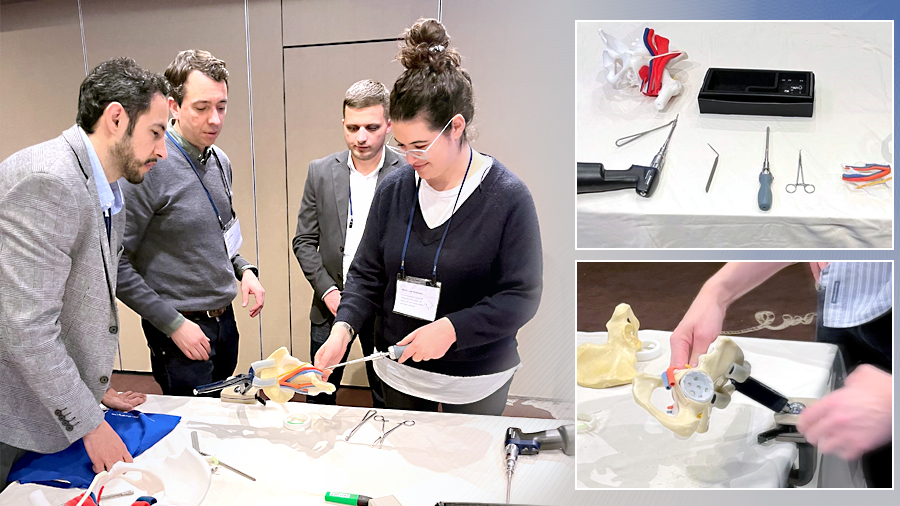 Updated safe zones station of the AO Recon Skills Lab
The AO Recon Education Forum and the AO Recon Hip and Knee Task Force have evaluated feedback from participants and faculty from many principles and complex hip and knee arthroplasty courses over the past years and have approved some program updates to courses in the second half of 2023. Full implementation worldwide is planned for 2024.
---
AO Recon Course—Principles of Total Hip and Knee Arthroplasty
The presentation, "Limb alignment and kinematics," has been updated to "Alignment principles in total knee arthroplasty (TKA), including robotics" with updated learning objectives and a new standard lecture is offered as a resource (thanks to Georg Matziolis).
An optional presentation on "Unicompartmental knee replacement" has been added during the morning of the knee module.
The safe zones station of the AO Recon Skills Lab will be enhanced to include hands-on insertion of screws (thanks to Philipp von Roth).
Enhancement of the cementing station of the AO Recon Skills Lab to add hands-on cementing of a femur model will be tested at a course in September (thanks to Stephanie Kirschbaum).
Digital templating options are available for some courses if the faculty are open to this option (thanks to Rahul Vaidya and Eirini Tatani).
---
AO Recon Course—Complex Total Hip and Knee Arthroplasty
New cases have been integrated for the small group discussions for hip and knee (both complex and revision), including a revision of a unicompartmental knee case (thanks to Bas Masri and Sebastien Lustig).
A faculty panel to discuss the role of robotics is being tested in the course in Dubai, United Arab Emirates, in October and at the course during the AO Davos Courses 2023 in December.
An option to include a demonstration of a robotic system for knee arthroplasty will be offered in some regional events, particularly for knee courses.
The use of virtual reality sets and modules to familiarize faculty and participants with instruments and procedure steps will be available for some events.
---
The Faculty Support Packages will be updated and faculty can contact the respective event owner for additional information.