AO Recon unveiled its new shoulder curriculum at the AO Davos Courses 2022
Experience the gold-standard, competency-based content, acclaimed faculty, and excellent learning outcomes in AO Recon courses.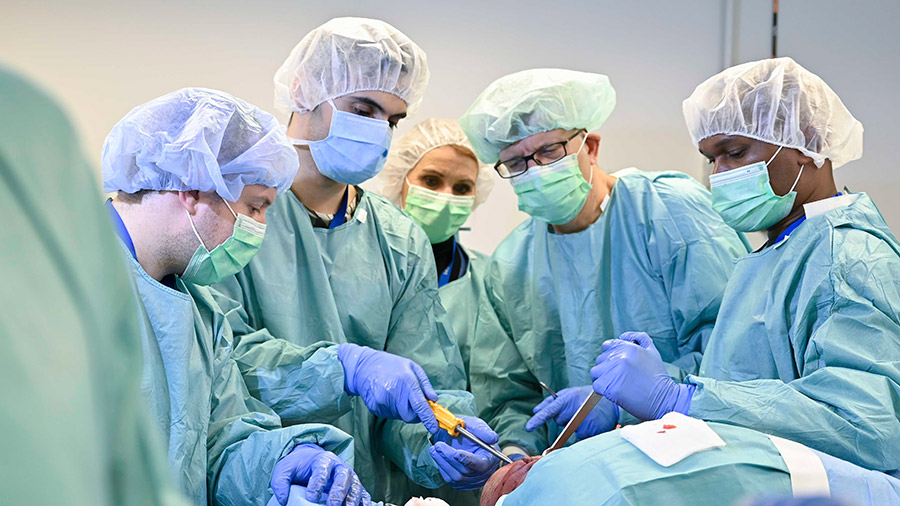 Following the successful debut of AO Recon's new shoulder curriculum with the AO Recon Course—Comprehensive Shoulder Arthroplasty at the AO Davos Courses 2022 in December, the global surgeon community will have a chance this year to experience the curriculum's gold-standard quality, expert faculty, and excellent learning outcomes for themselves.
The competency-based curriculum, finalized by the AO Recon Shoulder Curriculum Task Force comprising acclaimed shoulder arthroplasty experts from around the world and approved by the AO Recon Education Forum, ensures the highest quality educational events. The content—based on needs assessments, expert opinions, and learner needs—combines presentations, small group discussions, and practical exercises, and focuses on teaching principles.
Geared to trauma surgeons, senior residents, and sports injury surgeons interested in shoulder specialization, the two-day course is designed to teach fundamental principles and current concepts in the treatment of patients who need primary arthroplasty for various pathologies. The course is the initial step along the path of lifelong learning in shoulder arthroplasty. Additionally, it provides the ideal educational setting in terms of faculty-to-learner ratio, resources for faculty in planning events, and deployment of educational events.
Day 1 of the course includes interactive presentations and small group discussions focusing on three modules: primary glenohumeral arthritis, rotator cuff insufficiency, and proximal humeral fractures. The second day comprises practical exercises in the anatomical specimen lab and includes three procedures: total shoulder arthroplasty, primary reverse shoulder arthroplasty, and fracture arthroplasty with tuberosity fixation.
Enthusiastic feedback
The curriculum earned enthusiastic feedback from participants in the December 2022 course in Davos, including:
"Anatomical specimen lab was fantastic! Perfect exposure with time and anatomical structures, in the operating room (OR)...which helps me with decision-making and improves dissection technique."
"Small group discussions were extremely helpful."
"Helpful to have different perspectives from faculty from across the world."
Feedback and suggestions for improvement from every 2023 event will be collected and analyzed, and will play an important role in the curriculum's evolution.
AO Recon—a global network of orthopedic surgeons committed to best-in-class education in joint preservation and replacement—provides a variety of training opportunities for orthopedic surgeons to extend knowledge and develop competencies. To learn more about AO Recon educational events, visit the course finder today.