Highlights of AO Recon's curriculum development and delivery in 2021
In addition to delivering many successful courses and webinars on hip, knee, and shoulder arthroplasty in 2021, AO Recon's offerings were expanded in several areas.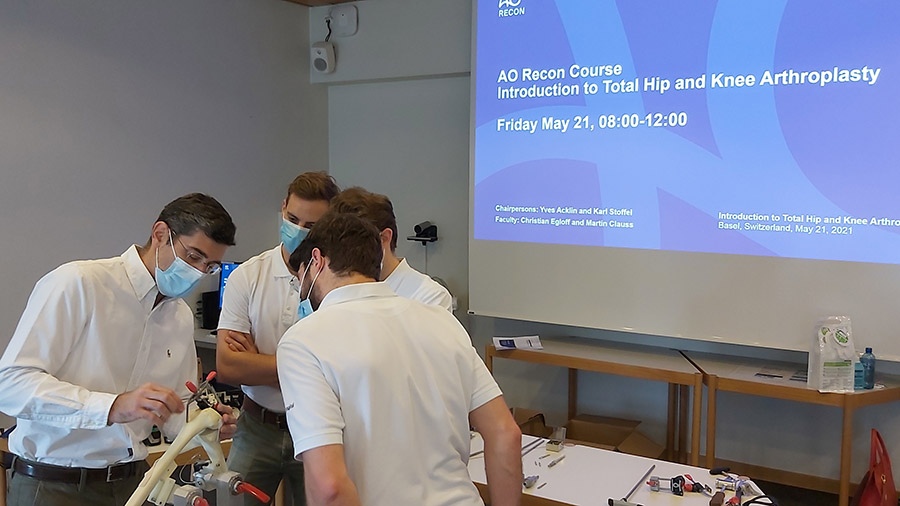 AO Recon faculty in action during the first ever hospital-based course
A hospital-based Introduction to Total Hip and Knee Arthroplasty course designed for residents was successfully piloted in Switzerland and Canada. In May, 16 residents at various stages of their careers attended the first of these half-day courses in Basel. They completed planning and a series of hands-on skills and procedure exercises under the guidance of chairpersons Yves Acklin and Karl Stoffel and faculty Christian Egloff and Martin Clauss. The feedback was outstanding, and the participants appreciated the opportunity to practice key skills and to identify potential problems and prevention strategies in their own environment. In September, first-year residents completed the same program in Vancouver under the guidance of chairperson Bas Masri. This format of courses offer an excellent opportunity for AO Recon to transfer knowledge and skills locally, and to bring education to the surgeons' doorsteps.
New (online) courses and webinars were created and delivered for joint preservation for both hip and knee. Experts were identified and they formed a new AO Recon curriculum taskforce for joint preservation. These first online events enable AO Recon to include joint preservation in future complex courses. A full day of joint preservation can now be added to the existing complex and revision arthroplasty content in the form of presentations, structured small group discussions, and options to select from osteotomy, surgical dislocation, and arthroscopic procedures in the anatomical laboratory.
Several online courses were enhanced in 2021 through the addition of digital planning, including online practical exercises to plan cases and discuss the principles and outcomes with faculty. Sujith Konan integrated four revision case planning exercises in a one-hour plenary module during the online complex hip course in February. Matthieu Ollivier prepared four cases for digital planning for osteotomies around the knee joint for small group discussions with faculty during the online preservation course in May. Both sessions were delivered using the Bonesetter app and were made possible through Rahul Vaidya's support and faculty training.