Prosthetic joint infection: Nearly 300 surgeons from 53 countries join webinar
Webinar participants learned how infection after joint replacement can be eradicated with a high degree of success. In this live chat with Olivier Borens (Switzerland) and Andrej Trampuz (Germany) participants raised 46 questions and made the session a very interactive event.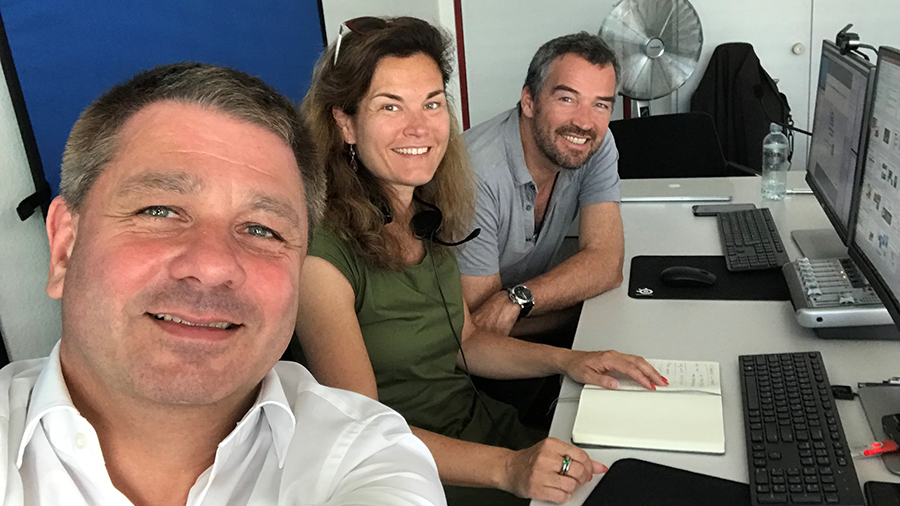 Andrej Trampuz (left) and Olivier Borens (Switzerland) behind the scenes of the webinar broadcast
The AO Recon Webinar—Infection after Joint Arthroplasty was live streamed June 25, 2019 from AO studios in Dübendorf, Switzerland. A total of 1,052 people had preregistered, and participants from 53 countries signed in for the 45-minute webinar.
The event was chaired by a reconstruction surgeon and an infectious disease specialist who complemented each other perfectly: presenter Olivier Borens, Head of Septic Surgery and Head of Traumatology at the Centre Hospitalier Universitaire Vaudois (Lausanne, Switzerland) and chat moderator Andrej Trampuz, Head of Infectious Diseases and Septic Surgery at Charité - Universitätsmedizin (Berlin, Germany).
Lots of questions on burning issues
Prosthetic joint infection (PJI) is a dreaded complication and, as indicated by the great interest in the seminar and the questions that followed, a hot topic in the surgeon community.
With Borens and Trampuz, participants learned how to apply patient-adapted treatment for PJI and had a chance to ask questions in real time. In fact, the webinar generated 46 questions from participants representing a huge amount of different countries. Those questions ranged from a query about antibiotic therapy for prosthetic joint infection to an inquiry about whether mechanical debridement is sufficient to deal with multi-drug resistant pathogens and difficult to treat infections.
Feedback that inspires
Participants complimented AO Recon for the high-quality and highly engaging webinar. Salvador Artegea, who signed in from Mexico, characterized the content as "good information [that] will improve my practice. Ahmen Omran from Egypt called the event "great" and "to the point," and Chun Keat Ko from Malaysia said, "It's always interesting to learn new things about infection in orthopaedic practice."
The webinar also drew high praise from within the AO's own ranks, with AO Research Institute Davos (ARI) Director Geoff Richards adding, "From the infection team in Davos: great job, extremely informative…[a] really good mode to communicate to the world without flying everyone around."
Upcoming webinar on hip dislocation
The next AO Recon webinar will deal with the problem of hip dislocation. It will be chaired by Matt Abdel, associate professor at the Mayo Clinic in Rochester, Minnesota (US).