Davos: world's finest meeting place
Prof Klaus Schwab described Davos, Switzerland, as "the place where leaders meet." Home to the annual World Economic Forum (WEF), Davos is the premier alpine meeting destination and boasts a rich history of hosting high-profile congresses.
Currency and exchange
Switzerland uses the Swiss franc, usually indicated as CHF. As Switzerland is not part of the European Union, it is not obliged to convert its currency to euros (EUR or €). Many prices are nonetheless indicated in euros for visitors' benefit.
Weather
During the winter, Davos can be very cold and snowy; therefore, warm clothing and winter shoes with good soles are a must.
Time zone
During winter, Central European Time (CET) applies in Switzerland. From the end of March to the end of October, Central European Summer Time applies (CET +1 hour).
Food
There are many first-class gourmet restaurants in the area. You'll find the entire range of international cuisine and traditional Graubunden specialities in over 140 restaurants. There is a selection of highly acclaimed Gault&Millau addresses in Davos and Klosters, as well as traditional restaurants in the surrounding countryside and side valleys.
Food and drinks
If variety is the spice of life, Swiss food truly presents a flavorful platter. Regional cuisine is wide and varied. Local master chefs create new ways to present traditional treats. You just can't go wrong eating out in Switzerland; there's something for every palate and budget.
Mealtimes
Lunch is usually served between 12:00 and 14:00, and even a little earlier at some restaurants. Dinner is usually served from 18:00 to 21:30. Many restaurants and pubs, especially in the cities, offer hot dishes all day (11:00–22:00).
For vegetarians
Finding vegetarian food in Davos is not a problem. Visit a designated vegetarian restaurant or select individual meatless dishes on the menu.
What does a meal cost in Switzerland?
The most affordable way to eat at lunchtime can be to order the "menu of the day." This usually consists of a starter (soup or salad) and a main course. In the evenings, there are partly set menus, which are slightly cheaper than the open menu selection.
An "à la carte" main course costs between CHF 20.00 and CHF 50.00. If you are looking for something more economical, try restaurants located in local grocery stores (eg, Migros or Coop).
Drinking water
Swiss drinking water is a quality product from natural resources: 80 percent stems from natural springs and groundwater, and the rest from lakes. Strict regulations concerning water quality have led to such positive development that, in some places, you can drink straight out the lake without a second thought! Swiss tap water is also more environmentally sustainable than water purchased in bottles which travel from near and far.
Electricity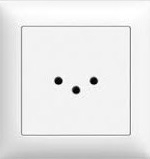 The voltage in Switzerland, as in most of Europe, is 230 volts/50 hertz. Switzerland uses Type C (two-pin) and Type J (three-pin) plugs. (two-pin Type C plugs also fit Type J sockets.)
Most power sockets are designed for three-pin, round plugs. The standard continental-type plug with two round pins, seen in many electrical travel products, may be used without problems. Adaptors are available in most hotels.
Smoking policy

Since May 1, 2010, smoking has been banned in Switzerland in enclosed areas that are open to the public or serve as a workplace for more than one person. Hence, it is forbidden to smoke in restaurants, public buildings, and offices. Smoking is also forbidden on public transport. Smoking is permitted in separate smoking rooms, outdoors, and in private homes.