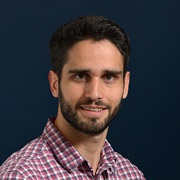 AO Research Institute Davos (ARI)
Clavadelerstrasse 8
7270 Davos, Switzerland
Tel.: +41 81 414 23 94
Yann Ladner received his bachelor's and master's degree in Health Sciences and Technology with a major in Medical Technology from the Federal Institute of Technology in Zürich (ETHZ).
Following his fellowship and master's thesis in the Musculoskeletal Regeneration Program at the AO Research Institute Davos (ARI), he decided to pursue a PhD in Prof Martin Stoddart's research group where he is investigating the effect of mechanical stimulation on the stem cell secretome.
Yann is a member of the Young Scientists organizing committee of the Swiss Society for Biomaterials and Regenerative Medicine (SSB+RM). He is also assistant for the Practical Methods in Tissue Engineering MSc course at the ETH in Zurich.