Hospital Churruca Visca—Buenos Aires, Argentina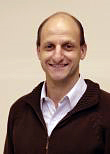 Team members:
Dr. Felix Imposti
Dr. Mariano Servidio (Coordinator)
Center description:
"In the past decades, our service has capacitated professionals that were fast highlighted in national and international levels. Among our ex-residents and fellows there are service's bosses and prestigious professionals representing our institution all over the country and overseas.
Nowadays our service has 24 medical doctors, most of them permanent members of the Argentinian Society of Orthopedic and Traumatology. Two of them also actively participate as permanent members of the Argentinian Society for Spine Studies.
We are an orthopaedic spine service with fully activities in degenerative, deformity and trauma surgeries.
It should be noted that the service has a classroom provided with the elements for teaching practice: Diagnosis and interpretation of highly complex spine pathologies, request and understand the spine image studies, surgical treatment of medium and high complex pathologies, assist the surgical treatment of high complex pathologies, perform the follow-up of operated patients, develop academic research works, perform academic and research activities."
Most frequent pathologies:
Degenerative
Procedures
185 per year
Degenerative: 120 per year

Deformity: 30 per year

Trauma: 15 per year

Tumor: 10 per year

Infection: 10 per year
Observership, Short-term, Associate Fellow
Language requirements
English, Spanish
Vacancies per year
Observership: 1 per year
Short Term: 2 per year
Associate fellow: 2 per year
Fellowship Start
Observership: Anytime
Short Term: Anytime
Associate: June/July
Special requirements
Special license to work.