Tackling BCFx in Pakistan
Two female surgeons are leading the way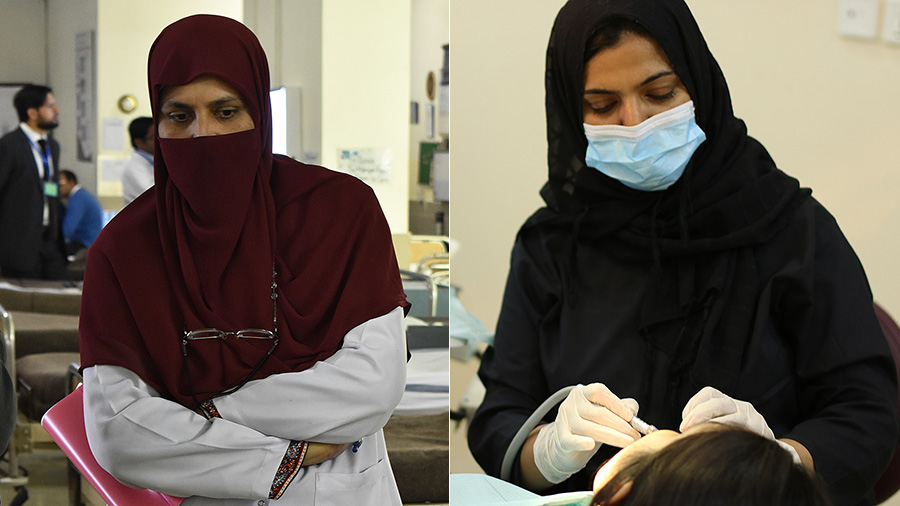 A passion for improving patient outcomes—and patients' lives—lies at the heart of the crucial patient care and clinical research being carried out by Prof Nabeela Riaz, and Asifa Iqbal, at the Mayo Hospital in Lahore, Pakistan. In collaboration with AO CMF, the two female Pakistani maxillofacial surgeons are contributors to the AO Clinical Investigation and Documentation-sponsored Bilateral Condylar Fractures Registry (BCFx) clinical research project.
Riaz, who is chairperson of the hospital's department of oral and maxillofacial surgery, explained that the international, multicenter, prospective registry project opened in 2016, with the aim of collecting data on treatment patterns in patients with BCFx of the mandible. Prospective data is being collected in approximately 250 patients sustaining BCFx with or without an additional fracture of the symphysis. Patients are followed up according to standard routine at approximately six weeks and three months after treatment. Data collection includes fracture details, functional, and patient-reported outcomes and complications.
"It is important to us that we share our experience with the international community. A global consensus on treatment of BCFx of the mandible is crucial in order for CMF surgeons to provide better patient care," Riaz explained. "For example, in BCFx cases there is still a lot of debate about whether or not to open it, and this study can help establish a global consensus and give us more confidence so that we can provide better outcomes for patients."
Iqbal, faculty member and medical officer at Mayo Hospital Lahore, said the main cause of BCFx of the mandible is trauma to the chin: motorbike accidents and injury after a fall, for example.
"It causes malocclusion—disturbance of the teeth where the teeth cannot meet each other—and the patient often is unable to eat or even open the mouth," Iqbal said. Both surgeons agreed that these quality-of-life issues can be compounded by the self-image issues arising from disfigurement of the face. Mayo Hospital is the oldest tertiary care hospital of the province Punjab Pakistan and its Department of Oral and Maxillofacial Surgery is a referral center of the province.
Riaz said the hospital's mission is to provide excellent patient care, regardless of the patient's economic status.
"All of our services—including surgery, hospital stays, even food—are free and paid for by the government of Pakistan, and we strive to provide the same high level of care that patients would expect to receive if they were paying for these services," Riaz emphasized.
Women leading the way
While many people would be surprised to find women in such leadership roles, Riaz and Iqbal take the issue in stride.
"I am from a family where every person is a doctor: my four sisters and my two daughters all are in medical profession," Riaz said. "When I graduated from dental college in 1989, I was very keen to become a surgeon, but male colleagues told me that it was impossible for a woman to become a good surgeon, so I took a fellowship in prosthodontics."
Riaz, who later continued her education and became a surgeon, today is confident that women can be very good surgeons.
"You need to have fine hands to do surgery, and women have that—but you also need to have a humble, passionate heart," she added. "I see no specific challenges to women in research, either. My only advice would be to give priority to your family. One spouse should concentrate on the family. For the first ten years of my career, I pursued my professional part-time, but as my children went to school and became busy, I was free to work more."
Iqbal said female students now outnumber males in the region's medical schools and that trend extends to the profession, where more women are emerging as leaders.
"Being female has never been a hurdle for me," she said.
The key role of unbiased mentorship
Both Riaz and Iqbal understand that bias can extend beyond the gender binary—and that's where unbiased mentors can play an important role in creating an encouraging, respectful professional environment for medical caregivers of various races, cultures, and faiths.
"My parents and older siblings were always mentoring me, and of course I had various teachers as mentors," Iqbal said, adding, "And now, Nabeela as head of our department is our leader and mentor."
That's a role that Riaz takes seriously.
"The best way to be an unbiased mentor is to become a role model: If you act wisely, those you are mentoring will act wisely. Every student is dear to me and bias never enters my mind. It is mandatory to be fair. Treat every student as a human and an equal colleague. We have many international students in our hospital, and we consider them our guests, so it is essential that we treat them all equally—they are our guests."
AO Access
They commended the AO for its AO Access initiative, which establishes the AO's diversity, inclusion, and mentorship efforts firmly within the organization and demonstrates a clear commitment to addressing existing inequalities to entry and advancement, and to identifying and overcoming barriers.
"The AO can do a lot to remove barriers, for example by extending fellowship programs to postgraduate students and consultants in our part of the world, so that they can see the work habits of more organized departments and better serve parents," Riaz said.
Riaz and Iqbal also emphasized the importance of affordable, accessible AO educational events to provide surgeons and operating room personnel in less affluent countries with the gold-standard in continuing education.
"The world is a global village and people come from many, many cultures and in many colors. When you work for humanity as we do as surgeons, there is no place for discrimination," Iqbal added.