Robotic process automation
Are we ready to have a robotic chief of surgery?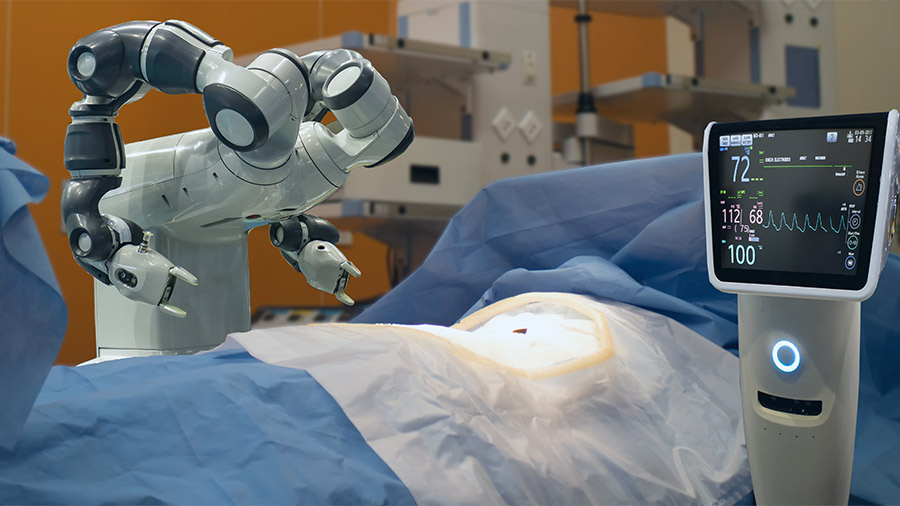 Written and edited by Nida Fatima, MD and Jakob Bower.
"Your robotic surgeon Dr TE423X will see you in a minute," the robotic nurse tells a human patient awaiting in the mobile surgery department.
Dr TE423X examines and later operates on the patient, informing relatives outside the operating room, "Everything went well. Patient is out of danger." Finally, robotic staff brings the human patient to the postoperative room furnished with all the latest monitors and technology.
This is soon to be an absolute reality, as we are already heading towards space and automation!
It is quite realistic to imagine that people will be looking for the best quality robotic surgeons, and there will be massive competition among different companies regarding the quality of their robots in terms of artificial intelligence, algorithms, precision, and automation.
The robot with the highest levels of accuracy and possessing the most well-trained algorithm will be named chief of surgery.
Right now, we are spending billions of dollars training humans as surgeons, who, in the end, are just human. They get tired, diseased, and make a lot of mistakes, including discriminating among patients.
The best and ideal way to save resources and minimize human errors are by teaching robots and making them automated. In this way, we can reduce the amount of human labor needed and instead use our surgeons to come up with great ideas and innovate with other resources.
The time and money spent in training a human as a doctor can instead be used to train an idealized robot which will eventually be able to learn through artificial intelligence and have greater physical dexterity than that of human.
Some might consider robotic surgeons as never meeting the standards of human ones because they cannot show compassion towards human patients. On the contrary, with the right training robots can also be taught to act in ways that we would consider kind, empathic, and sympathetic 1.
Most importantly, there are a lot of patients in various areas where there is a lack of resources and expertise. Who will be taking care of those unprivileged humans? They also deserve to be treated in the best possible way, but only automated robots can provide services indiscriminately to those people.
The same algorithm and dexterity provided to a rich patient can be provided to a poor patient. Unless it's taught to notice a difference, a robotic surgeon will provide the same care regardless of financial or social status.
Further, as we are travelling and thinking about our evolution on space and other planets; we need robotic doctors to provide exceptional services. The time we're living in demands putting more effort and energy into robotic software versus spending billions on just training humans.
Think about the clinical and cost efficacy that robots will be providing over humans. We deserve to have the latest technology to cure ourselves.
If we can build and utilize radiation and other non-invasive technologies, why not build automated robotic surgeons who can operate in hard-to-reach body areas precisely and tirelessly 2?
Intelligent surgical robotic systems are already providing degrees of autonomy and their results show that they are capable of equal or greater precision in performing technical tasks like suturing, removing tumors, and locating wounds 3.
It seems clear that the human surgeon's role will be changing soon as developments in robotics and automation provide better and alternative solutions.
That said, we should get ready to have robotic chiefs of surgery!
References:
Chen, B., Vondrick, C. & Lipson, H. Visual behavior modelling for robotic theory of mind. Sci Rep 11, 424 (2021). https://doi.org/10.1038/s41598-020-77918-x

Abidi H, Gerboni G, Brancadoro M, Fras J, Diodato A, Cianchetti M, Wurdemann H, Althoefer K, Menciassi A. Highly dexterous 2

‐

module soft robot for intra

‐

organ navigation in minimally invasive surgery. The International Journal of Medical Robotics and Computer Assisted Surgery. 2018 Feb;14(1):e1875.

Dolph E, Krause C, Oleynikov D. Future robotic systems: Microrobotics and autonomous robots. InRobotic-Assisted Minimally Invasive Surgery 2019 (pp. 329-335). Springer, Cham.